At the heart of Summit County is America's favorite ski town, Breckenridge. This top ski destination is not only known for its slopes but its historic and vibrant downtown filled with bars and restaurants.
Discover our top picks for the best bars in Breckenridge below.
Ollie's Pub and Grub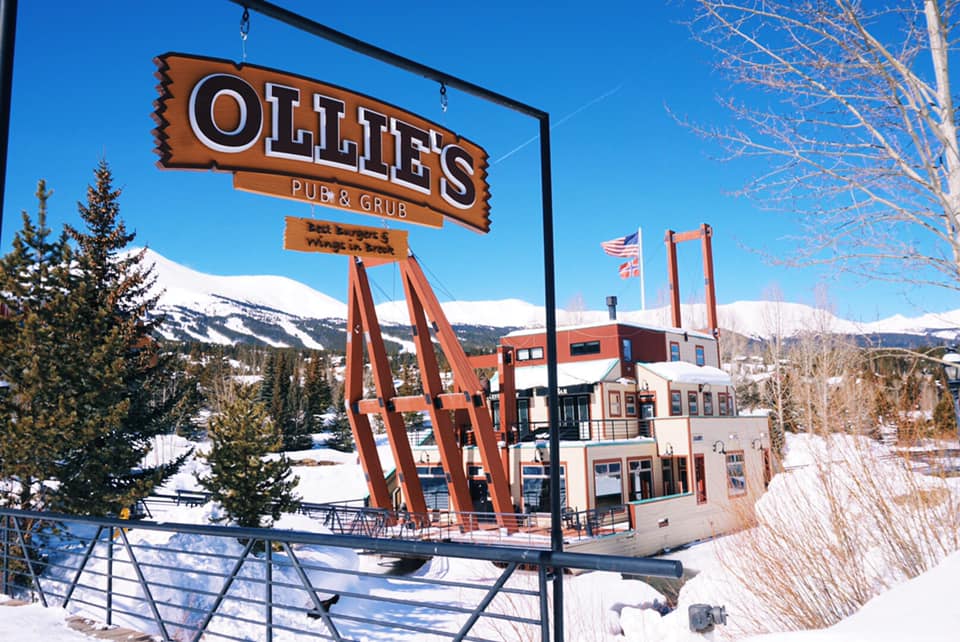 Ollie's Pub and Grub touts itself as having the "best deck in Breck"—and they just might be right. This historical spot, named after a lumberjack named Ollie who served spirits and food back in the mining days of Breckenridge, is situated on a boat so you can enjoy a waterfront view of the mountains.
The menu here features traditional pub grub but skews slightly southwestern, with tacos and nachos to choose from in addition to burgers, salads, and sandwiches. As with most places in Colorado, Ollie's offers wine and cocktails, but beer is the star of the show. Don't miss their happy hour from 3:00 pm – 6:00 pm on weekdays for $2 off drafts.
180 Jefferson Ave | 970-423-6284 | olliespub.com
Downstairs at Eric's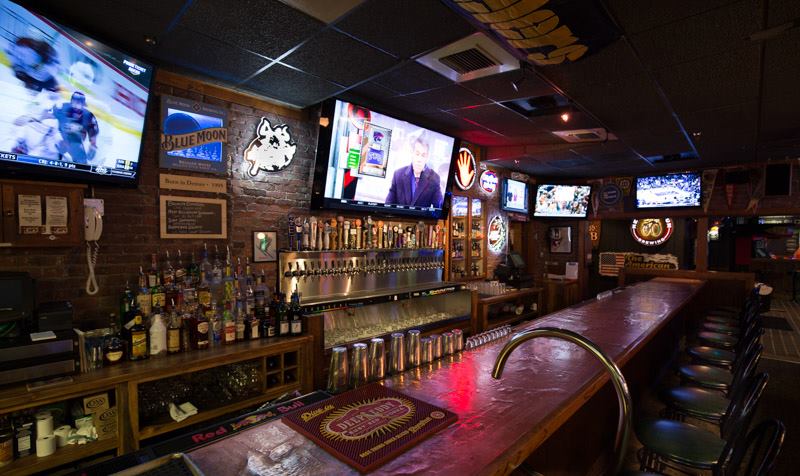 Downstairs at Eric's is the place in Breckenridge to go if you want to have your beverages and entertainment in one place. Ideal for families with older kids, this restaurant and bar boast twenty-five televisions and twenty-seven arcade games, so you won't be at a loss for something to do. Expect wings, burgers, and pizzas to pair with their notable beer list and even better prices during their 3:00 pm – 6:00 pm happy hour on weekdays.
Keep in mind that Eric's doesn't accept reservations. You'll need to show up in person to get on the waitlist, but this is the perfect time to find your favorite arcade game.
111 S Main St | 970-453-1401 | downstairsaterics.com
Breckenridge Distillery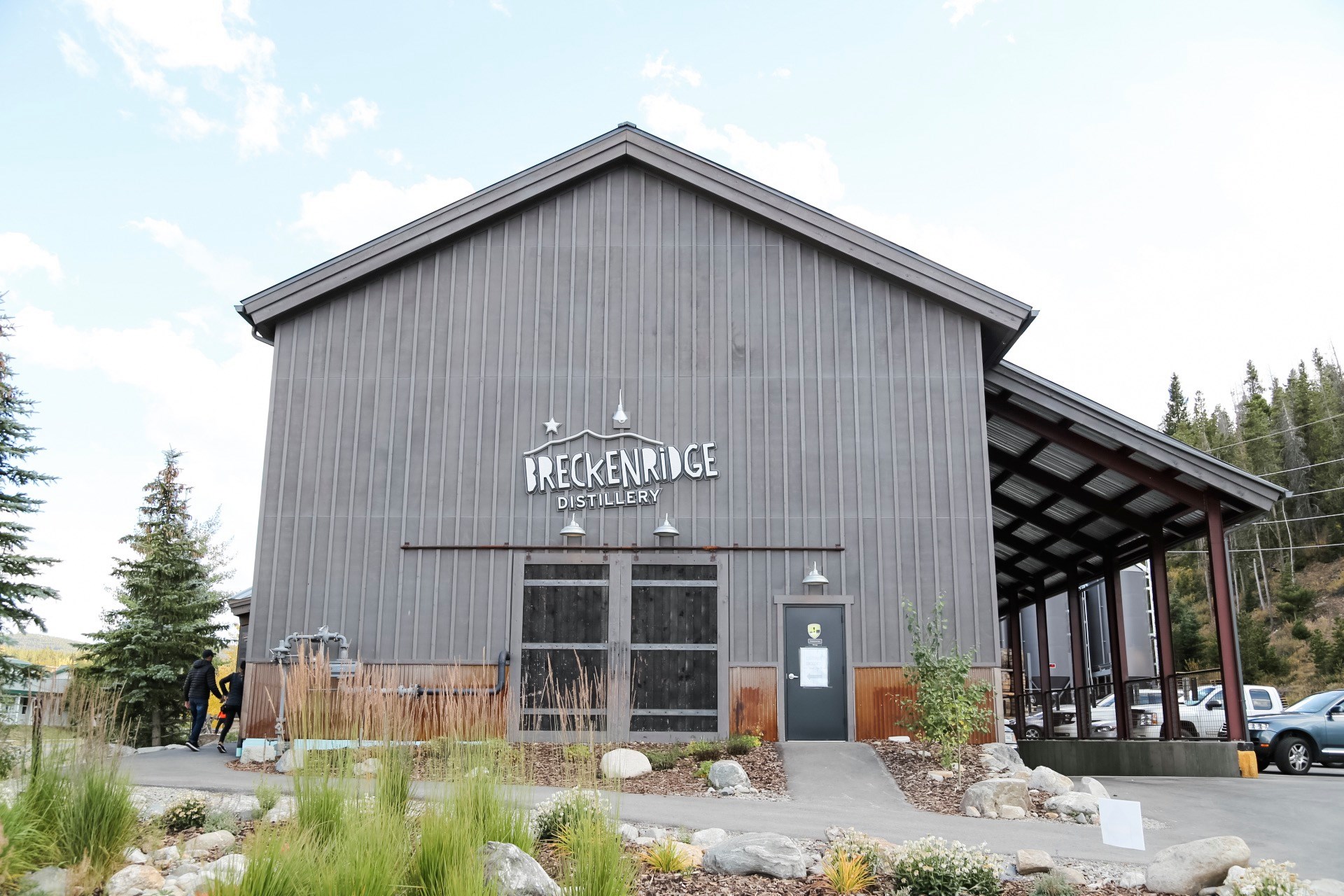 Breckenridge Distillery is the ultimate stop for anyone looking for award-winning local spirits. Stop in for a tour and a tasting to learn about how these local spirits are made. The first two tastes are free, and after that, you can purchase a flight.
There are a couple of locations where you can drink the delicious liquor they offer, with a tasting room centrally located in Breckenridge and the restaurant and bar a bit further out. If you do venture out to the restaurant and bar, you'll be treated to a daily happy hour from 3:00 pm – 5:00 pm.
Though the atmosphere is casual, expect to be impressed. The menu runs the gamut from quite pricey (like a $180 steak) to totally reasonable (like a pulled pork sandwich for $10 during happy hour). The wait here can get lengthy, so make a reservation if you can.
1925 Airport Rd | 137 S Main St | 970-547-9759 | breckenridgedistillery.com
The Gold Pan Saloon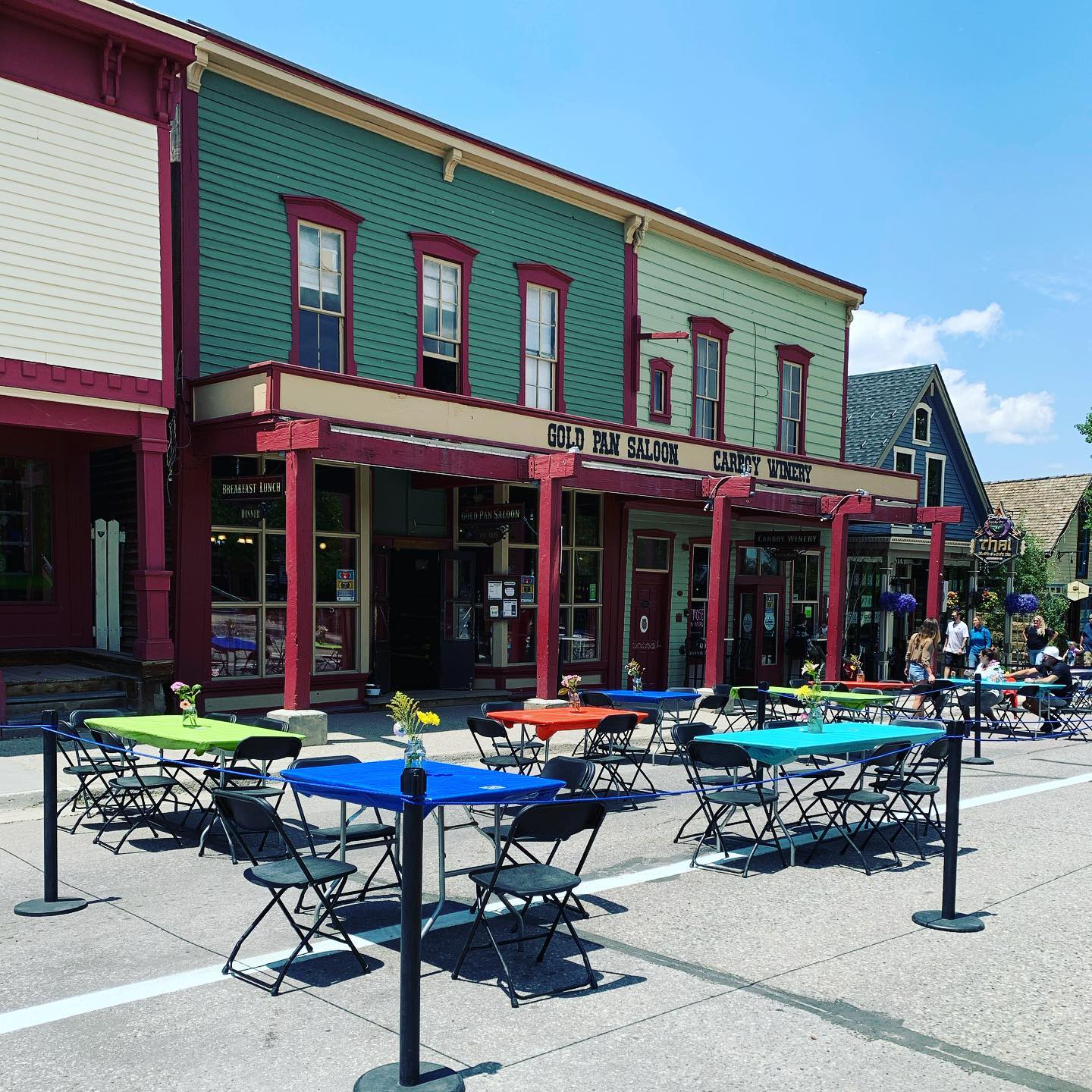 Be a part of Colorado history at The Gold Pan Saloon, known for having the longest uninterrupted liquor license west of the Mississippi. This location has been serving up drinks to thirsty folks since 1861, though it was then known as Long's Saloon. The Gold Pan Saloon is a watering hole that harkens back to the mining days of the Gold Rush when Breckenridge was first established and gives tourists and locals alike a taste of the Old West.
Their menu centers around burgers, but you could also choose something more offbeat, like a shredded goat taco. All of their prices are reasonable for a ski resort town, but you can come in from 3:00 pm – 6:00 pm any day of the week for $5 wells, $2 tacos, and other steals.
103 N Main St | 970-453-5499 | thegoldpansaloon.com
The Blue Stag Saloon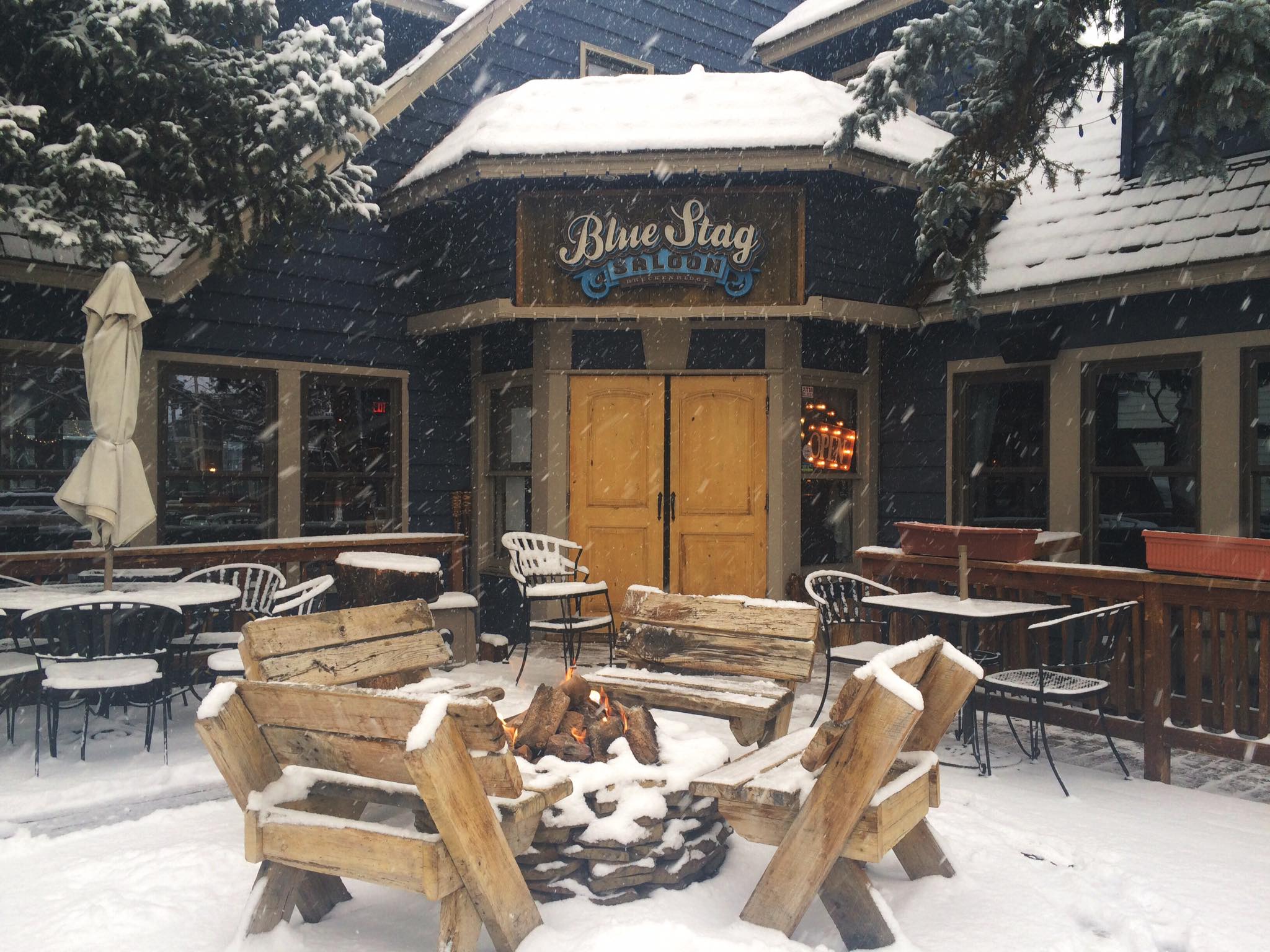 The Blue Stag Saloon is the perfect choice if you want a break from the pricier bars in Breckenridge. This saloon offers standard fare like pizza and burgers, and more exploratory options for the adventure seekers, like a trio of sausage that includes rattlesnake, elk, and pheasant.
Come for their happy hour from 3:00 pm – 5:00 pm, Monday through Friday, when they offer discounted appetizers and drinks. Their cocktail menu means business, with options like a Sunday driver (a mimosa plus a shot of vodka), so keep your designated driver's number handy.
323 S Main St | 970-453-2221 | bluestagsaloon.com
Breckenridge Tap House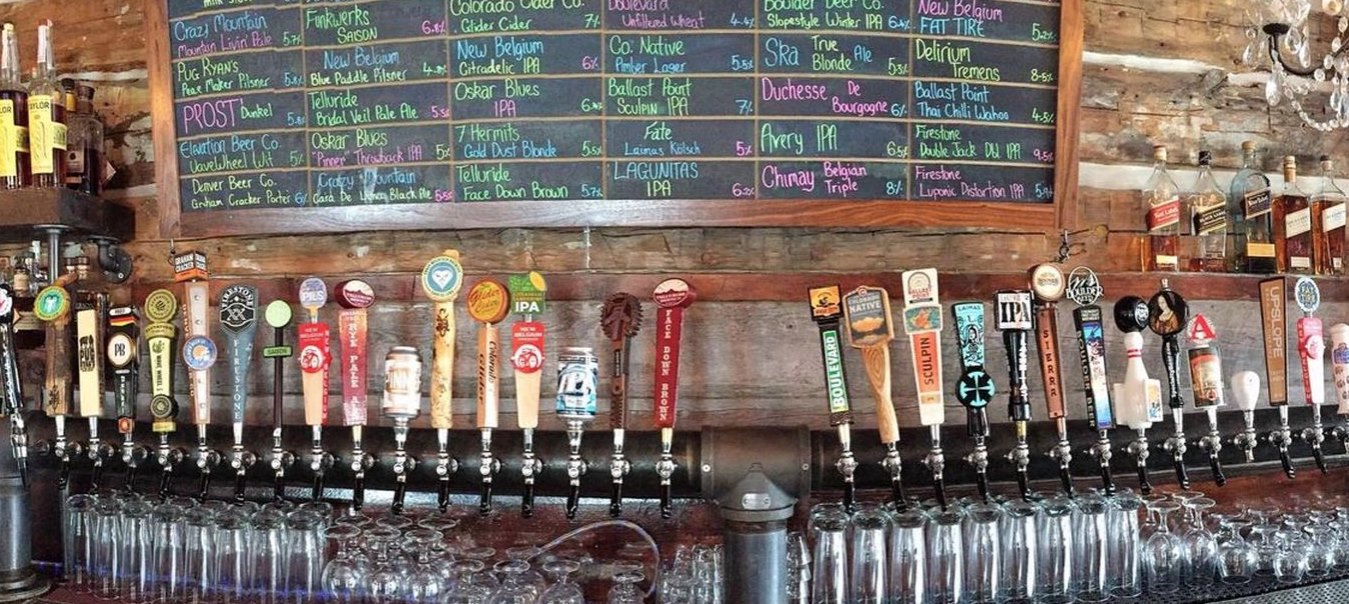 Next on the list is the Breckenridge Tap House, where you can eat Mexican food and drink your choice of beer, wine, or cocktails in a log cabin. Bring the kids and dogs and sit on the back patio if the weather allows since the patio is dog-friendly and their menu is kid-friendly.
Better yet, you can try their twice-daily happy from 3:00 pm – 6:00 pm and 9:00 pm until close to snag great prices on tacos and drinks. Check their social media before you go, as they occasionally host Mario Kart tournaments, crawfish boils, and other themed events.
105 N Main St | 970-453-2167 | breckenridgetaphouse.com
The Briar Rose Chophouse and Saloon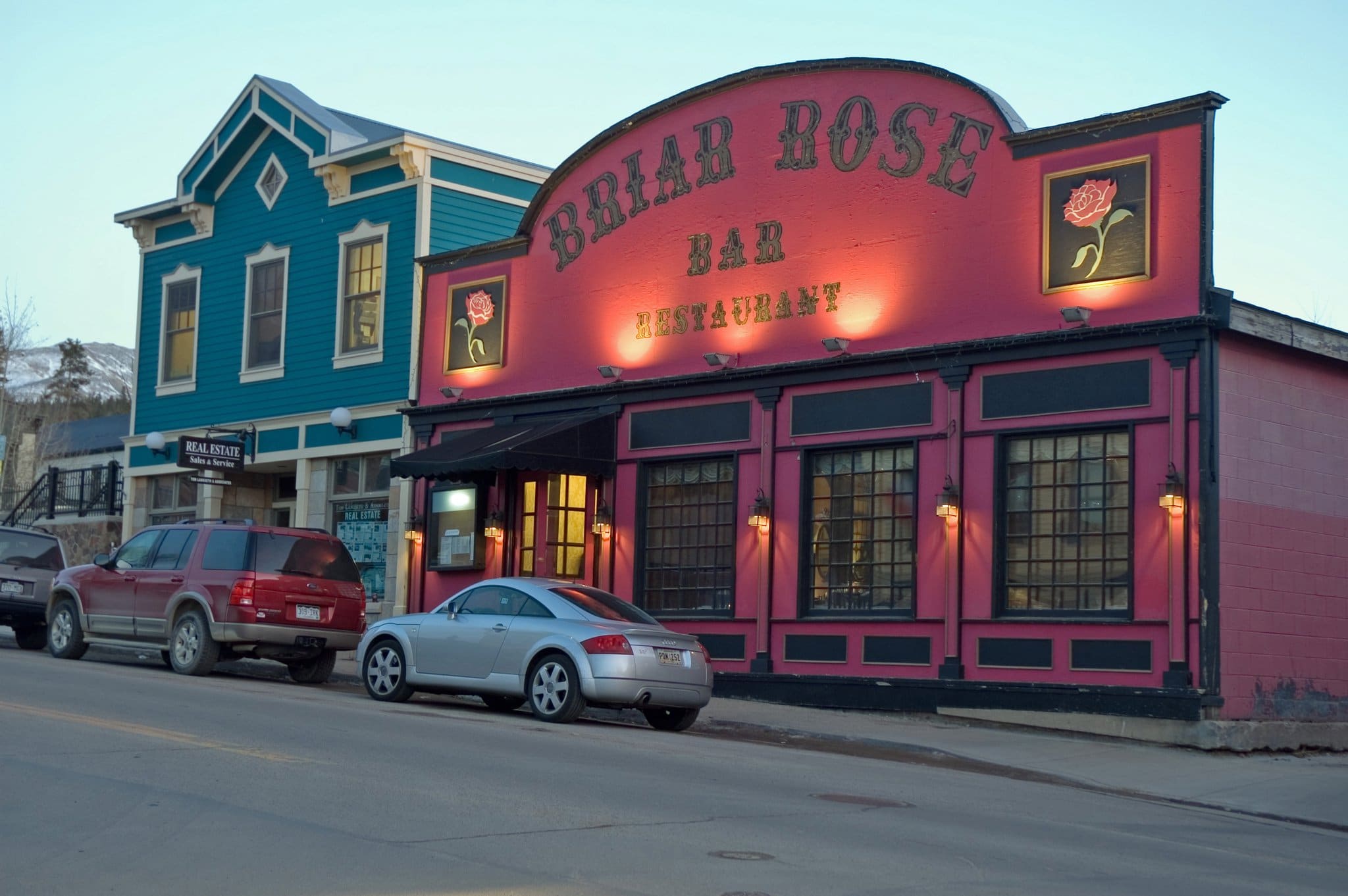 Located in downtown Breckenridge, the Briar Rose Chophouse and Saloon combines an Old West feel with fine dining. Named after the Briar Rose Mine, the restaurant here has been around since 1900, though it was rebuilt in the 1960s.
At the Briar Rose, you could go for a fancy outing with a date, or you could skip the pomp and head to the historic bar in the back of the restaurant, which is a bit more casual than the candle-lit white tablecloths in the restaurant. In the bar, you can find small plates with less expensive prices, as well as an expertly curated wine, beer, and cocktail list.
109 Lincoln Ave | 970-453-9948 | briarrosechophouse.com
The Crown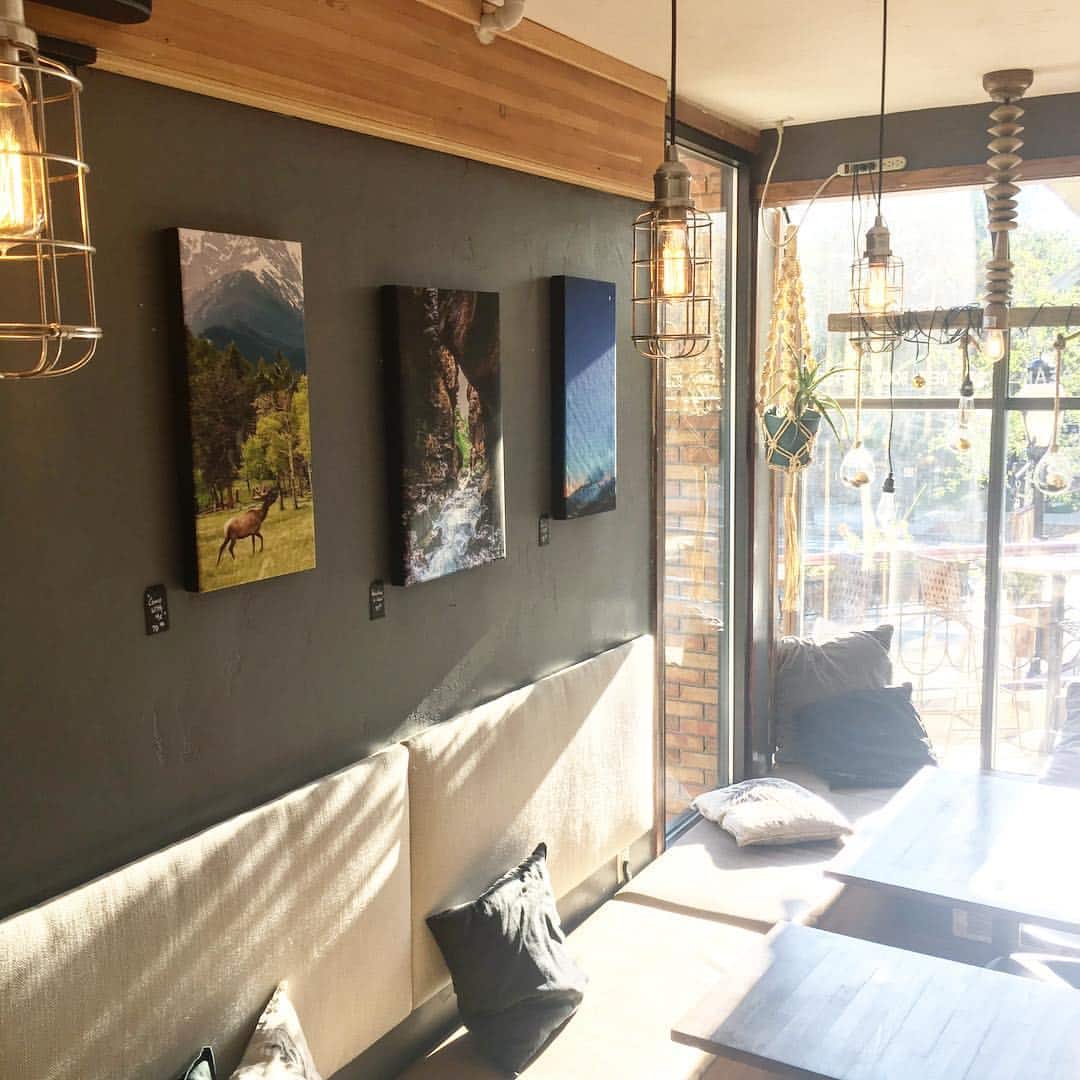 Breckenridge has a little something for everyone, including the day-drinking crowd. The Crown, located in central Breckenridge, feels as comfortable as your own living room, complete with pillows scattered everywhere. If you brought the whole family, you might want to sit on their sunny patio and treat the kids to some ice cream.
In addition to caffeinated drinks, The Crown has cold and hot cocktails to invigorate you no matter which season you drop in. They serve breakfast and lunch—but don't plan on making this your late-night drinking spot; Sunday-Thursday, they close at 5:00 pm, and Friday and Saturday, they're only open until 8:00 pm.
215 S Main St | 970-453-6022 | thecrownbreckenridge.com
Breckenridge Brewery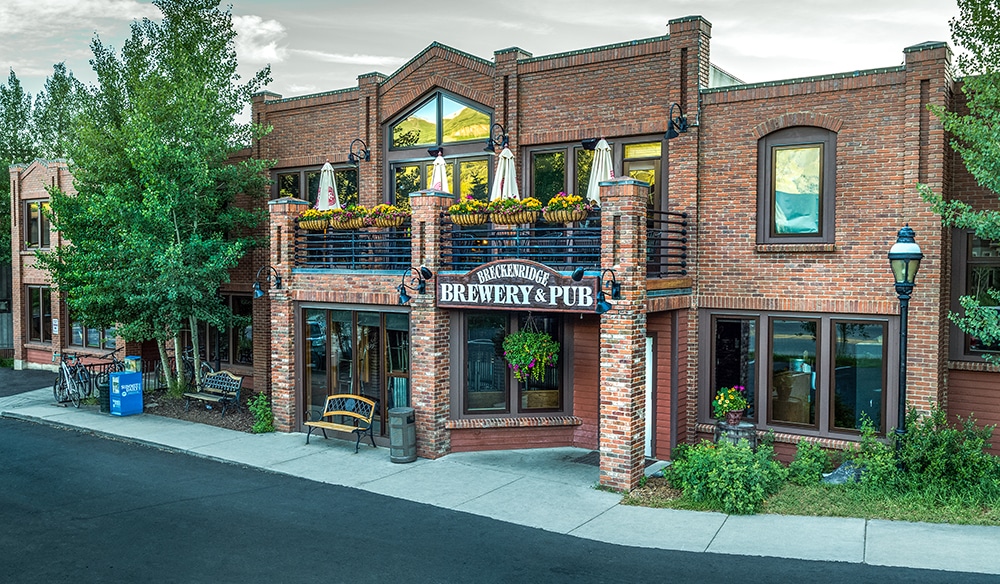 Perhaps the most well-known bar on this list is the Breckenridge Brewery, a place brewing beer for over thirty years. Yet, even if you've already sampled their drafts, a stop at the flagship store is worth the trip. Expect a spacious and airy dining setting, indoor and outdoor seating so you can keep your eyes on the view or the game, and some of the best beer in Colorado.
If you're not familiar with their beer, try a sampler. You can take a growler to-go of your favorite brew. Happy hour runs daily from 3:00 pm – 6:00 pm, with food specials from 3:00 pm – 5:00 pm, Sunday through Thursday. Keep in mind that the word is out about this place. If you come during peak times, expect to wait.
If you happen to be down on the front range, stop by the newer flagship Breck Brewery in Littleton. Guides tours of this massive location are available year-round.
600 S Main St | 970-453-1550 | breckbrew.com
The Motherloaded Tavern
The Motherloaded Tavern is a great place to land if you're looking for a place that feels like a dive but has excellent food. Known as the home of mothers in love with food, this tavern has the menu to prove it. Satisfy your sweet tooth with the indoor smores, complete with a personal hibachi so that you can toast the marshmallow to your preferred degree of doneness.
Here, they offer beer, wine, and a full cocktail menu, but the real draw is the house-infused liquors with unique flavors. Try the earl grey tea-infused gin, the honey habanero bourbon, or dill pickle vodka. They don't take reservations, so plan to come early or avoid peak hours if you don't want to wait at the bar.
103 S Main St | 970-453-2572 | motherloadedtavern.com
When drinking in Breckenridge, choosing where to imbibe can be overwhelming, but hopefully, this roundup helped you narrow down where to take your next swig. Bottoms up! And don't forget to stop in nearby and check out the top bars in Frisco as well!