Known as the gateway to the Rockies, Estes Park is a bustling mountain community home to Rocky Mountain National Park. While many visitors come for the outdoor recreation the park provides and the surrounding mountain landscape, Estes Park also boasts a vibrant downtown filled with art galleries, restaurants, bars, shops, breweries, and wineries.
Whether you stay in town or in one of the mountain retreats in the area, a visit to Elkhorn Avenue and the Riverwalk is a must after a long day of adventures. Continue your fun off the mountain and raise a glass to these top bars in Estes Park.
Rock Cut Brewing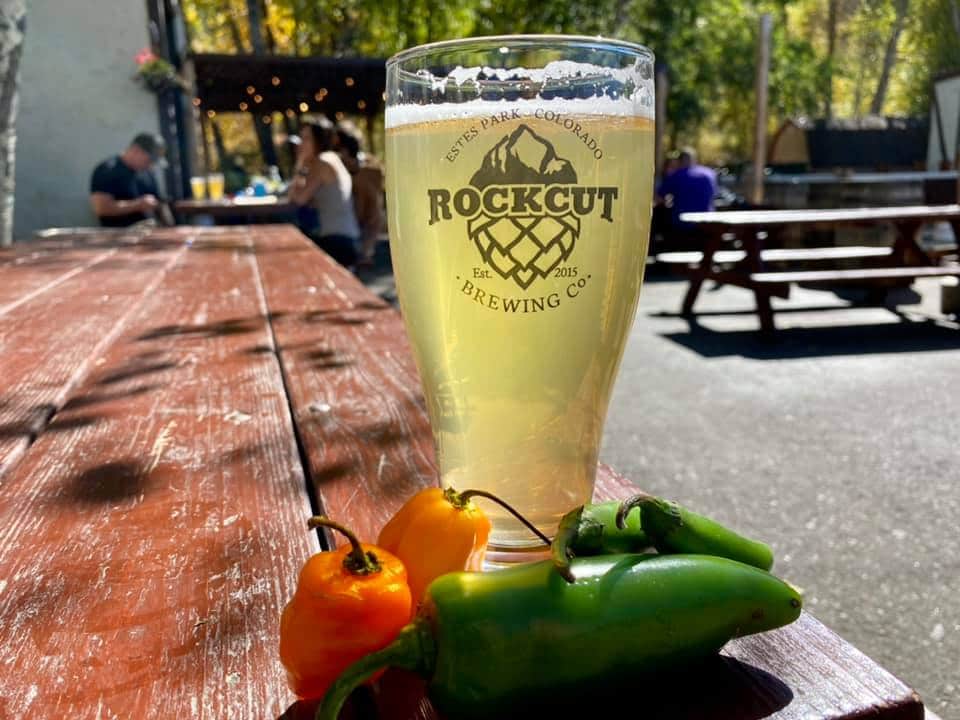 For a post-Rocky-Mountain-National-Park-hike brew, try Rock Cut Brewing. This is a place where all the beers are worth sampling, so a build-your-own flight is a good way to go. They are family-friendly and have craft sodas, lemonade, and kombucha for those who aren't drinking. Check their website to find out about weekly events like trivia, bingo, and when the food trucks will be nearby. The best time to try Rock Cut's drafts is when it's sunny and you can sit on the stream-side patio to enjoy the brews and views simultaneously.
390 West Riverside Drive | 970-586-7300 | rockcutbrewing.com
The Wheel Bar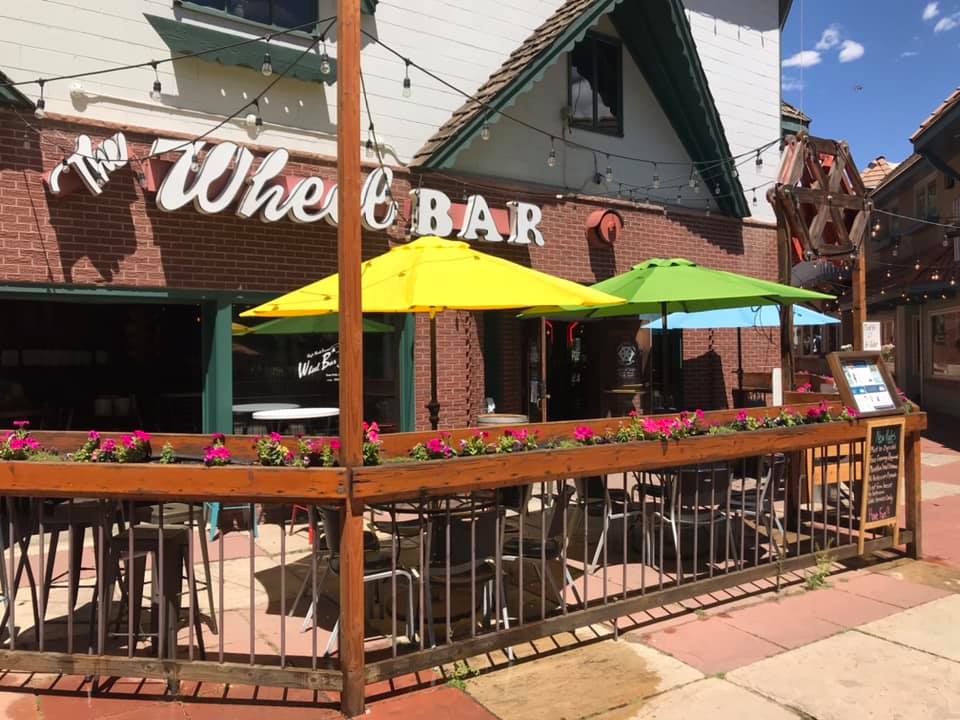 The Wheel Bar is a family-run staple in Estes Park located inside a historic building. Starting in 1945, the bar is now run by the founder's grandson. You won't find any food here, but you can play pool, watch the game, sit on the patio, or enjoy the divey atmosphere. It's open late—until 2:00 am nightly—which is uncommon in small towns. The Wheel Bar doesn't have a designated happy hour, but you can find cheap drinks here any time of day.
132 East Elkhorn Avenue | 970-586-9381 | thewheelbar.com
The Post Chicken & Beer
The Post Chicken & Beer is such a popular spot to stop for a beverage and fried chicken that it has six locations throughout Colorado. However, the Estes Park location deserves a special mention for its patio views alone. Plus, it's located inside a renovated carriage house from 1909 at the Stanley Hotel.
If you go when the weather's nice, sitting outside and drinking in the majesty is an absolute must. Bring your gluten-free friends, as this is the rare sort of chicken and beer establishment that has plenty of options for them, too. They have beer, cocktails, and wine, plus brunch selections on the weekend if you're up for an early morning beverage.
333-D East Wonderview Avenue | 970-287-5001 | postchickenandbeer.com/estes-park
Lonigans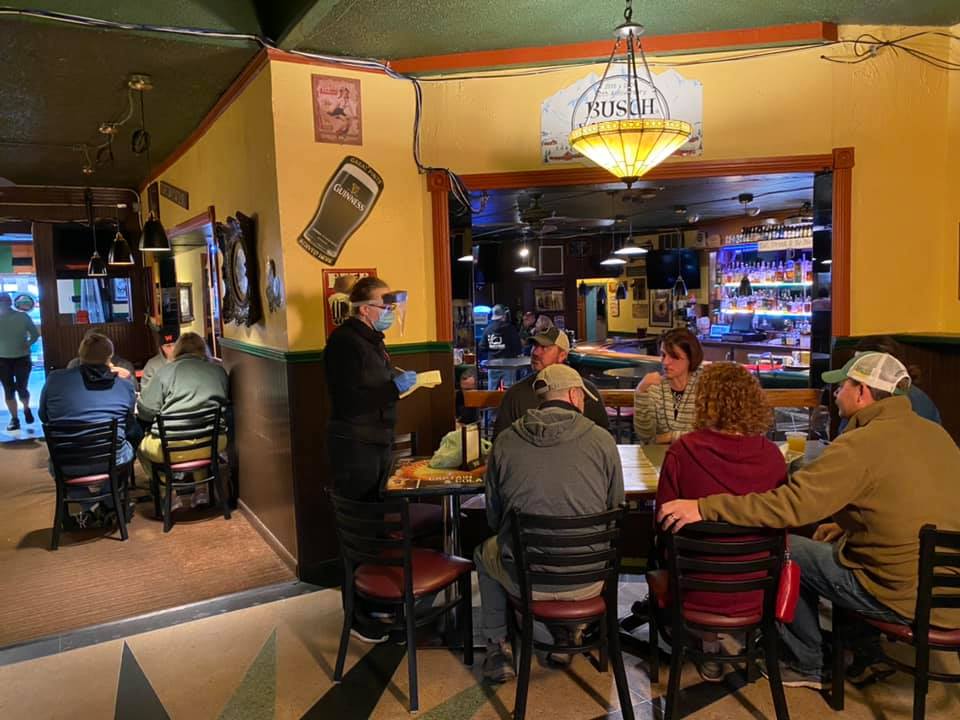 When an Irish pub is on your agenda, stop by Lonigans. They offer a little bit of everything here, making this casual watering hole the perfect place to watch the game, sip on a pint of Guinness, sing a song on karaoke night, play pool, come in for open mic night, and grab a bite to eat. Catch their happy hour from 4:00 – 6:00 pm every day.
110 West Elkhorn Ave| 970-480-9405
The Whiskey Bar at Cascades Restaurant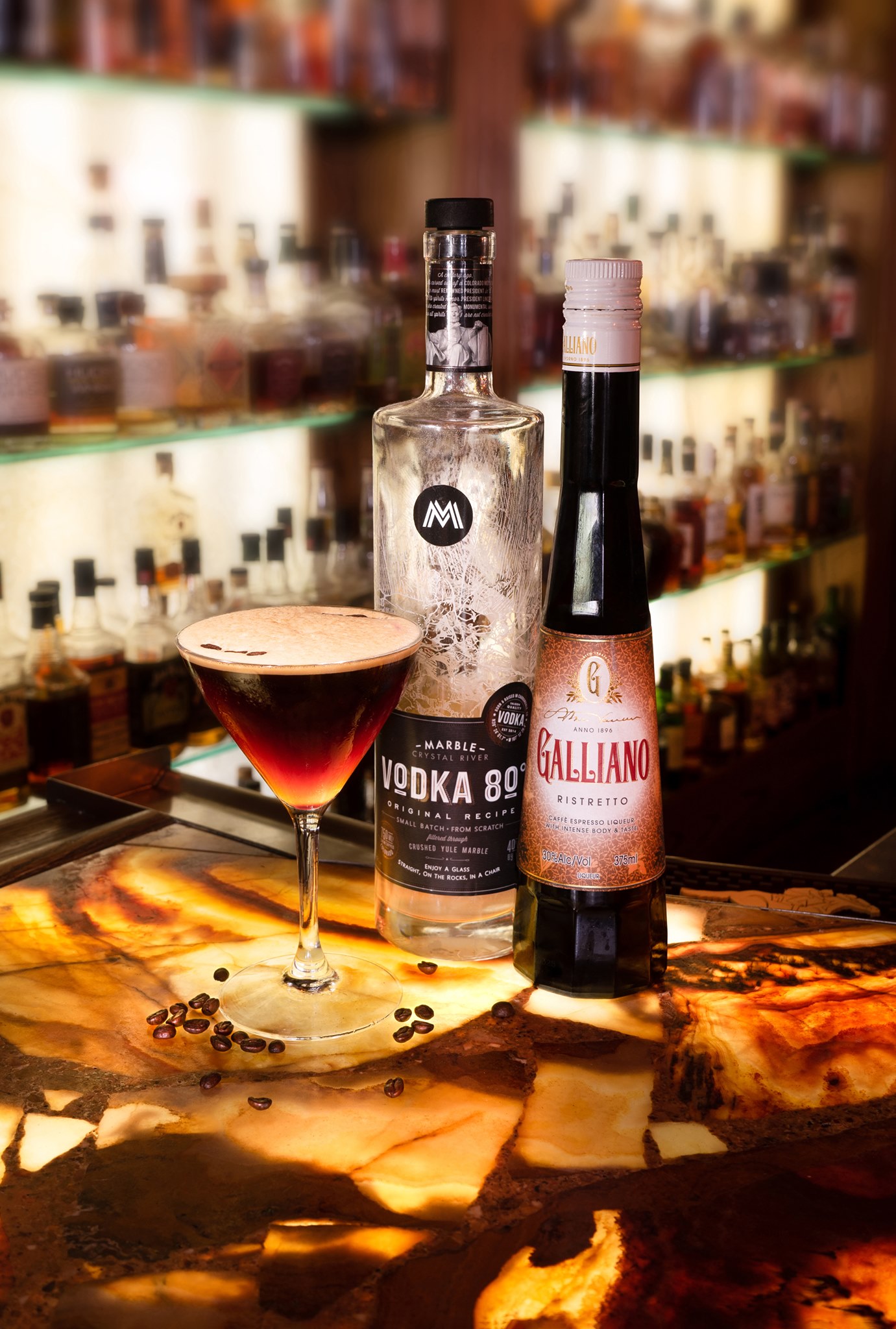 The Cascades Restaurant is a standard hotel restaurant, complete with white tablecloths and wood accents, but the Whiskey Bar inside it is extraordinary and certainly worth a stop. Located in the notorious Stanley Hotel, the bar looks like something from The Shining, which makes sense since this is the hotel that inspired the book.
Plus, it boasts Colorado's most comprehensive selection of whiskey, a decent wine list, and themed cocktail selections like the Red Rum Punch. If you've got the cash and inclination, you could order an $800 dram, but most of the offerings are much more reasonably priced. They have TVs, too, so you can watch the game if you grab a seat at the bar.
333 Wonderview Avenue Estes Park | 970-577-4001 | stanleyhotel.com/the-whiskey-bar.html
Cousin Pat's Pub and Grill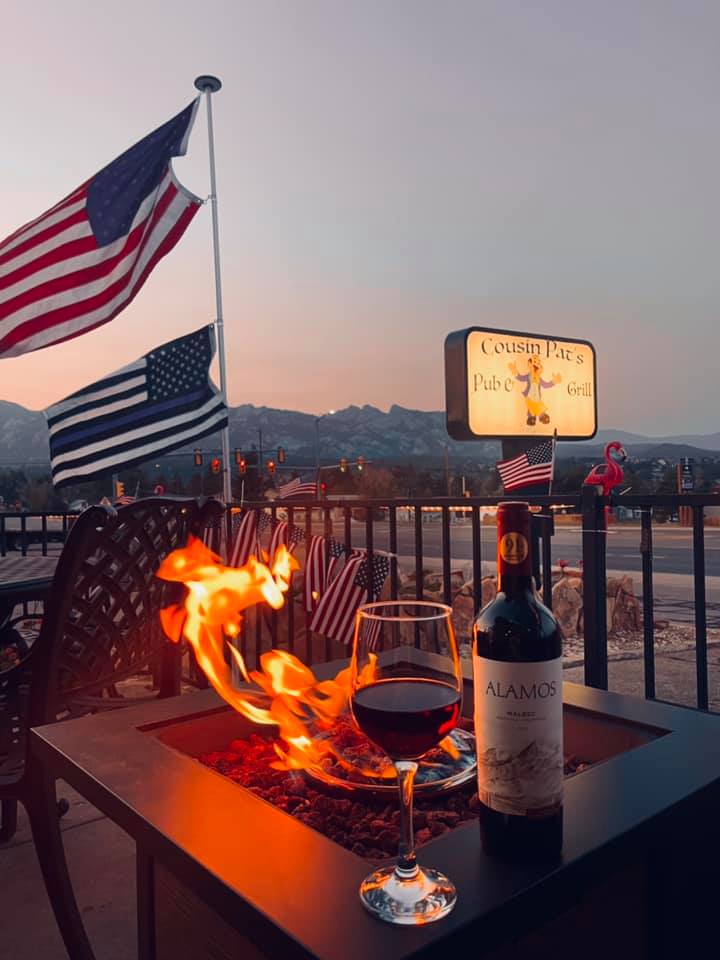 Cousin Pat's is a great late-night drinking spot, as they are open until 2:00 am daily. You can play pool, sit by the fire, and watch the game here. This is an excellent stop if you're looking for where the locals drink. Expect casual vibes and an ideal space to while away the evening with reasonably priced beverages. Don't miss their daily happy hour from 4:00 – 6:00 pm for even better drink prices.
451 South Saint Vrain Avenue | (970) 586-7287 | cousinpatspubandgrill.com
Claire's Restaurant and Bar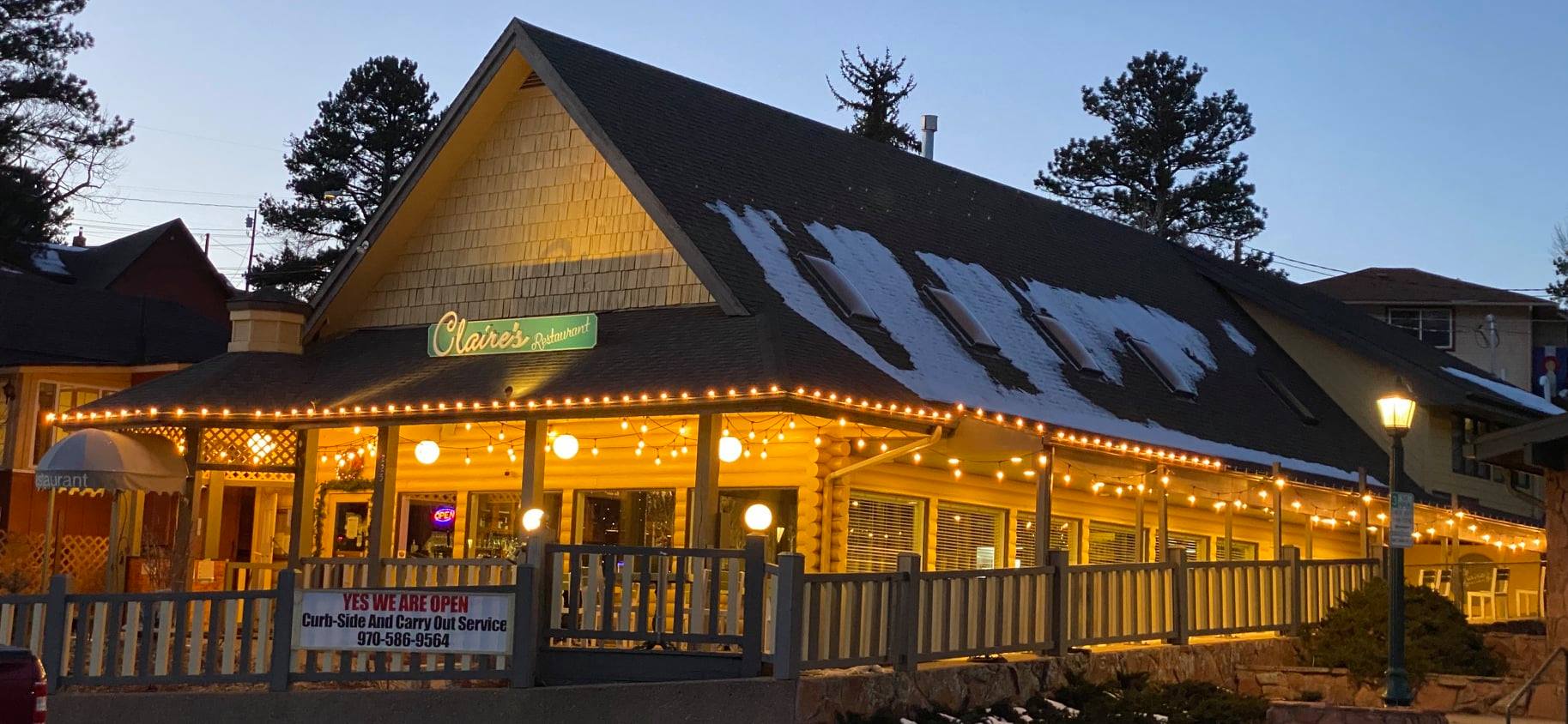 Claire's Restaurant and Bar is the place to find locally sourced food and a seasonally changing menu. Claire's is another family-run spot on this list, founded in 1992 by Claire herself and now run by her nephew. Bring the kids and stop in for breakfast, lunch, dinner, and all-day cocktails. You can sit on the patio and enjoy the views or stay inside and watch the game.
Their bar menu is just as locally sourced as their food menu, so you can sample some Colorado-centric drinks. Claire's is rather popular in Estes Park, so you might be in for a bit of a wait if you come during peak hours. Catch their daily happy hour from 4:00 – 6:00 pm for drink specials.
225 Park Lane | 970-586-9564 | clairesrestaurantandbar.com
Hunter's Chophouse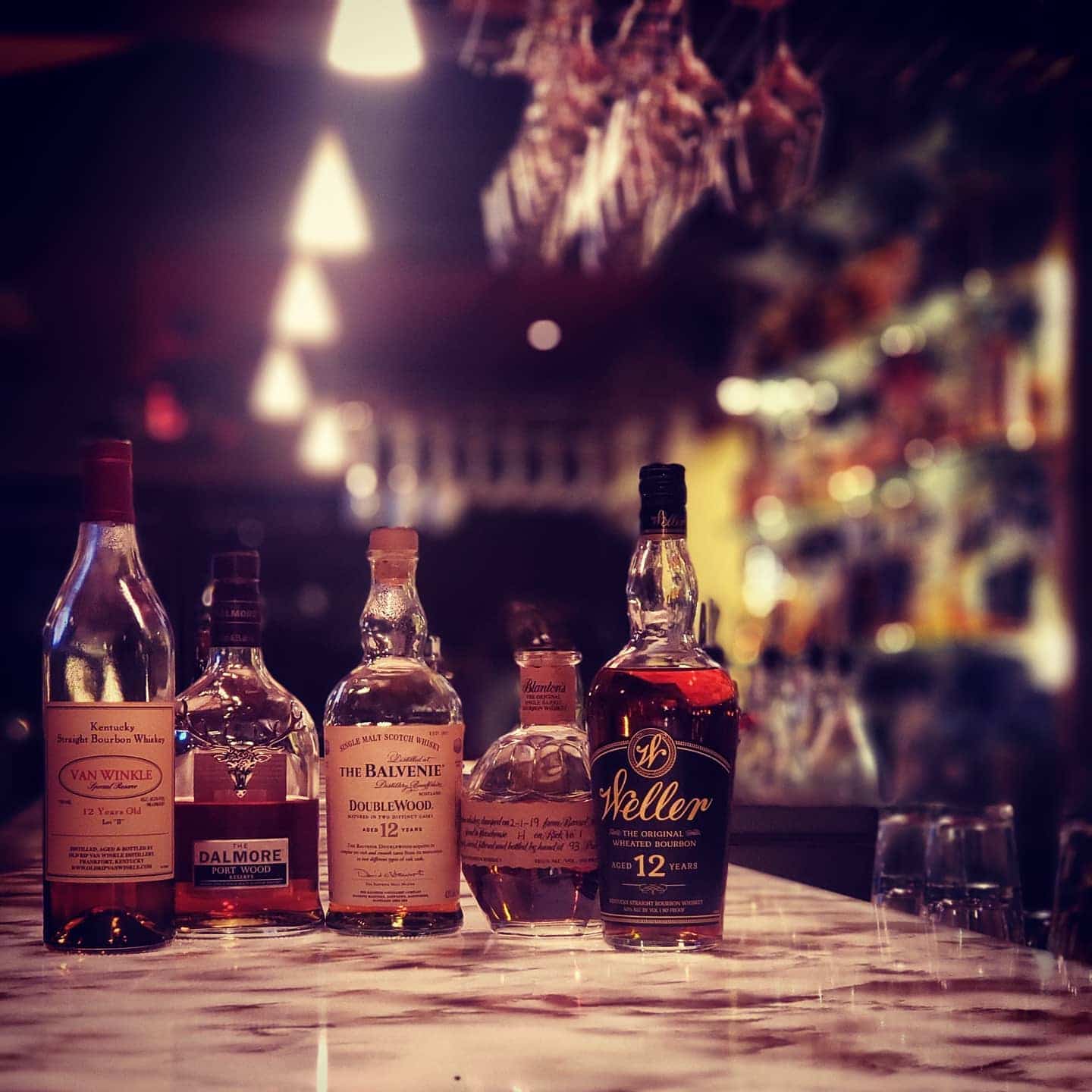 Serving an impressive whiskey list, wine, cocktails, and some unique game entrees, Hunter's Chophouse is an upscale place to wet your whistle. Sit in the rustic, cozy bar with casual hunting lodge vibes, and lean into the ambiance with a Colorado whisky flight and the wild game brats sampler. Bring your favorite carnivores, and plan to spend some cash at this Wine Spectator award-winning spot.
1690 Big Thompson Avenue | 970-586-6962 | hunterschophouse.com
Bird and Jim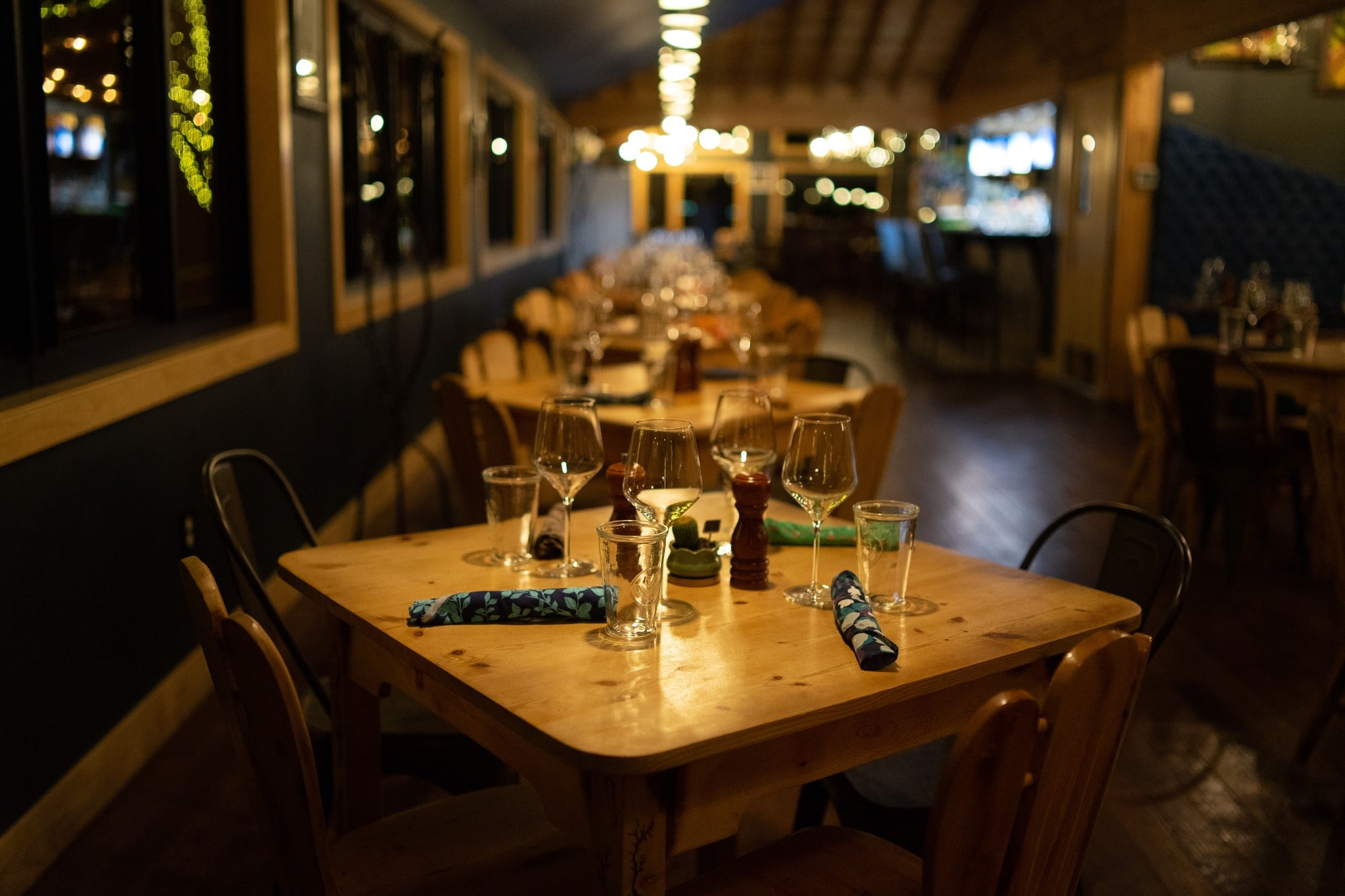 Beloved by tourists and locals alike, Bird and Jim features some of the tastiest foods and drinks in Estes Park and a great ambiance whether you sit indoors or outdoors. It's in a renovated 100-yeard-old building, once a hamburger stand built in 1926.
Bird and Jim has an impressive whiskey list, plenty of distinctive craft cocktails, and beer and wine for those who prefer. Enjoy the airy, modern atmosphere and the beautifully composed dishes full of artisan food at this kid-friendly spot. Stop by for their extended happy hour for a break from the upscale prices from 1:30 – 5:00 pm.
915 Moraine Avenue | 970-586-9832 | birdandjim.com
The Notchtop Bakery & Café
Located in Upper Stanley Village is The Notchtop, a top-notch place for an early beverage. This unassuming café boasts surprisingly delicious fare and is named after Notchtop mountain, viewable from a west-facing window seat in the cafe. Grab a cocktail, glass of wine, or beer and something from their breakfast menu which has options for gluten-free folks as well as kids. Sit on their dog-friendly patio, and consider grabbing a sandwich to-go from their deli for a picnic on your hike.
459 East Wonderview Avenue #5 | 970-586-0272 | thenotchtop.com
Lumpy Ridge Brewing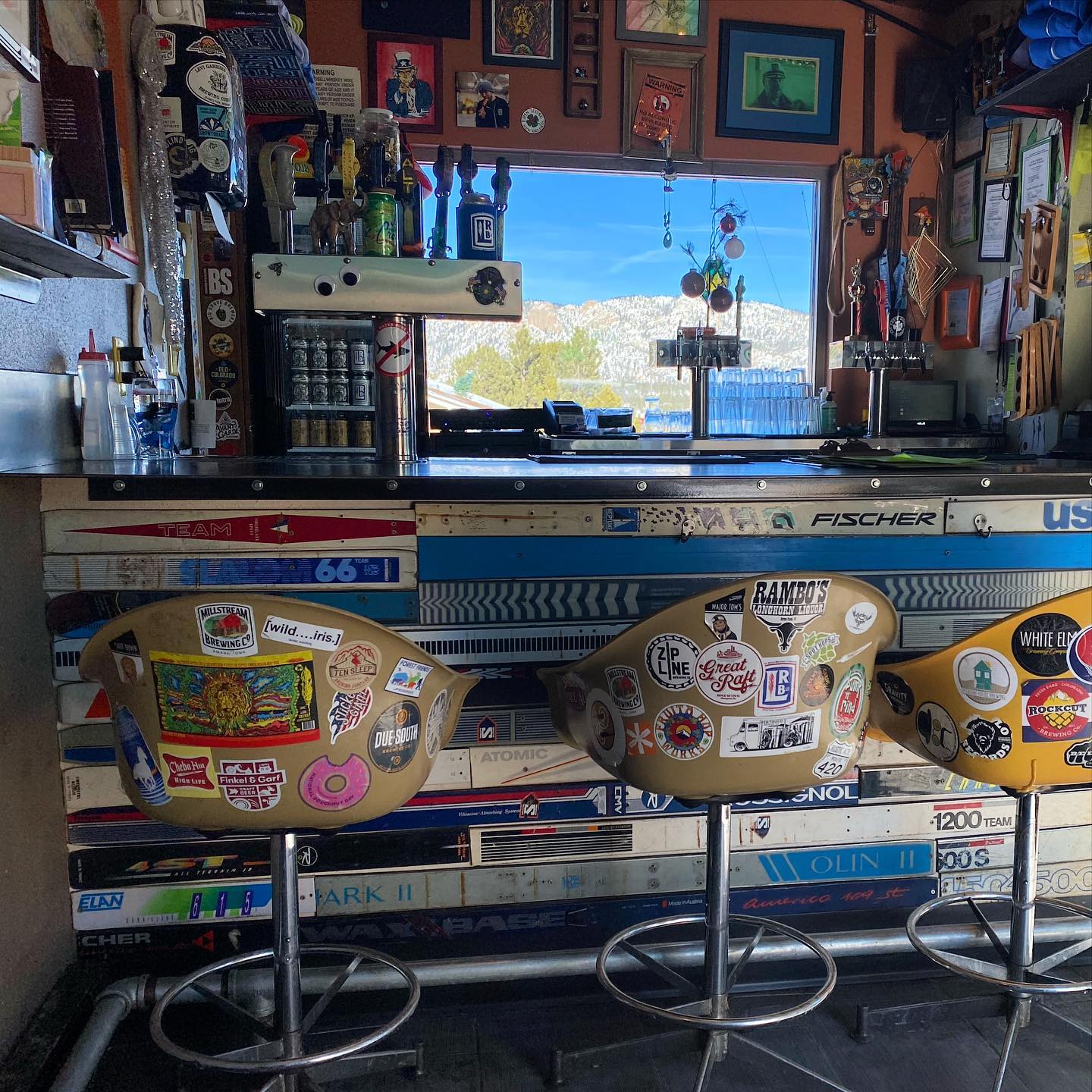 Built in a repurposed gas station, Lumpy Ridge Brewing is a place that offers a break from the flood of tourists. The beers here are delicious, and their dog-friendly patio has a fire pit and scenic mountain views. Enjoy the offbeat art and occasional live music and food trucks situated outside. Catch their happy hour from 5:00 – 7:00 pm daily for cheap brews.
531 South Saint Vrain Avenue | 970-235-1752 | lumpyridgebrewing.com
With a nice variety of bars to try for such a small town, Estes Park is a great place to get thirsty. Here's hoping your next hour is a happy one!