The "Main Street of the Rocky Mountains" certainly has its fair share of watering holes and bars to imbibe. Located in the middle of Summit County beside Lake Dillon and Breckenridge, Frisco, Colorado is a year round adventure gateway.
With a steady flow of visitors for summer sun and water sports, and winter skiing and snowboarding at five resorts within twenty minutes of town, Frisco is a happening spot. They have a lot of choice in dining and nightlife, especially for a mountain town of little more than 3100 people. The following bars and restaurants are great for a happy hour apres-ski or summer evening on the town.
Ein Prosit Frisco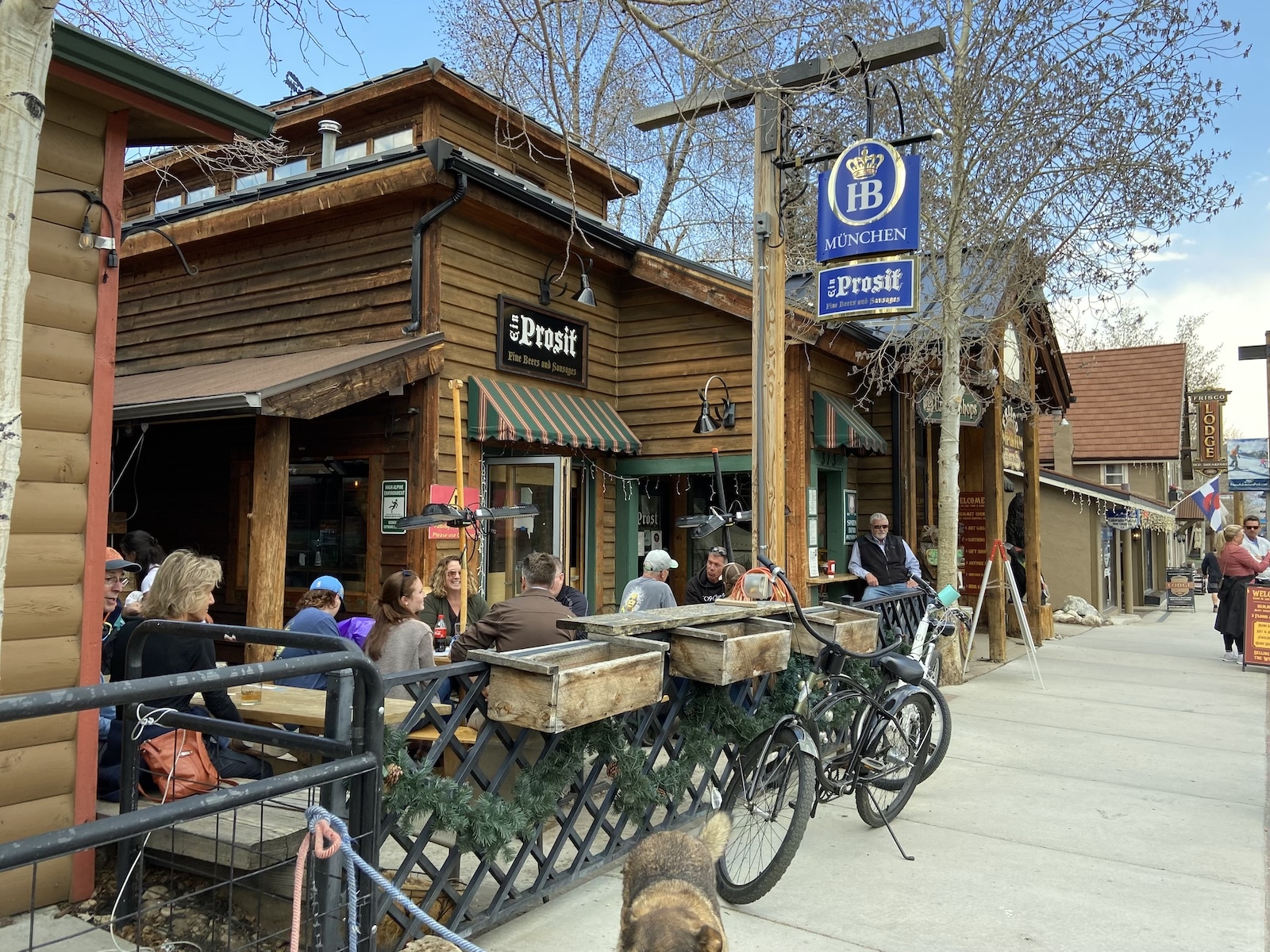 No matter when you visit Ein Prosit Beer Hall, it's always Oktoberfest—at least, that's the way it feels. The food and beverage menu will give you the sense you're in Germany, so come when you're in the mood for Dunkel Weizen, Doppelbocks, a pretzel, and some sausage. Cross some adventurous meats off your culinary bucket list like pheasant, elk, boar, rattlesnake, and antelope. For the kids (or anyone less brave), pretzels with mustard and cheese are an option.
Ein Prosit has a limited selection of cocktails and wine, but the main draws are the pints and the meat. TVs are available so that you won't miss the latest game, or you could sit outside and enjoy the sunshine.
313 Main St, Frisco, CO 80443 | 970-668-3688 | einprositfrisco.com
The Moose Jaw
Located in downtown Frisco, The Moose Jaw is known for burgers, games, and great deals on drinks. Here, you can expect specials on pitchers of beer during happy hour and an inexpensive bill when you call it a night. The vibe is clean dive with plenty to do. Play pinball, foosball, pool, or video games, or watch the latest on their TVs. Expect fun energy, homey wood paneling, and lots of locals rather than tourists.
208 Main St, Frisco, CO 80443 | 970-668-3931 | moosejawfrisco.com
Bagalis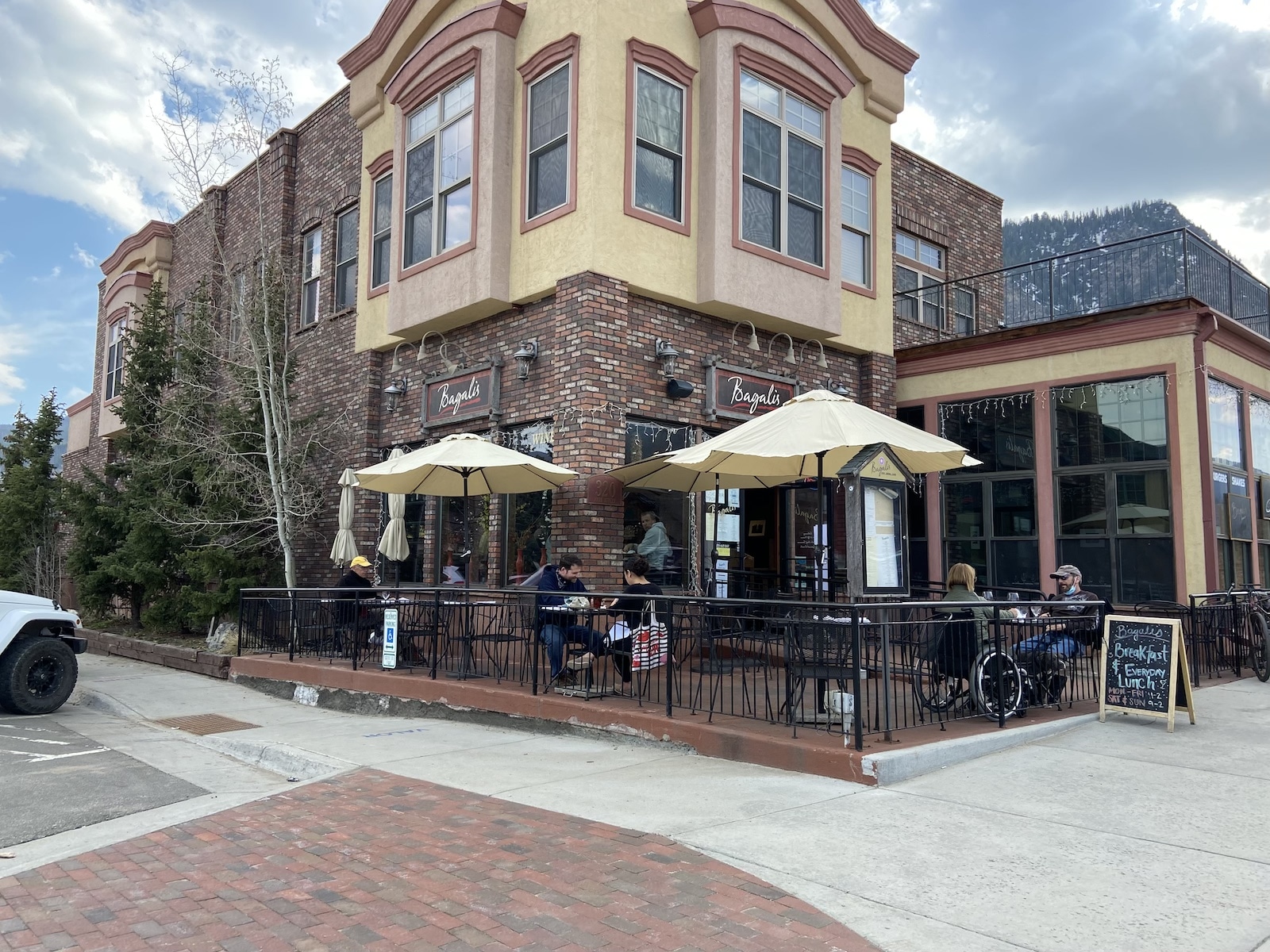 Bagalis boasts locally sourced ingredients and a dedicated chef who also happens to be the owner. Open for lunch and dinner, this place is priced for a mountain town, but the bill reflects the quality of the food. You can order hand-made pasta, desserts, and bread, or try their cocktails made with equally fresh ingredients.
Check out their daily happy hour from 4:30 pm – 6:00 pm with specials on beer, wine, cocktails, and two-for-one pizzas and apps. Their wine list is extensive without being overwhelming, and their cocktail list has some fun twists on classic drinks. If the weather is nice, you can sit outside. But this spot is especially cozy in the winter, thanks to their fireside seating. Bagalis is well-known for its food and service, so if you're coming on a busy night, ensure you have reservations.
320 E Main St, Frisco, CO 80443 | 970-668-0601 | bagalisfrisco.com
Outer Range Brewing Co
Just north of downtown, you can stop in at the Outer Range Brewing Co. Listed as the second-best brewery to open in the US in 2018 by USA Today, this relative newcomer to the Colorado brewing scene is dropping some jaws. Outer Range offers plenty of choices whether you're craving an IPA, stout, or pilsner.
If you're traveling with some non-beer drinkers, Mountain Dweller coffee bar is located within the same space. You can also order some "Thai-ish" fried chicken from Bird Craft, Outer Range's other neighbor in this mini-food hall. There is outdoor seating with incredible views, so bring the kids and the pets if you have them.
182 Lusher Ct, Frisco, CO 80443 | 970-455-8709 | outerrange.com
Highside Brewing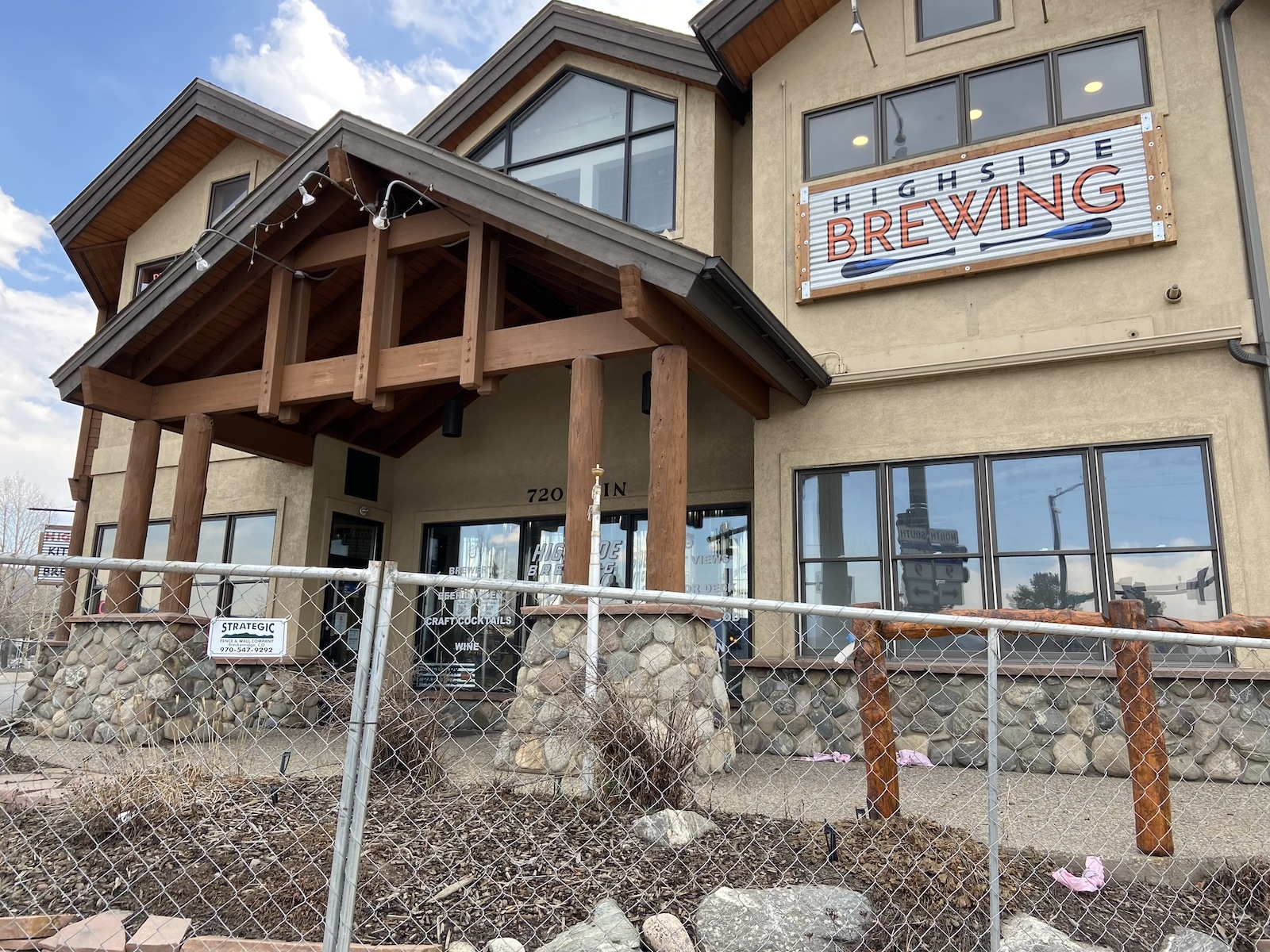 Highside Brewing is a spacious place to sip on a cold drink at an elevation of 9,000 feet. Grab some beer to go, or stay and enjoy both indoor and outdoor seating. Take in the mountain views with your fur friends, or bring them inside because the first-floor taproom welcomes your pets.
Upstairs is a cocktail bar and full kitchen, where surprisingly delicious food awaits. The food menu centers around Colorado-style barbecue but contains some kid-oriented selections as well. For a taste of something new, try the Frisco Chili Beer, a Blonde Ale that packs a punch.
720 Main St, Frisco, CO 80443 | 970-668-2337 | highsidebrewing.com
Co. Bar
Co. Bar provides a nice change in pace from the breweries and dives that Colorado is known for: it's one part modern cocktail bar, one part nightclub with DJs and dancing, and one part arcade. Enjoy pool, darts, many different arcade games from Big Buck to Baywatch, or dancing (if you've come on a night with live music.)
If you're hungry, you can order food from the neighboring restaurant, Ollie's Pub. Their cocktail menu features Colorado beers and Colorado distilleries, so you know that your drink is as local as it gets.
610 Main St, Frisco, CO 80443 | 970-455-8496 | cobarfrisco.com
Rising Sun Distillery
This Denver-based distillery has a Frisco branch that offers a wide variety of spirits, including rye, bourbon, dark angel whiskey, oaked and unoaked gin, vodka, and even different flavored liqueurs. Sit on the pet-friendly patio or enjoy the modern ambiance inside. If the timing works out, stop in for their happy hour Monday-Friday from 3:00 pm – 6:00 pm for specials on drinks and food.
Since the drinks are strong and delicious, you'll be glad that they have a small menu of bar snacks and entrees. Locals love the creative cocktails and that the food is reliably delicious. Try a tasting flight so that you know which bottle you want to bring home, or taste one of their unexpected versions of cocktails. Their chile martini incorporates peach brandy and chile liqueur and is certain to wake up your tastebuds after a day of skiing or sightseeing.
1121 Dillon Dam Rd Unit I, Frisco, CO 80443 | 970-455-8976 | risingsundistillery.com
Silverheels Bar & Grill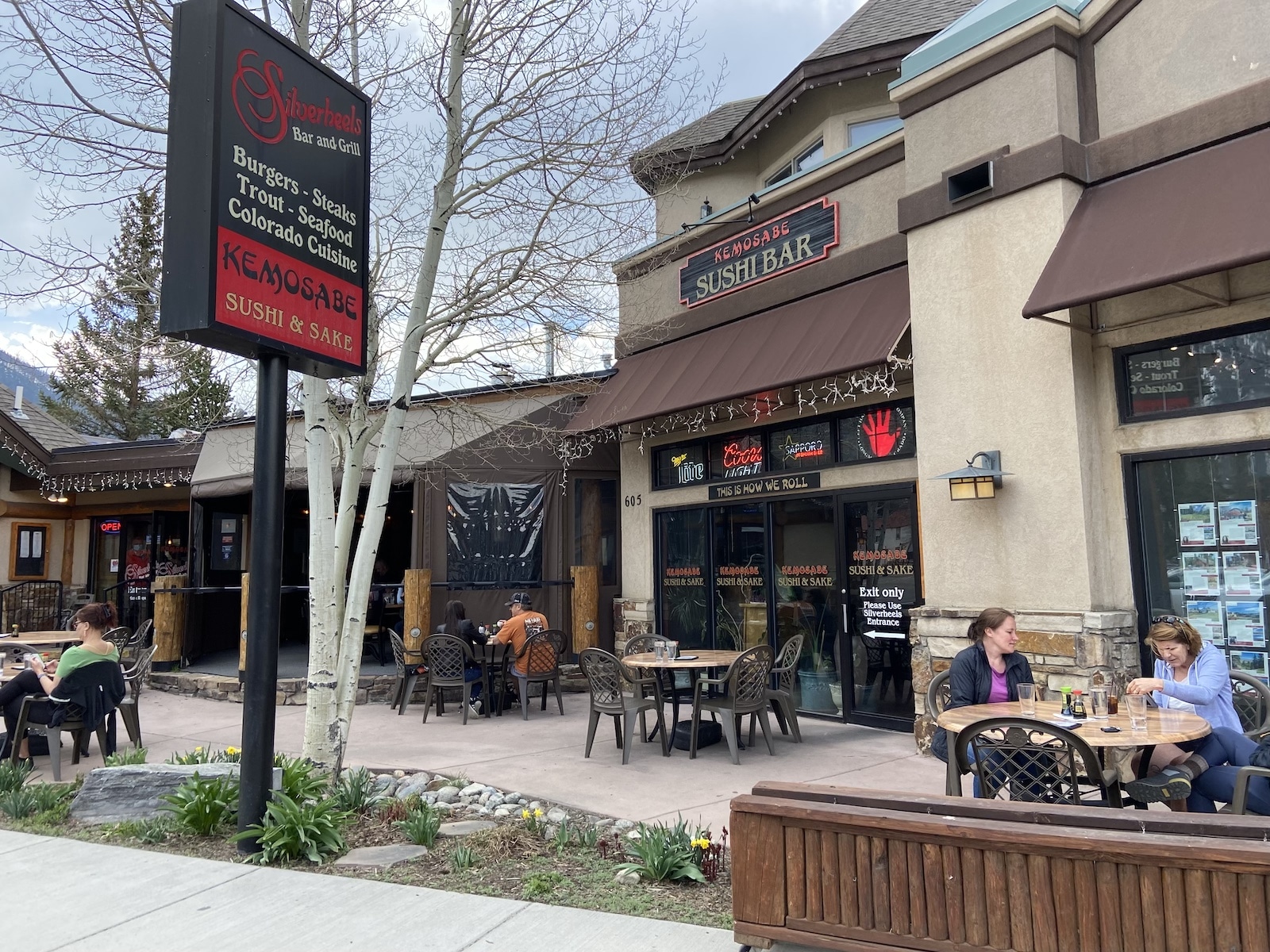 In the heart of downtown Frisco is the Silver Heels Bar and Grill, where you can grab a bite to eat or choose from the wide selection of drinks. Named after Lady Silverheels, a local Colorado legend who danced for miners during the smallpox epidemic, this restaurant has plenty of Colorado charm.
The food menu focuses on Southwest-inspired entrees and includes burgers, steaks, and fish. It has extensive options for anyone in your party, even the kiddos. Plus, you can order sushi from the neighboring restaurant, Kemosabe. The cocktail, wine, and beer lists are comprehensive, so you're sure to find something you like while you watch the game. The fireside seating offers charming wintertime atmosphere. Don't miss the uniquely shaped fries that their patrons can't stop raving about.
603 Main St, Frisco, CO 80443 | 970-668-0345 | silverheelsrestaurant.com
The Uptown on Main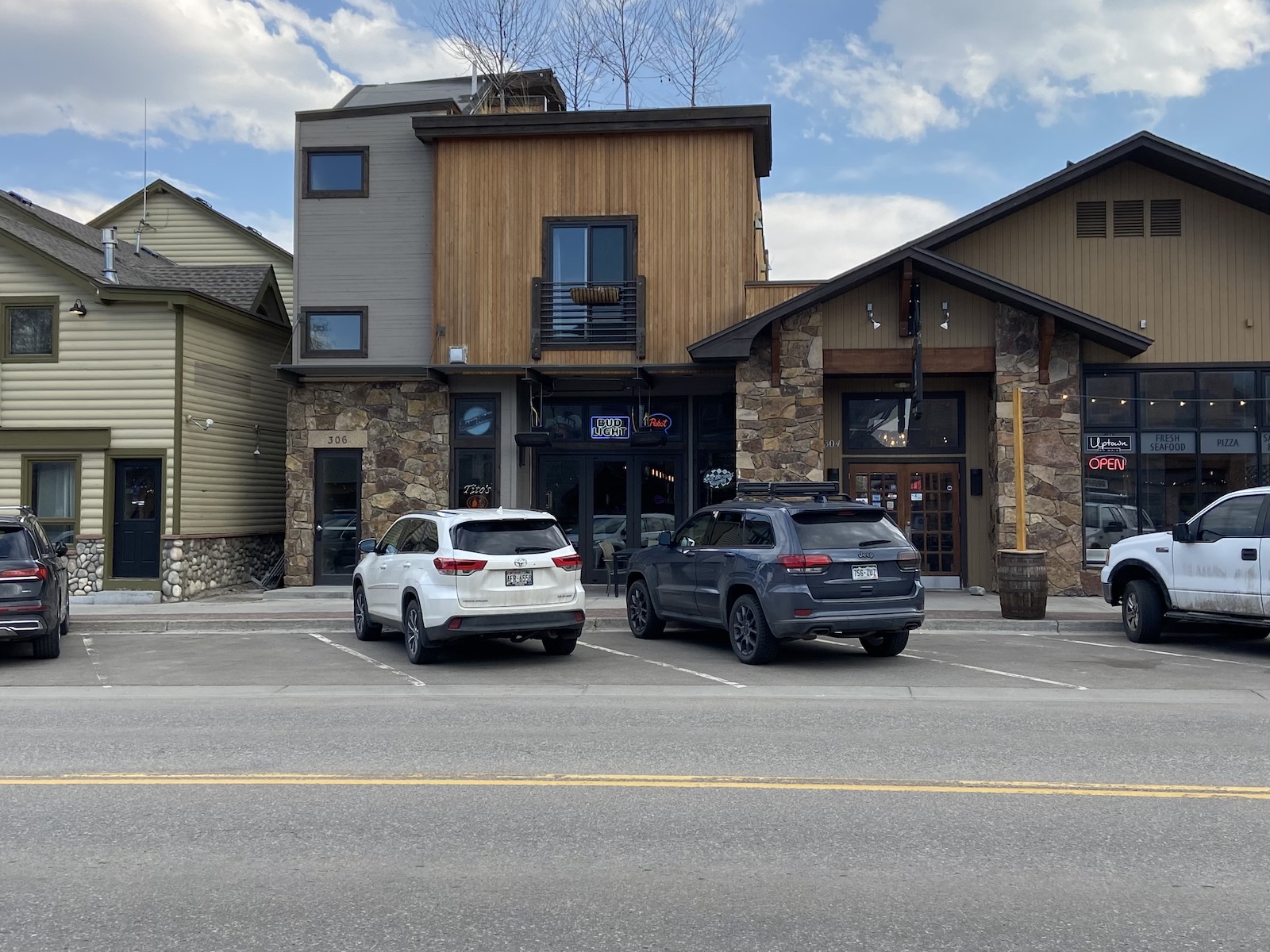 Converted from a tire shop, the Uptown on Main has come a long way from its days of auto repair. Stop in for the daily happy hour from 4:00 pm – 6:00 pm, where you can try 2-for-1 martinis, $5 wells, $3 off of wine selections, and deals on food. Their internationally inspired menu has something for everyone, from tacos to pizza to pasta.
At the Uptown, you can see every second of the game with their nine TVs and two 110" projectors. Yet, sports will have a tough time competing with the Frisco landscape. You might want to bring your camera because the food is as photogenic as the backdrop. The Uptown on Main has two patios to sit in the sun when you can, and the rooftop has ridiculous mountain views for you to soak in.
304 Main St, Frisco, CO 80443 | 970-668-4728 | uptownfrisco.com
The 5th Ave Grille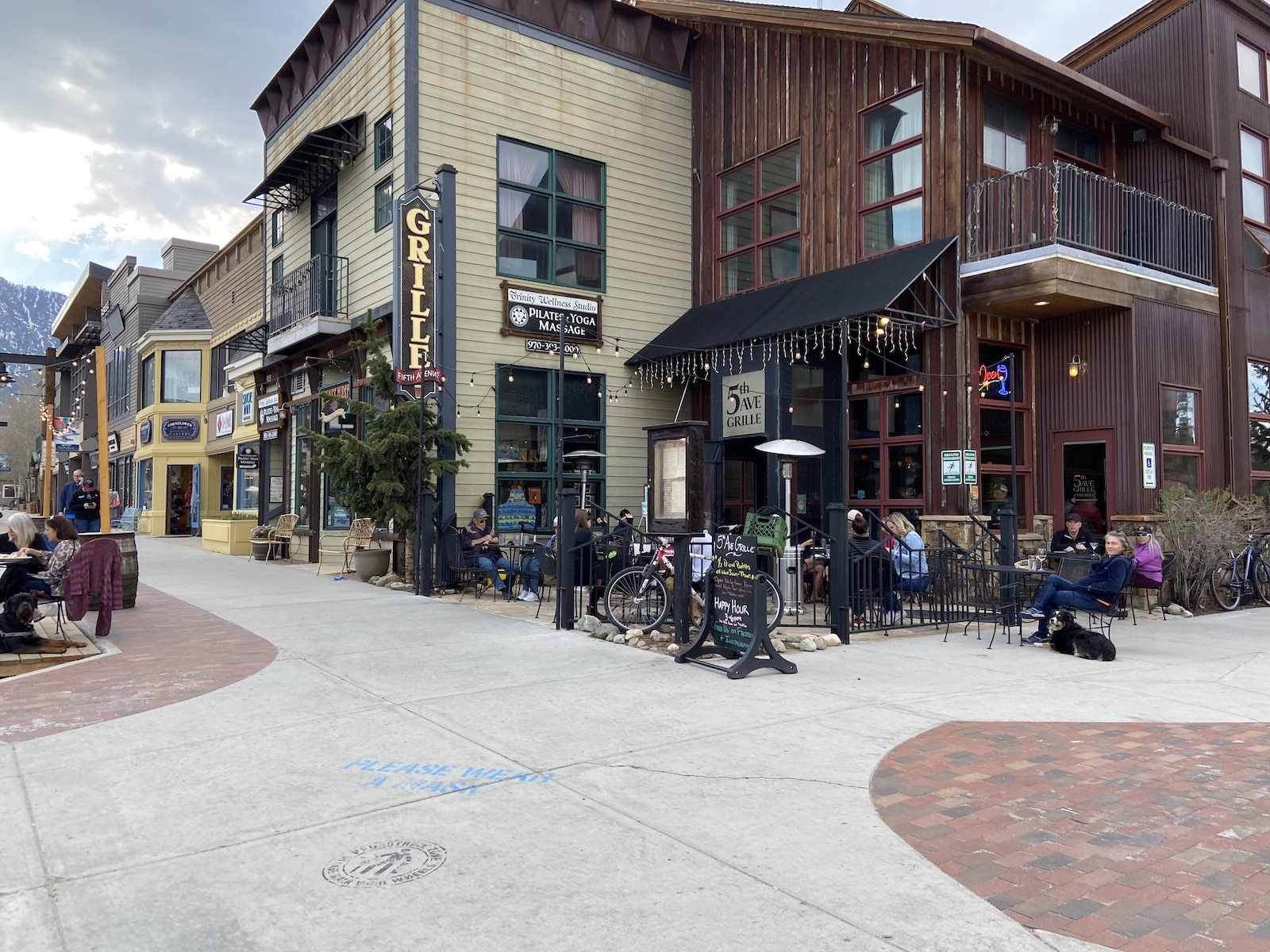 Last on the list is the 5th Ave Grill, a neighborhood place to grab a bite and drink. Don't plan on dive bar-style food here, though. Each menu item is much loftier than you'll find at the local watering hole. Most of the prices still have a small-town feel, though the entrees can be a bit pricier. The kids aren't left out either—they have a kids' menu that will make your little ones feel all grown up with items like beef tips with demi-glace.
Take advantage of their daily happy hour from 3:00 pm – 6:00 pm, but make sure you're seated in the bar, which is the only area where the specials apply. The $6 martinis are worth a special trip all on their own.
423 Main St, Frisco, CO 80443 | 970-668-3733 | 5thavegrille.com
While in Frisco, keep the elevation in mind and drink responsibly. And if you're heading down to Breck's best bars, remember to take the bus or Uber/Lyft.