Located almost 3 hours west of Denver on I-70, the lovely alpine town of Glenwood Springs is a worthwhile stop during anytime of year with numerous bars and restaurants to serve you . It marks the the start (or end) of the Roaring Fork Valley at the confluence of the Roaring Fork and Colorado rivers.
The mountain community of ~10,000 residents is a tourist hot spot, literally, featuring 3 hot spring resorts in-town. And that's just a small slice of the things to do in Glenwood Springs. Let's take a look at the best bars for drinks and happy hour in this fun town.
Doc Holliday's Saloon and Restaurant
For a taste of the Old West, visit Doc Holliday's Saloon and Restaurant. You'll know you're in the right spot when you see a nine-foot neon sign with a gun. There's a chance that Doc Holliday himself had a drink at this bar before he died in Glenwood Springs, so this is an ideal place for fans of wild west lore.
Despite the western décor, pictures, and memorabilia, they have modern amenities, meaning you can watch the game while you sit at the gorgeously restored bar. Catch the happy hour from 5:00–7:00pm.
724 Grand Avenue | 970-945-2388 | springs.bar
Slope & Hatch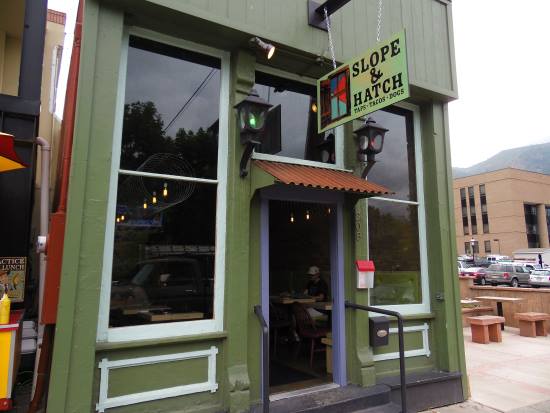 If part of your group is craving hot dogs and the other is craving tacos, the only place in Glenwood Springs that can take care of you is Slope & Hatch. They're ranked as one of the best taco spots in the U.S., and with creative takes like the jerk chicken or curry lamb tacos, it's easy to see why. Their drinks are no less impressive.
They have a decent selection of beer to choose from, and they serve their craft cocktails in cute mason jars. Keep in mind that you may have to wait as Slope & Hatch is one of the most popular places in town.
208 7th Street | 970-230-9652 | slopeandhatch.net
Casey Brewing Taproom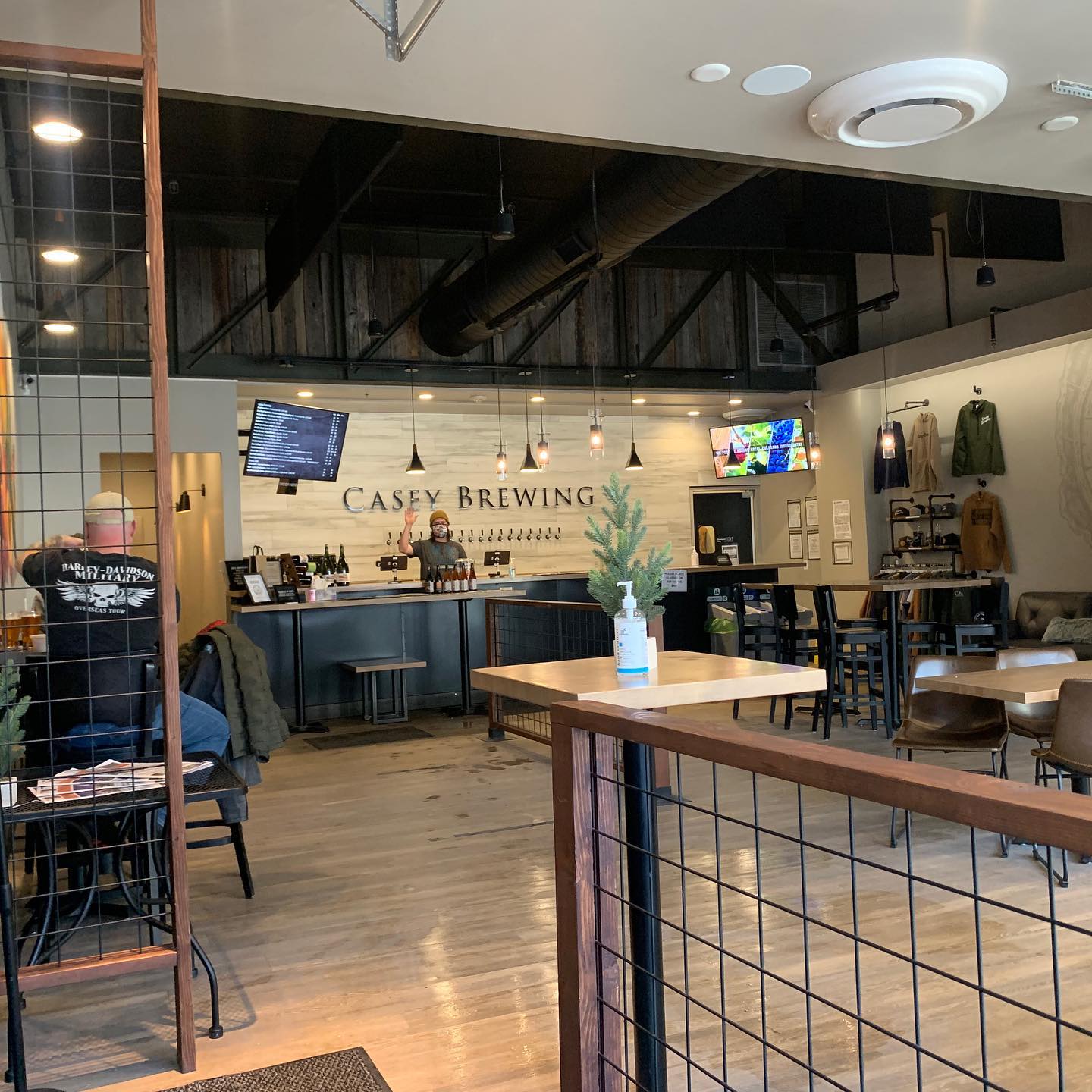 Casey Brewing Taproom is a must-visit spot if you love sour beers. Casey also has some delectable IPAs and guest taps for you to try. Sit on their dog-friendly patio and grab some food at one of the nearby restaurants if you get hungry.
Kids are welcome here, so bring the whole family if you like. Beer is the only thing on the menu—if you're looking for more options, you might be better suited elsewhere.
711 Grand Avenue | 970-230-9485 | caseybrewing.com
Glenwood Canyon Brewpub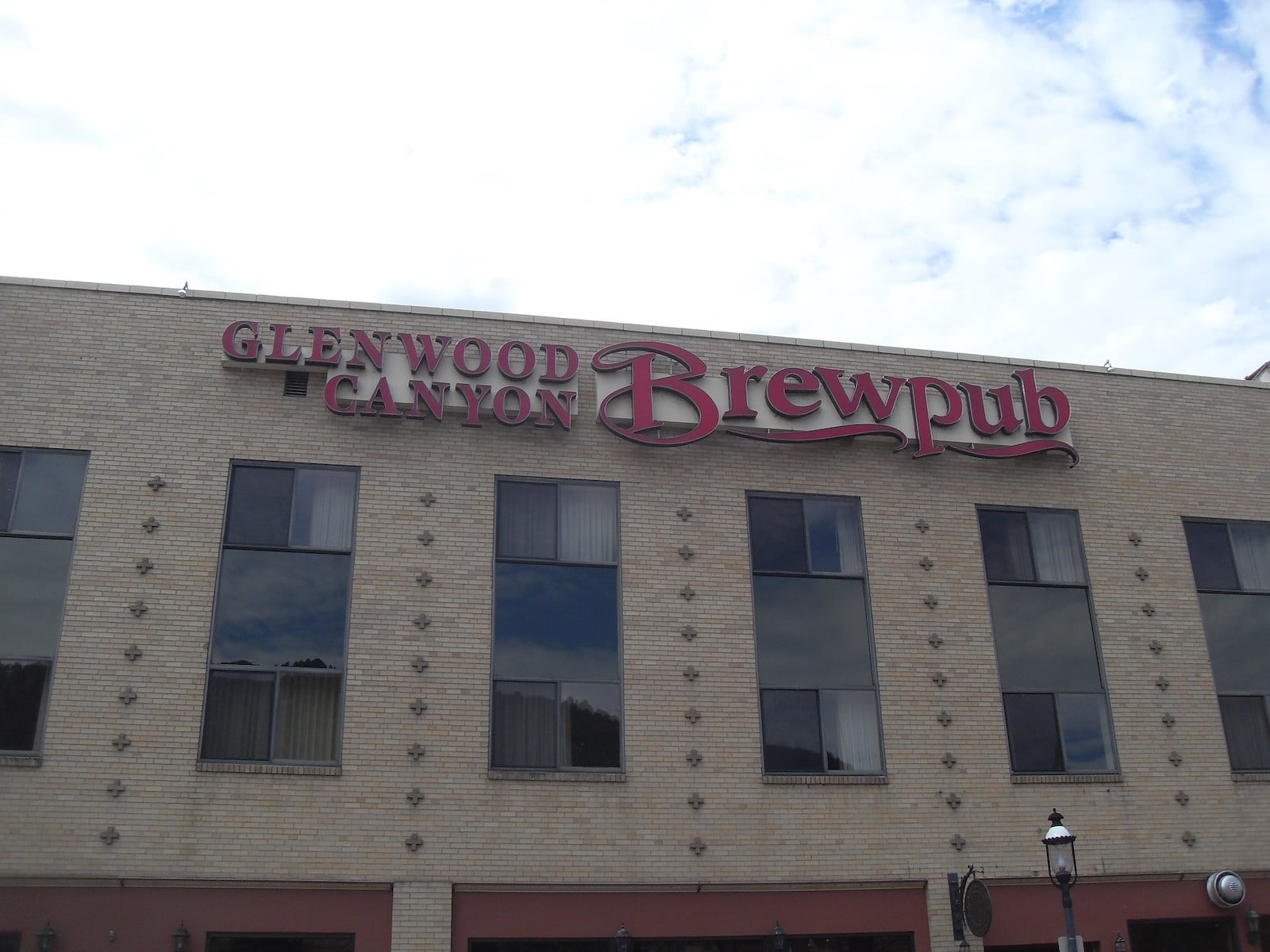 Glenwood Canyon Brewpub has the facts and figures that prove how awesome they are: established in 1996, they've served over 5 million customers and won 23 awards for their beer. There's no pretense here; it's just a casual spot to relax with a cold one.
Sit on the sunny patio and try a sampler of beer before selecting your favorite. Feel free to bring the whole crew because Glenwood Canyon Brewpub has a fun kids' menu, non-alcoholic beer options, and allergen-friendly menu items.
402 7th Street | 970-945-1276 | glenwoodcanyon.com
Ball Brewing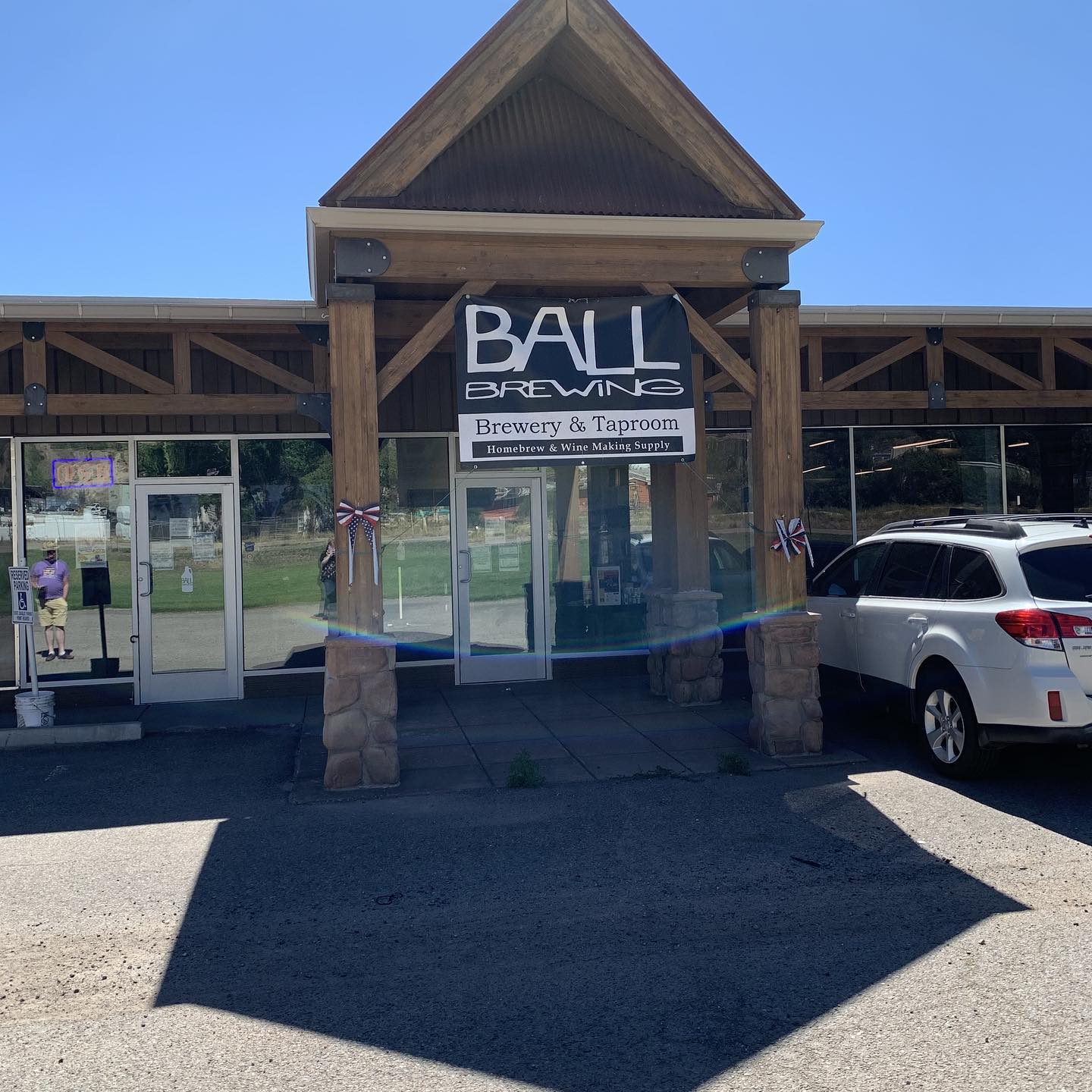 Even in smaller Colorado towns, you can often find more than one extraordinary brewery. Glenwood Springs is one such town, and Ball Brewing is another worthy spot to grab a draught. Ball Brewing lays claim to its own strain of hops, so the beers you get here will be unlike anywhere else.
Better yet, this is beer you can feel good about drinking. Not only is the brewery fueled by fully renewable energy sources, but they also donate their spent grain to feed animals at a local farm.
This bright and cheery stop has TVs for sports-watching plus thoughtful touches like purse hooks and phone chargers at the bar. They're dog-friendly, and they keep a couple of games on tap like skeeball and pinball to help you pass the time between now and your next brew or seltzer.
7025 Colorado Highway 82 | 970-989-1210 | ballbrewing.com
The Pullman Food & Drink
In downtown Glenwood Springs, you'll find The Pullman, a hip place to grab an adult beverage. This is a spot where creativity radiates from the menu, and you can sample inventive cocktails like the South Side, comprised of tequila, cantaloupe, and lemon with a chile salt rim. The ambiance is as elevated as the menu is.
Everything about this place screams quality, but you'll find the prices relatively reasonable. It ticks all the Colorado boxes, with a dog-friendly patio, virtually inescapable mountain views, a predominantly local beer list, and delicious menu offerings minus any conceit.
330 7th Street | 970-230-9234 | thepullmangws.com
Riviera Scratch Kitchen
The Riviera Scratch Kitchen bills itself as a supper club, but it's not as stuffy as the term implies. Though you can find vintage faves like Beef Wellington on the menu, more casual options like lasagna, burgers, and brats are also available.
They often feature a pianist to serenade your evening, and if you're bringing a date, it's a good idea to make reservations ahead of time so that you won't be kept waiting. Grab a cocktail, glass of wine, or pint of beer, and enjoy the atmosphere.
702 Grand Avenue | 970-945-7692 | rivieraglenwood.com
19th Street Diner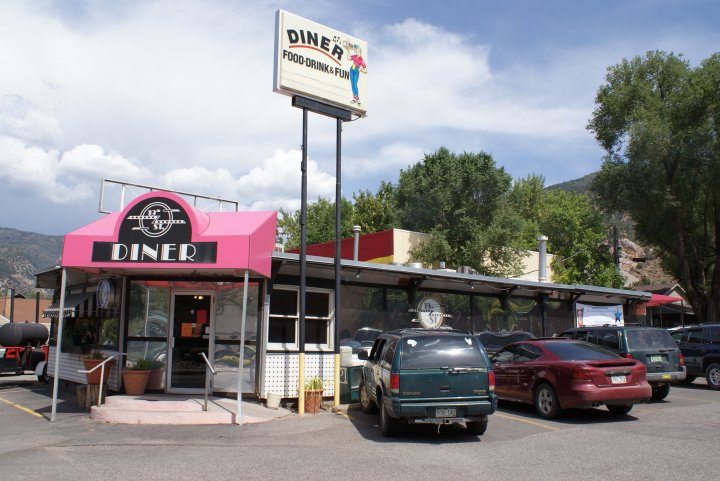 Travel back to a time when people deep fried carbs with abandon and understood that a memorable breakfast doesn't have anything to do with making a lot of fuss. At the 19th Street Diner, you can order fried French toast or pie a la mode.
But much more importantly, you can find an a.m. cocktail, like Jamo's Coffee, which comes with Jameson and both Irish and whipped cream. Or try the Boat Drink, which holds the promise of four rums, three juices, and a cab ride home. The prices here are reasonable enough to render a happy hour unnecessary.
1908 Grand Avenue | 970-945-9133 | 19thstreetdiner.com
Grind
When you need locally sourced ingredients in both your food and drink, Grind is the place to go. Here, you can find an impressive beer list, cocktails, and wine, plus burgers that were ground on-site. Though you might assume the menu is so meat-centric that it would scare away vegetarians, that's not the case. There are plenty of vegetarian and gluten-free options that will cater to most dietary restrictions.
Everything here is fresh and clean, and that includes the atmosphere. You can sit inside and catch the game or enjoy the sun on the patio.
701 Grand Avenue | 970-230-9119 | grindglenwood.com
Juicy Lucy's Steakhouse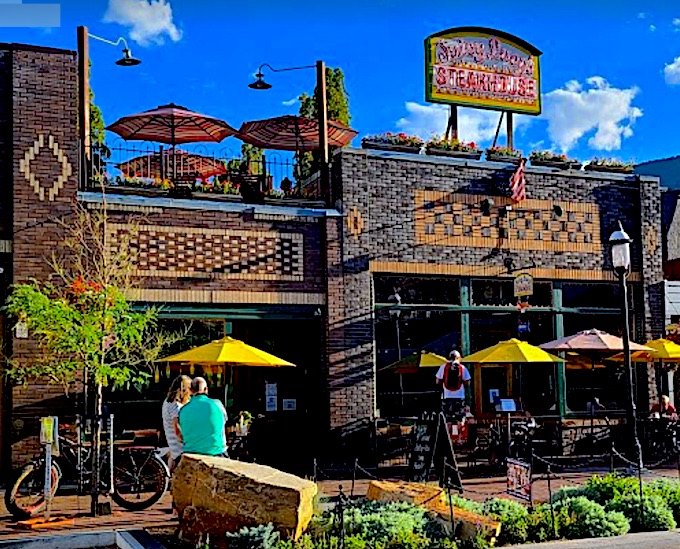 Juicy Lucy's is more than just a steakhouse—it's a place where you can sit in the lounge, enjoy premium wine, and order some stellar apps. This restaurant has a notable beverage program that garners attention and accolades from prestigious sources, like their Wine Spectator award of excellence for wines of unusual value.
They have a rooftop with a gorgeous view, perfect for ordering oysters on the half shell with some champagne and getting the full fine-dining experience in Glenwood Springs. Check their website to stay apprised of their daily food and drink specials, and stop in for their daily happy hour from 4:00–6:00pm.
308 7th Street | 970-945-4619 | juicylucyssteakhouse.com
Here's to raising your next glass in Glenwood Springs! Have a happy time imbibing in the Roaring Fork Valley!