Evergreen is a small mountain town resting in the foothills of Colorado's Front Range, just 40 minutes west of Denver. The small town boasts plenty of outdoor activities and a lively downtown where visitors will find shops, restaurants, and bars.
Home to dive bars, breweries, pizza joints, and fine dining wineries, there is something for everyone in Evergreen. Whether you are staying for the weekend or just up for a day-hike, here are our favorite bars in Evergreen that are sure to quench your thirst.
Lariat Lodge Brewing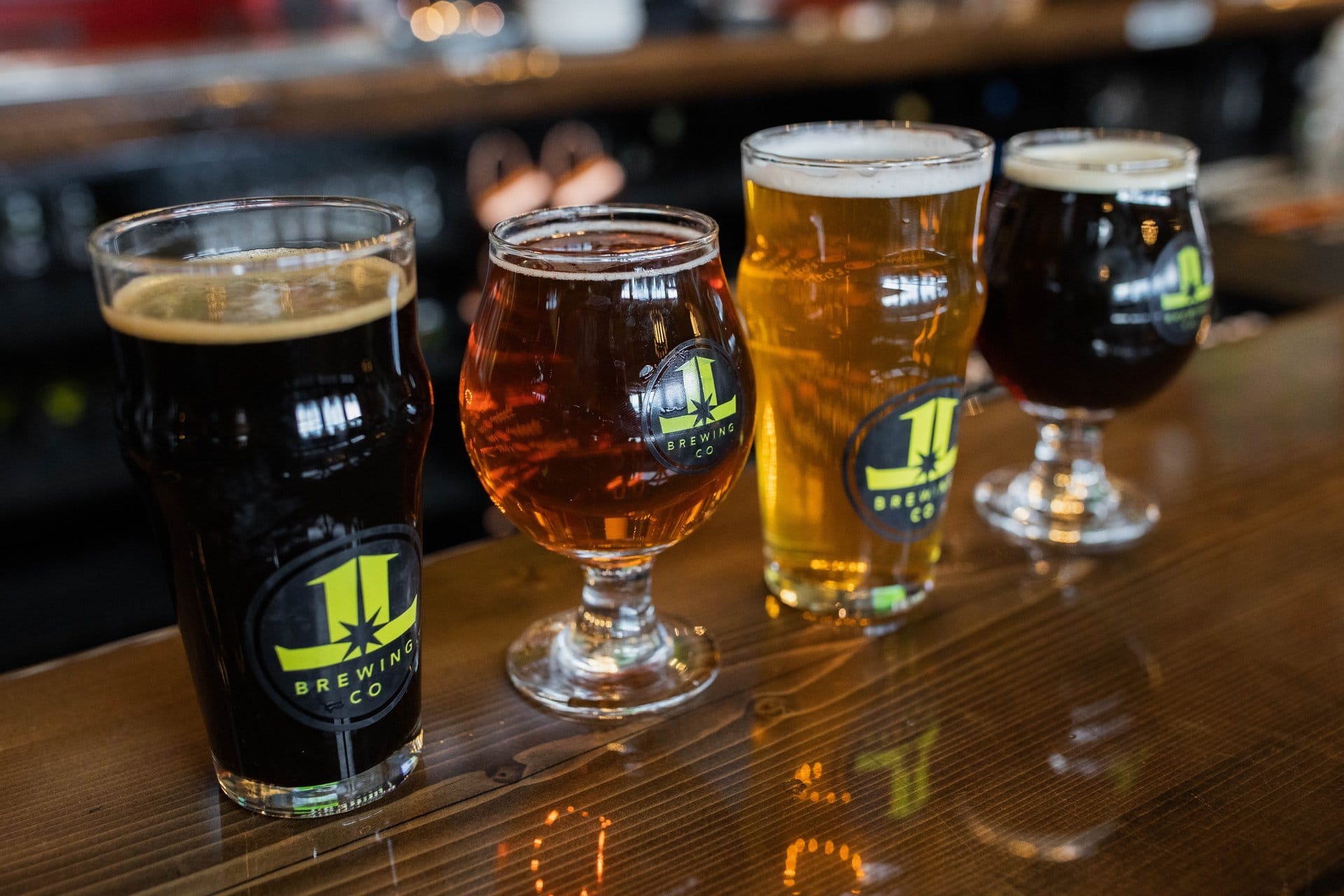 Lariat Lodge Brewing started in 2015, is Evergreen's first brewpub and a welcomed addition to the bar scene. Nestled in the mountains, the view you see here will make you forget you're a mere 30-minute drive from Denver.
Try something from their rotating selection of brews, or grab a cocktail or glass of wine—this isn't one of those beer-only breweries. You won't find any prettier patios or a more dog-friendly space nearby, and it's the perfect place to bring the kids, too. Stop in for their happy hour from 3:00 – 6:00 pm on weekdays for specials on drinks.
Also, be sure to check out their location in Littleton, CO.
27618 Fireweed Drive | 303-674-1842 | lariatlodgebrewing.com
Cactus Jack's Saloon & Grill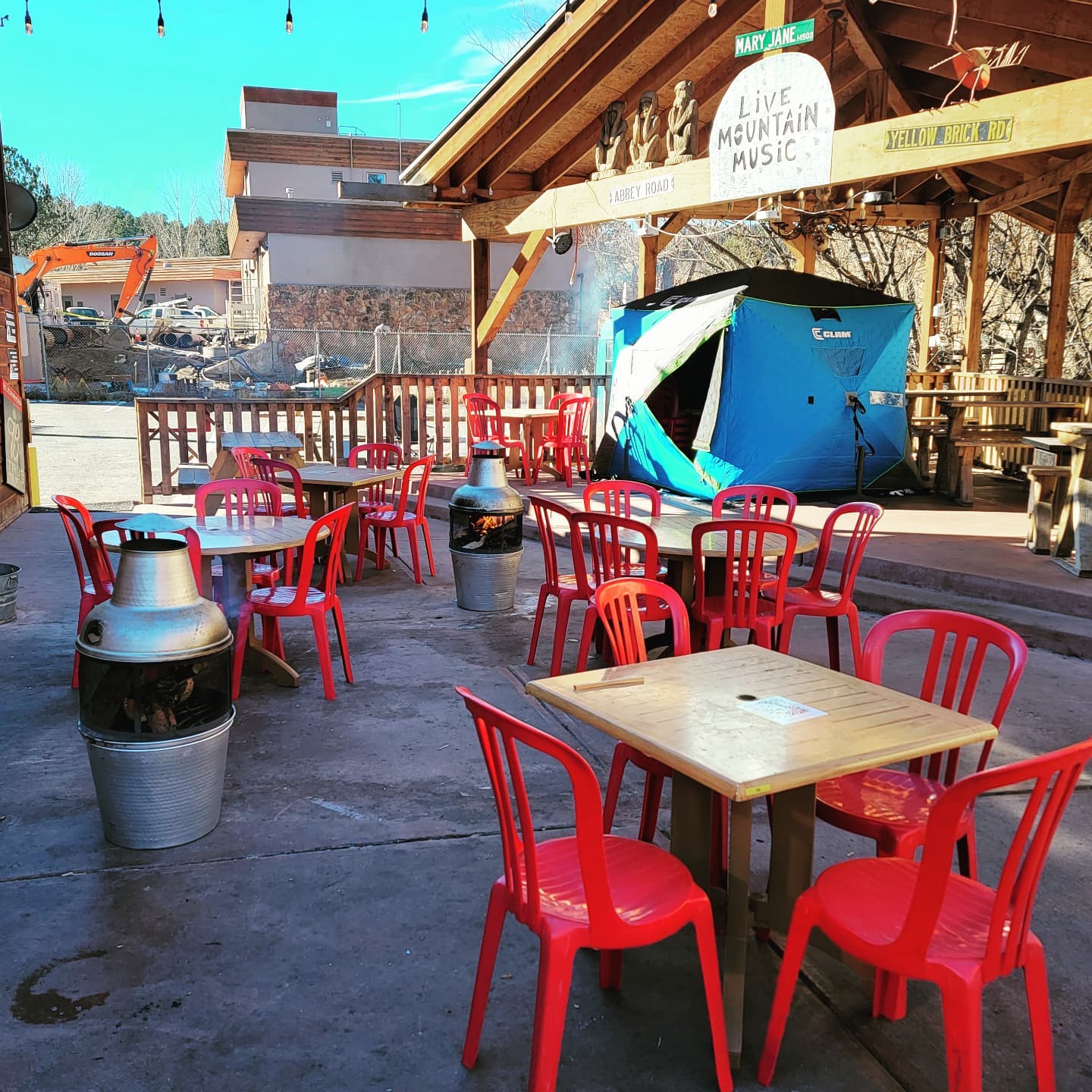 Anyone who loves live music will want to head to Cactus Jack's Saloon & Grill. Here, you can find karaoke, open mic nights, and many live, local band performances. Sit inside at the bar to catch the game, or find a creekside table to enjoy some music in the great outdoors.
Music isn't the only draw at this divey joint—you can also play pool, stop in for trivia night, or turn up for their seasonal theme parties. There's almost always something going on. Late-night drinkers will be pleased to learn that they are open every day until 2:00 am. Stop in for their weekday happy hour from 4:00 – 7:00 pm.
4651 Highway 73 | 303-674-1564 | evergreenlivemusic.com
Creekside Cellars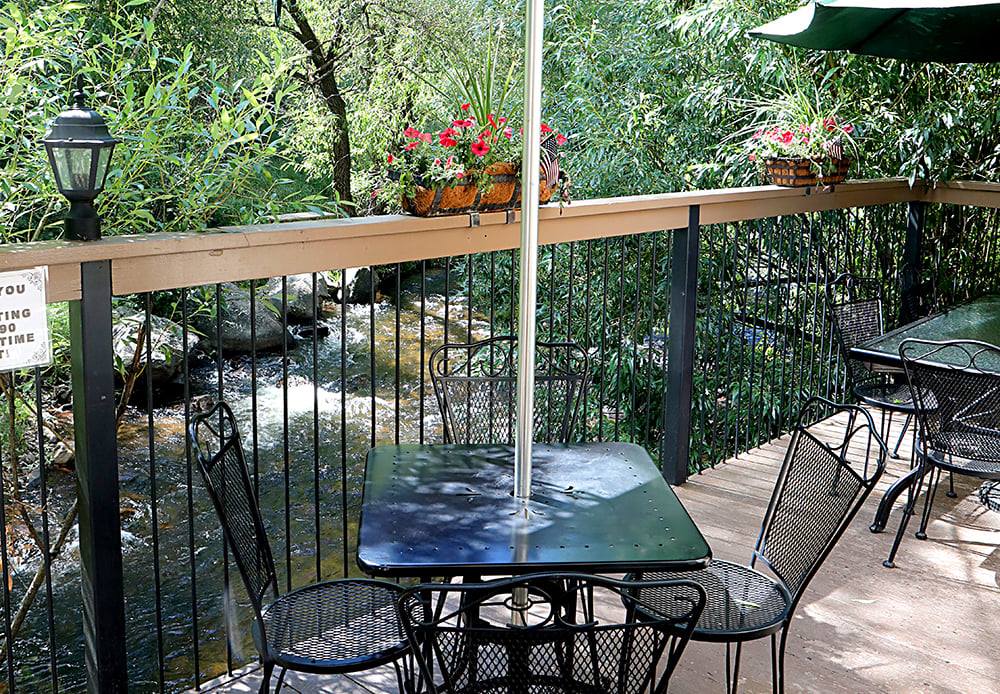 It would be a shame to visit Evergreen on a sunny afternoon without stopping at Creekside Cellars, where you can enjoy wine, light Italian fare, and more on their creek-adjacent patio. Creekside Cellars has been an Evergreen mainstay for twenty years, and it's ideal for sitting outside, enjoying the antipasto platter, and hoping for a chance elk sighting.
Make a reservation or plan to wait, and keep in mind that they close early, so lunch or an afternoon aperitif is the best—and only—option.
28036 Highway 74 | 303-674-5460 | creeksidecellars.net
Revival Brews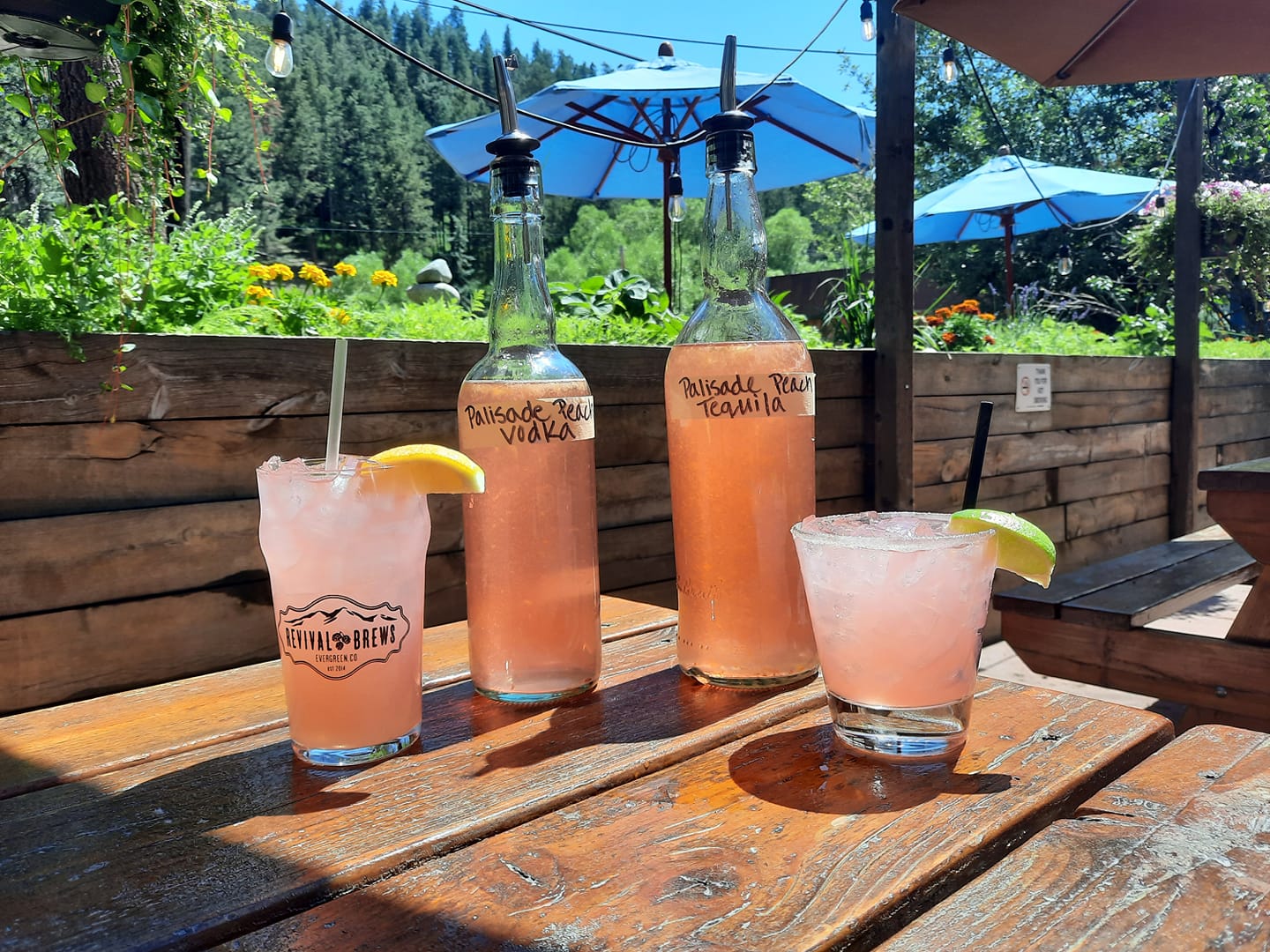 Revival Brews is an excellent pub where you can sip on your choice of beer, wine, or cocktails. They have the complete Evergreen experience here: local beer, occasional live music, and a patio to enjoy the scenery on.
Revival Brews also has a pared-down menu, but both the food and the locally-infused cocktail drinks are reliably good. They have locally made soda options and kombucha for anyone abstaining, making this place a must for the entire family.
27845 Highway 74 | 303-670-3224 | revivalbrews.pub
The Little Bear Saloon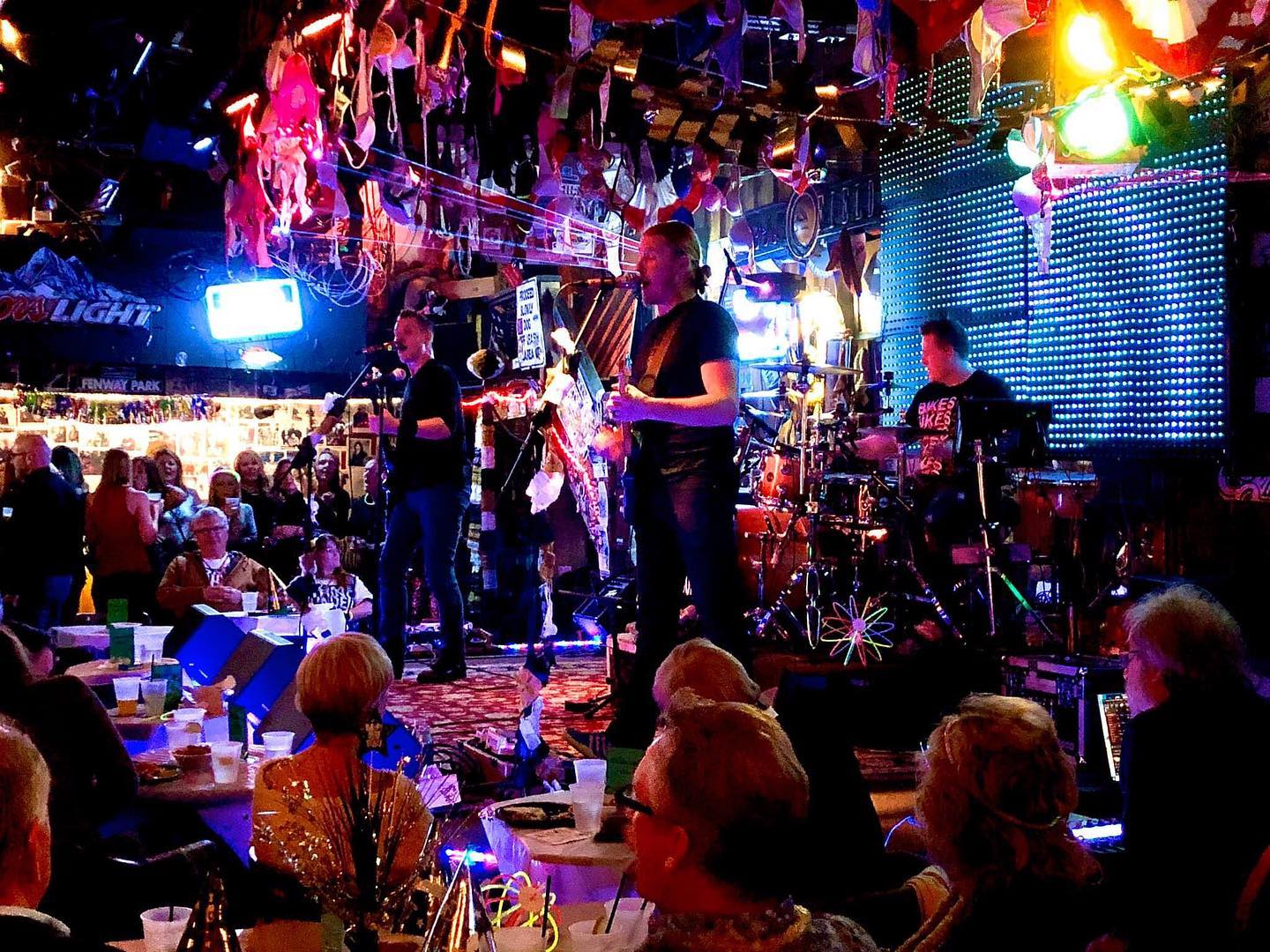 For a sample of Old West Colorado, head to the Little Bear Saloon, beloved by Evergreen locals for over forty years. This is the place to come for a memorable experience, and it serves up a rare combination of biker bar and historic saloon vibes to all who enter.
The Little Bear Saloon touts itself as Colorado's rowdiest mountain bar, so don't expect white-glove service and extravagant food—instead, you can find just the opposite. Leave the kids at home, grab some cheap beer, listen to live music, and wonder how all those bras came to hang from the ceiling. It's a great place to shed your inhibitions and go dancing in this no-frills mountain town.
28075 CO-74 | 303-674-9991 | littlebearsaloon.com
Willow Creek Restaurant at Evergreen Lake
For a drink with a view, come to Willow Creek Restaurant at Evergreen lake. You can't reserve a seat on the patio, so plan to grab a drink at the bar and wait if one's not immediately available. The gorgeous scenery is worth the wait and then some at Willow Creek, a place that has garnered attention and awards from Wine Spectator.
Try a cocktail or do your best to wade through their lengthy wine list, sure to please even the pickiest oenophiles. Everything here is house-made, and you can expect to pay a premium for food and drinks. But it's the perfect place to celebrate a special occasion.
29029 Upper Bear Creek Road | 303-674-9463 | willowcreekevergreen.com
The Wildflower Café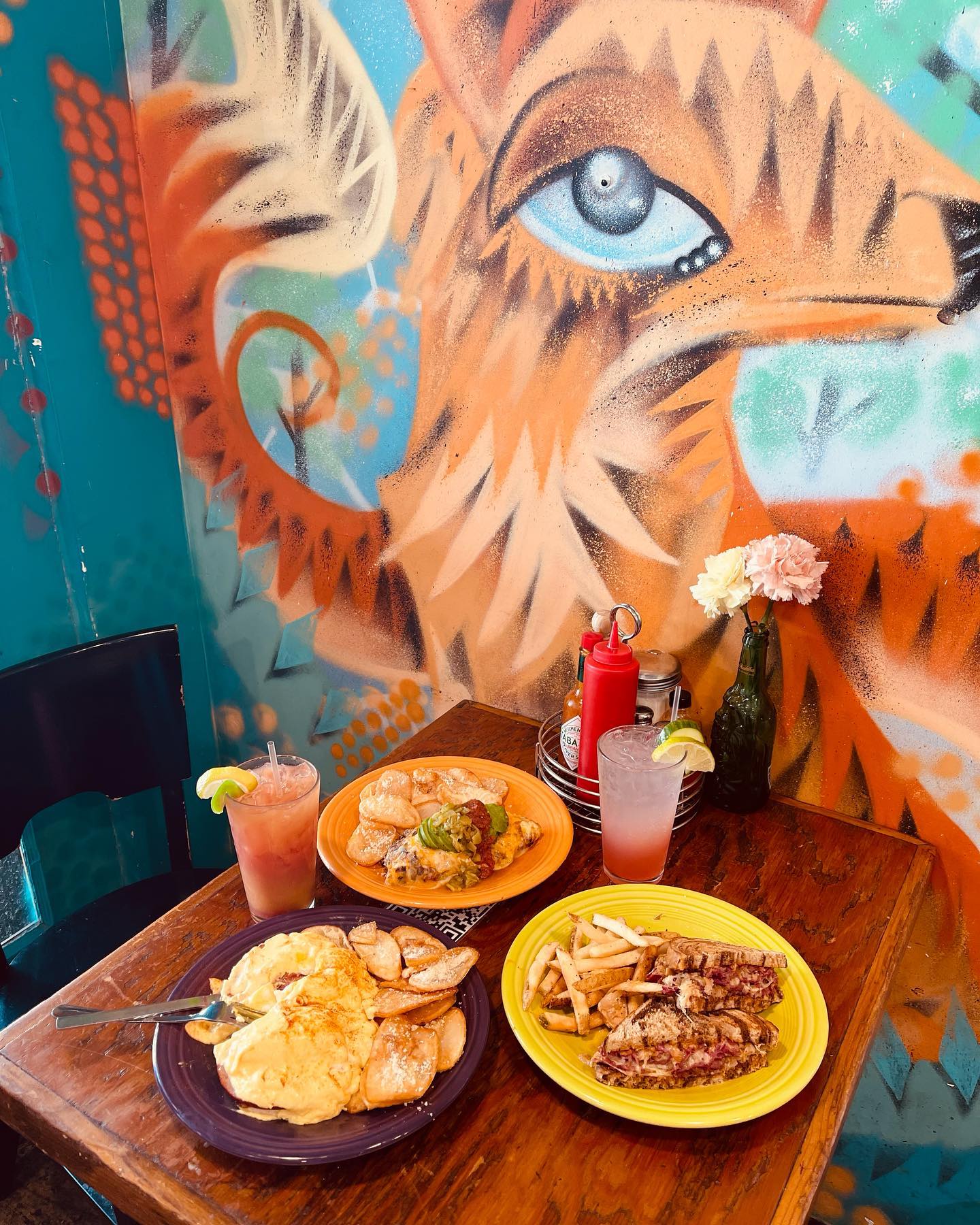 For an early drink in Evergreen, stop by The Wildflower Café, perhaps the only place in town that offers six types of Bloody Marys, eight kinds of mimosas, and perfect post-hike breakfast and lunch dishes. This place is small and cozy, but it's chock-full of small mountain town charm.
Sit indoors and enjoy the funky atmosphere or ask for a table outside where you can do some people-watching. This place is popular and tiny, so unless you go during off-hours, you can expect a wait.
28035 Highway 74 | 303-674-3323 | wildflowerevergreen.com
Beau Jo's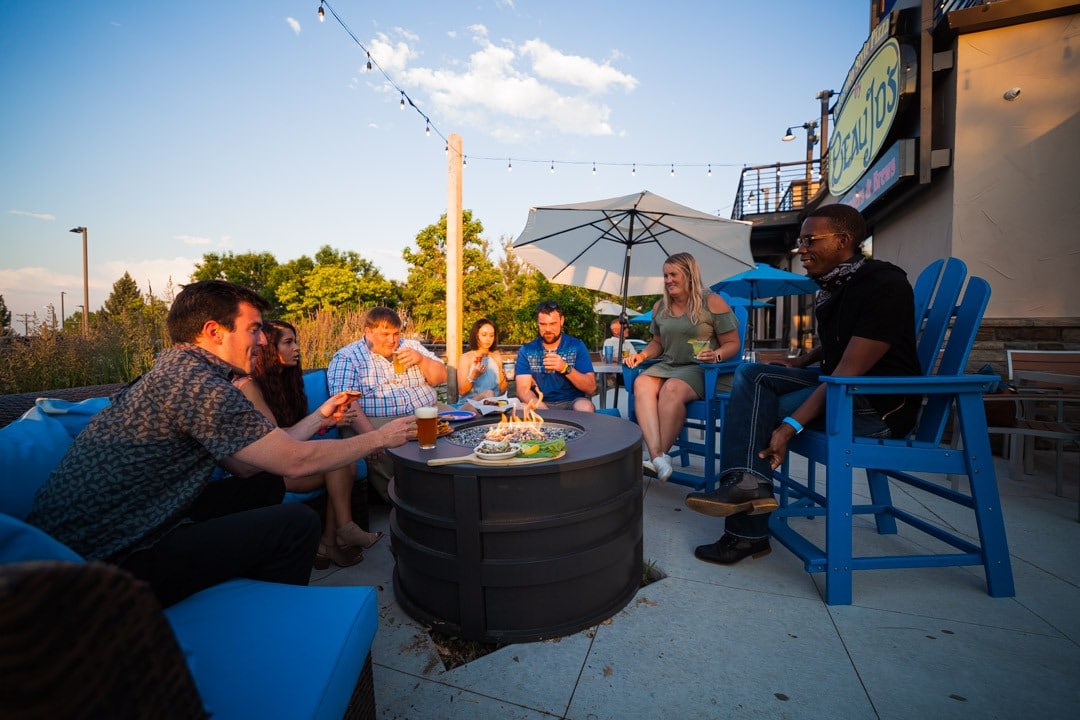 Beau Jo's is a cornerstone of Colorado's culinary landscape—especially if we're talking about Colorado-style pizza. If you're craving local pizza, this is the place to go. And unlike most pizza places, Beau Jo's is a great spot to bring your gluten-free and vegan friends because they have delicious options.
The patio overlooks Bear Creek, so you can cozy up to nature while you have a beer or something from their full bar. Don't miss their happy hour that runs from Monday – Friday, 3:00 – 6:00 pm for deals on drinks and food.
28186 CO-74 | 303-670-2744 | beaujos.com/locations/evergreen
Maya's Cantina and Grill
When you start to crave Mexican food after a long day of stand-up paddleboarding, consider heading to Maya's Cantina and Grill. Whether you sit on the patio, cozy up near the fireplace, or watch the game at the bar, you'll want to try one of their thirst-quenching margaritas.
But if you prefer, you can select something from their beer, wine, and specialty drink menu. This Mexican place has decent options for the gluten-free and vegan crowd, too. No matter your diet, you won't want to miss the happy hour Tuesday – Friday from 12:00 – 2:00 pm and 4:00 – 6:00 pm with specials on drinks and food.
28215 Highway 74 | 303-670-3000 | mayascantinaandgrill.com
The Wood Cellar
The Wood Cellar is Evergreen's best sports bar, and it's great for fans of dive bars and live music as well. They have a Bloody Mary bar on Sundays, and regulars can join their wine and mug clubs for discounts on wine and beer.
Sit indoors or outdoors, and dance or play pool if the mood strikes. Don't miss their daily happy hour from 3:00 – 5:00 pm and check their website for daily specials on food.
1552 Bergen Parkway, #101 | 303-670-8448 | thewoodcellar.net
Cheers to finding your new favorite bar in Evergreen!