Whether you're looking for the best bar to celebrate St Patty's Day or just enjoy the ambiance of a classic Irish pub, the Mile High City has you covered. Get a taste of Ireland at bars all across the Denver Metropolitan Area.
Most Irish pubs feature dark wood to set the tone, a casual and friendly atmosphere, and plenty of hearty, comfort food. And of course, you can find Guinness on tap and other popular Irish drinks like Magners Irish Cider. For your drinking, eating, and relaxing pleasure, we've compiled a list of Irish pubs in Denver and its suburbs. Also, check out the best events for St Patty's Day in the Mile High City.
Here are the top Irish bars in Denver, CO, in no particular order:
1. Nallen's Irish Pub – Lower Downtown
One of Denver's most historic and popular bars, Nallen's Irish Pub has been serving authentic fare and flair since 1992. This makes it the oldest Irish bar in the Mile High City! While there's no food, they take their craft seriously, with great drinks and happy hour daily starting at 4pm. There's a small patio out front to soak up the ambiance of LoDo's Market Street.
1429 Market St, Denver, CO 80202 | 303-572-0667 | nallenspub.com
2. Scruffy Murphy's Irish Pub – Five Points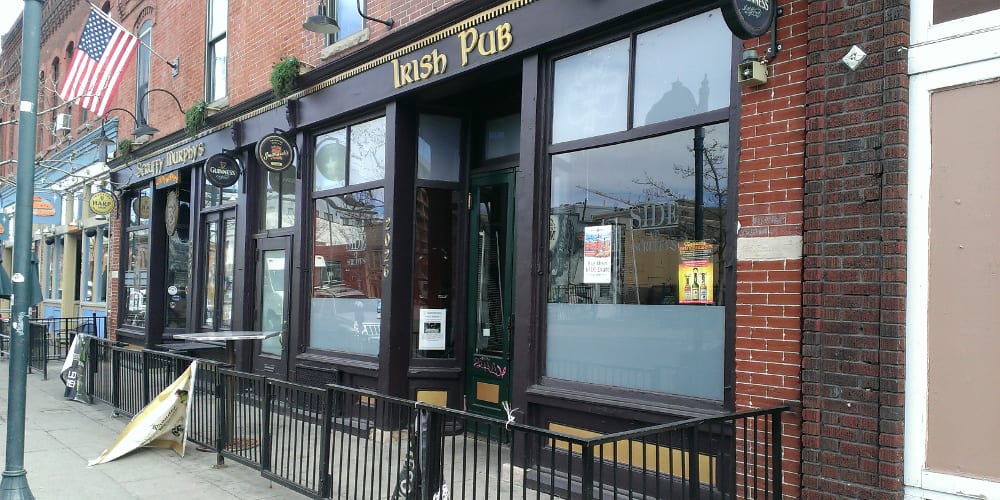 Established in 2005, Scruffy Murphy's Irish Pub has been serving the Ballpark neighborhood for 15 years. It's an authentic Irish bar featuring antique stained glass and a dark wood bar. The relaxed weekday atmosphere goes up a notch on weekends with a more vibrant atmosphere showing live bands and DJs.
You can find multiple Irish beers and ciders on the menu, as well as fares like Shepard's pie, bangers and mash, and fish and chips. Enjoy your pub grub on the big beer garden in the back or slim front patio.
2030 Larimer St, Denver, CO 80205 | 303-291-6992 | scruffymurphysirishpub.com
3. Slattery's Irish Pub – Denver Tech Center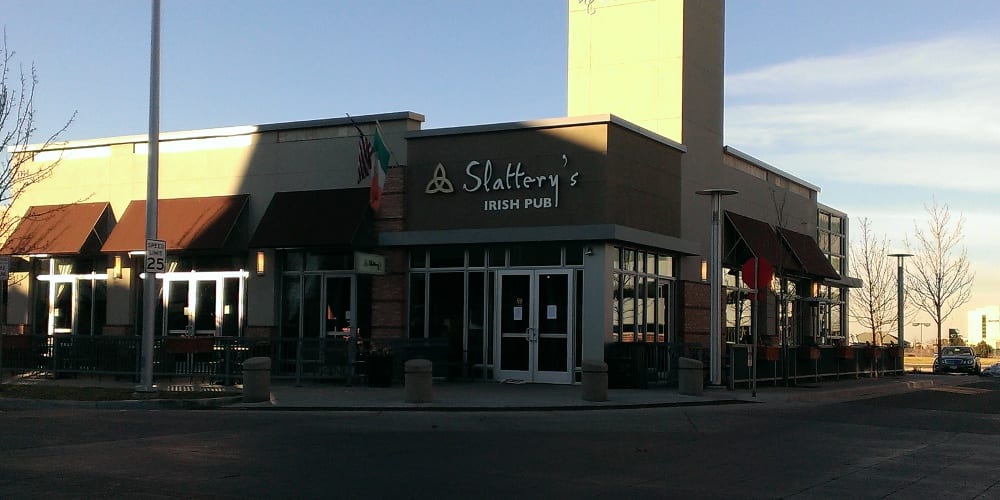 The DTC has a few options for the ambiance of Ireland. One of the longstanding favorites is Slattery's Irish Pub. Located just off Belleview Avenue in Greenwood Village at The Landmark, this classic pub serves up Irish and American favorites in a spacious, welcoming environment. There's outdoor seating on a side patio.
They have daily drink specials, including happy hour Monday to Friday from 2pm to 6pm, and nightly from 9pm to midnight.
5364 Greenwood Plaza Blvd, Greenwood Village, CO 80111 | 303-741-2115 | slatteryspubandgrill.com
4. The Irish Rover – Broadway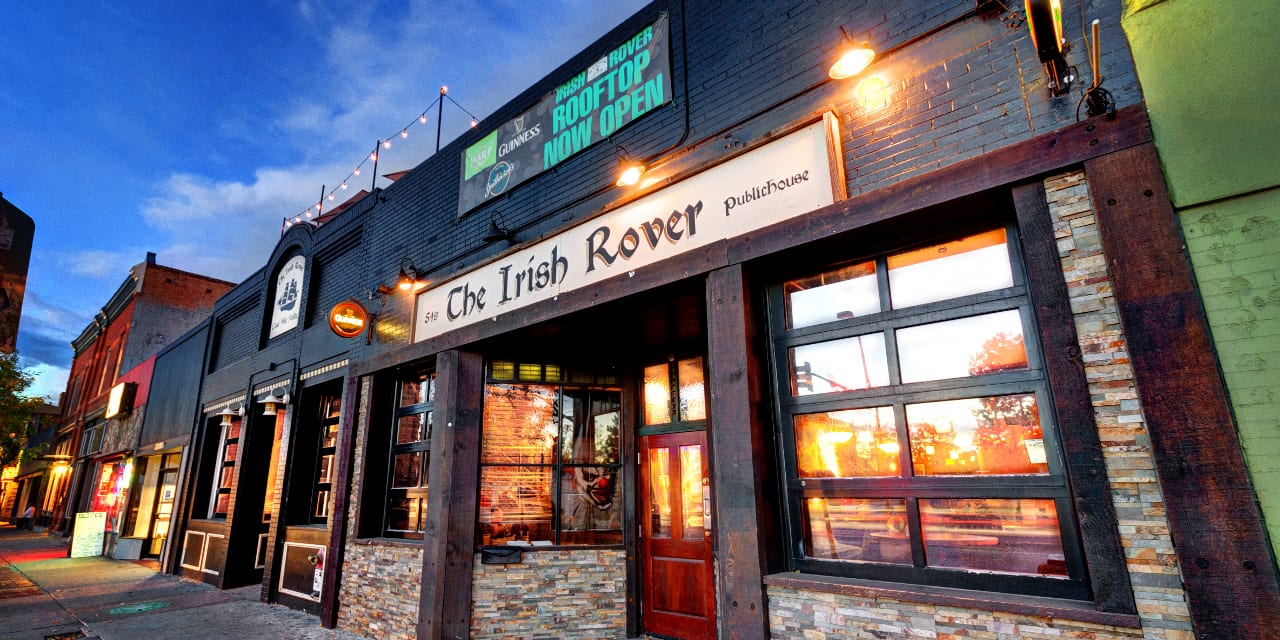 A South Broadway mainstay, The Irish Rover Pub is one of the most popular Irish bars in the city. There are several rooms over two floors, including an outstanding rooftop patio overlooking SoBro. They have hearty Irish and American fare, weekend brunch and late-night eats. Happy hour runs Monday to Friday 3pm-7pm with 2-for-1 drinks!
54 S Broadway, Denver, CO 80209 | 303-282-4643 | theirishroverpub.com
5. Ned Kelly's Irish Pub – Littleton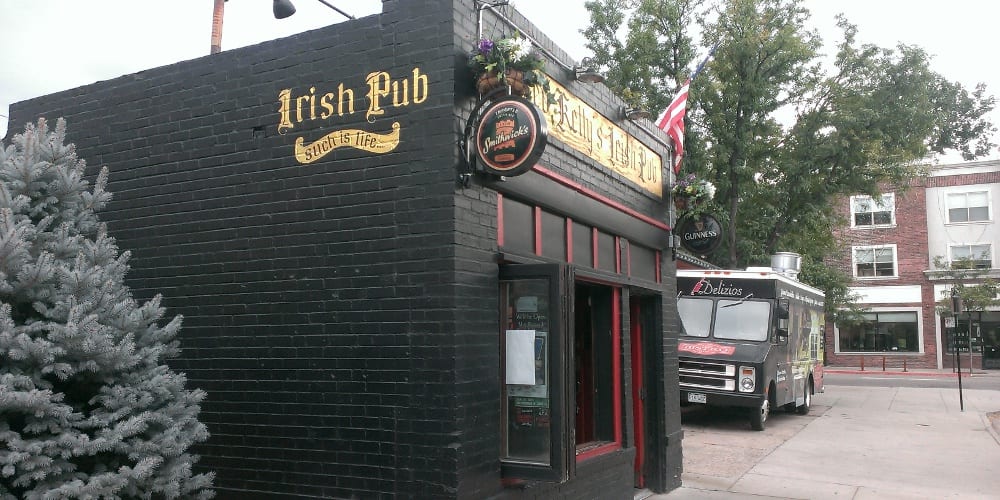 You'll find this bar tucked away in Littleton's historic downtown area. This cozy black brick building welcomes locals with a daily happy hour and bar specials throughout the week. Stop by Ned Kelly's Irish Pub for a dash of Ireland in Metro Denver.
5686 S Sycamore St, Littleton, CO 80120 | 720-283-8717 | nedkellysirishpub.com
6. Casey's Bistro & Pub – Northfield Stapleton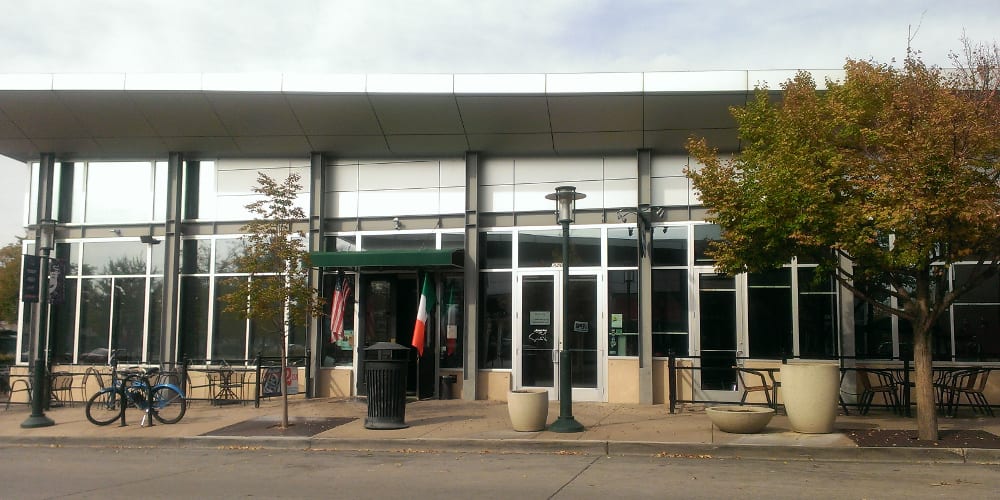 Named after the Irish Writer Sean O' Casey, Casey's Bistro & Pub is located on Stapleton's "main street" at the corner of 29th and Quebec. It's been serving this relatively new community for over 10 years since 2005. Grab a seat at the wooden Victorian bar, large dining area or relaxing patio. They have plenty of TVs broadcasting rugby, soccer and Australian rules football.
The food is on point with Irish specialties such as shepherd's pie, corned beef and cabbage, pot-steamed mussels, and the favorite fish and chips. Happy hour runs daily from 3pm to 6pm.
7301 E 29th Ave, Denver, CO 80238 | 720-974-7350 | coloradopubco.com/stapleton-caseys
7. Celtic House Pub – Parker
A far southern metro option for American and Irish fare, the Celtic House Pub is a fun option for those living near Parker, Colorado. They're known locally for their trivia nights on Tuesday, Friday night karaoke, and live music every Saturday. Stop by this cozy tavern for happy hour daily from 4pm to 7pm.
16522 Keystone Blvd, Parker, CO 80134 | 303-841-5454 | celtichousepub.com
8. Darcy's Bistro & Pub – Denver Tech Center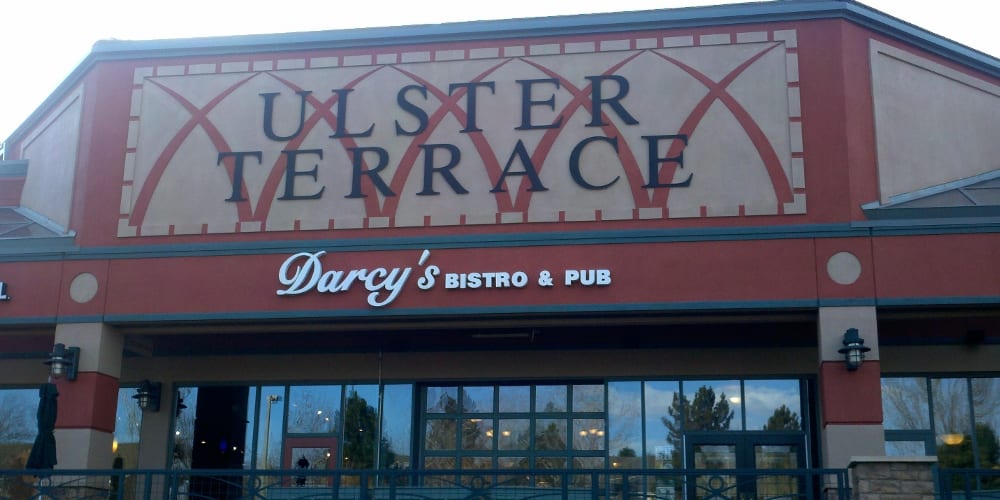 As Colorado Pub Company's original restaurant, Darcy's Bistro & Pub has been serving the Denver Tech Center since 2002. The company also runs the aforementioned Casey's Pub and the next bar on our list, Lansdowne Arms. The spacious single-floor facility houses a library room, main dining room and front patio. The handmade Victorian-style bar welcomes locals to happy hour daily from 3pm-7pm and  10pm to midnight.
4955 S Ulster St Ste 103, Denver, CO 80237 | 303-770-0477 | coloradopubco.com/dtc-darcys
9. Lansdowne Arms Bistro & Pub – Highlands Ranch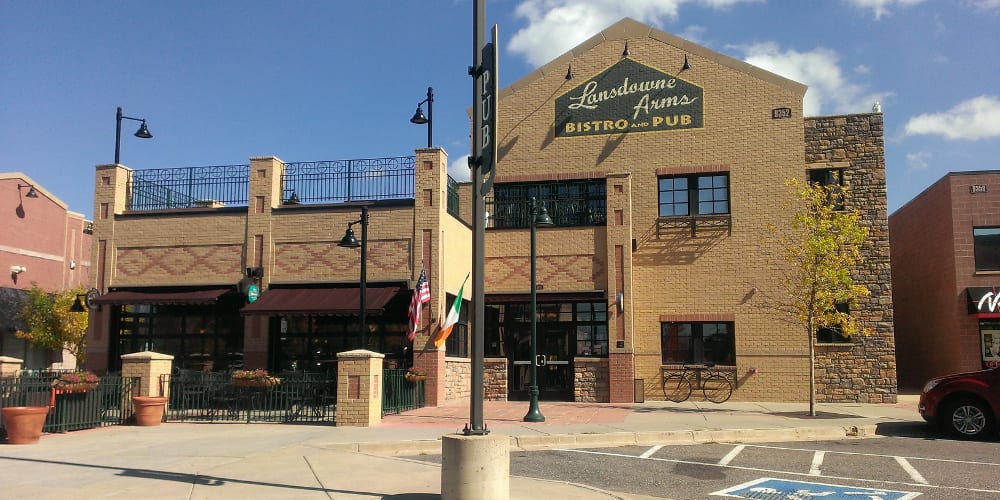 Those of you that live far south in the Denver Metro are still fortunate enough to have a few solid pubs, like Lansdowne Arms. It's located beside the clock tower in the Highlands Ranch Town Center. It has been an independent pub for over a decade in a region surrounded by corporate chain restaurants. It's a cool spot with a Victorian-themed back bar, private dining rooms, an intimate library with a fireplace and overlooking 3,000 square foot upstairs deck. It's named for the Lansdowne Road Stadium in Dublin, Ireland.
9352 Dorchester St, Highlands Ranch, CO 80129 | 303-346-9136 | coloradopubco.com/highlands-ranch-lansdowne
10. Dougherty's Restaurant & Pub – Broadway
Since 2007, Dougherty's Restaurant & Pub has been welcoming locals and visitors alike and treating them like family. They serve new and traditional cuisine from America and Ireland. Stop by for lunch, dinner or just drinks. Enjoy a game of billiards or darts during happy hour, as well as 2-for-1 drafts, Monday to Friday from 4pm to 7pm.
5 E Ellsworth Ave, Denver, CO 80209 | 303-777-5210 | facebook.com/doughertyspub
11. Finley's Pub – Washington Park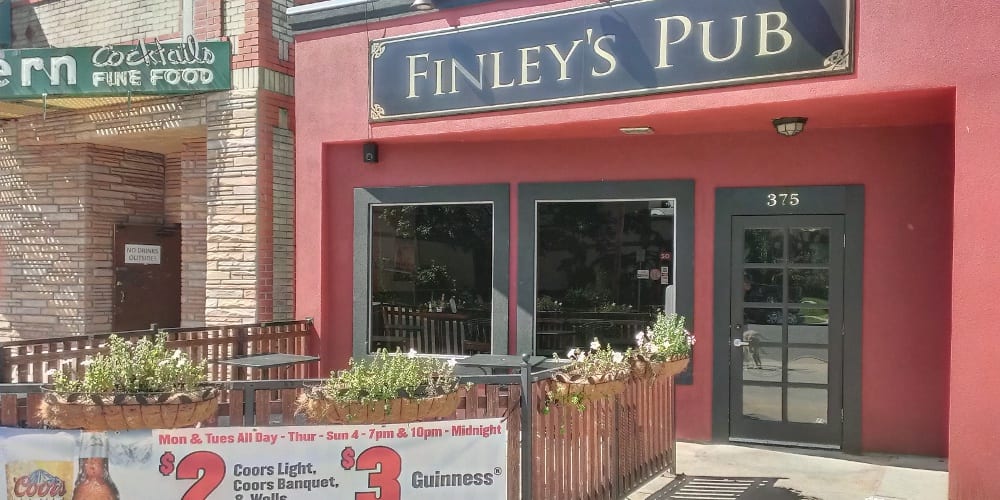 This longtime Wash Park favorite has been serving the community great food and ale since 2012. Finley's Pub . Try their signature fare, the Finley Burger, named one of the best burgers by Westword. Or enjoy their homemade, upscale pub food, including shepherd's pie, fish and chips, or Irish Cuban Sandwich. Happy hour runs every single day from 4pm to 7pm.
2019, 375 S Pearl St, Denver, CO 80209 | 303-282-4790 | finleysdenver.com
12. The Celtic on Market – Lower Downtown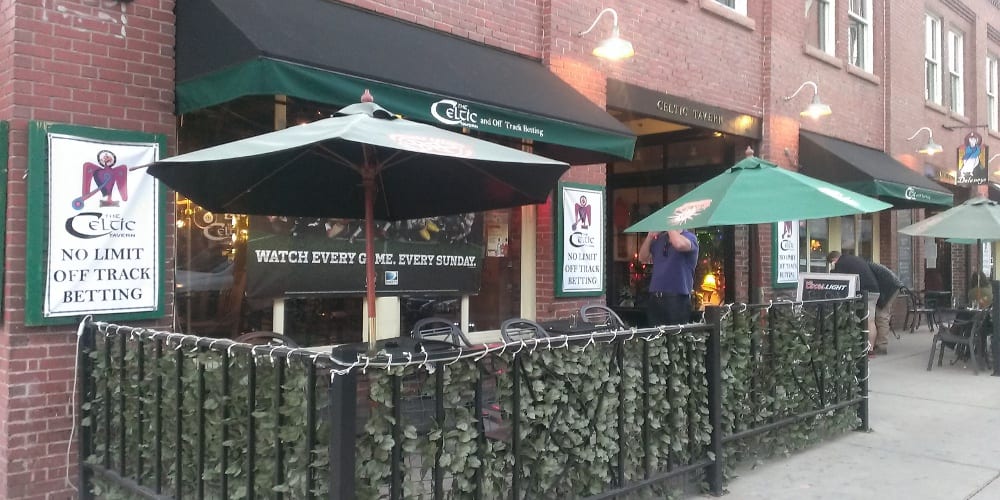 Formerly The Celtic Tavern on Blake Street (pictured), The Celtic on Market is especially unique because it offers the only off-track-better (OTB) in Downtown Denver. You can gamble on horse racing seven days per week. It's located in LoDo on Market Street. The theme is a blend of Irish, Scottish, Welsh and Cornish.
1400 Market St, Denver, CO 80202 | 303-484-1066 | celticonmarket.com
13. The Fainting Goat Pub – Broadway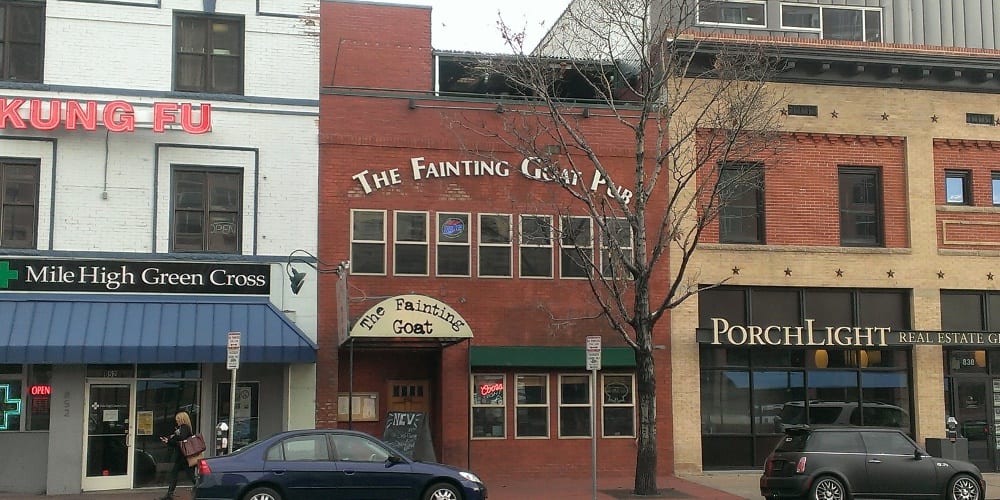 Located near 8th and Broadway, The Fainting Goat Pub is a cozy three-story Irish pub with a cool rooftop patio. They serve a variety of craft beer and comfort food, including Guinness Battered Fish & Chips. Join them for happy hour Monday to Friday from 3pm-7pm and 10PM-Midnight, Saturday 10am-5pm, and All Day Sunday.
846 Broadway, Denver, CO 80203 | 303-945-2323 | thefaintinggoatdenver.com
Sláinte!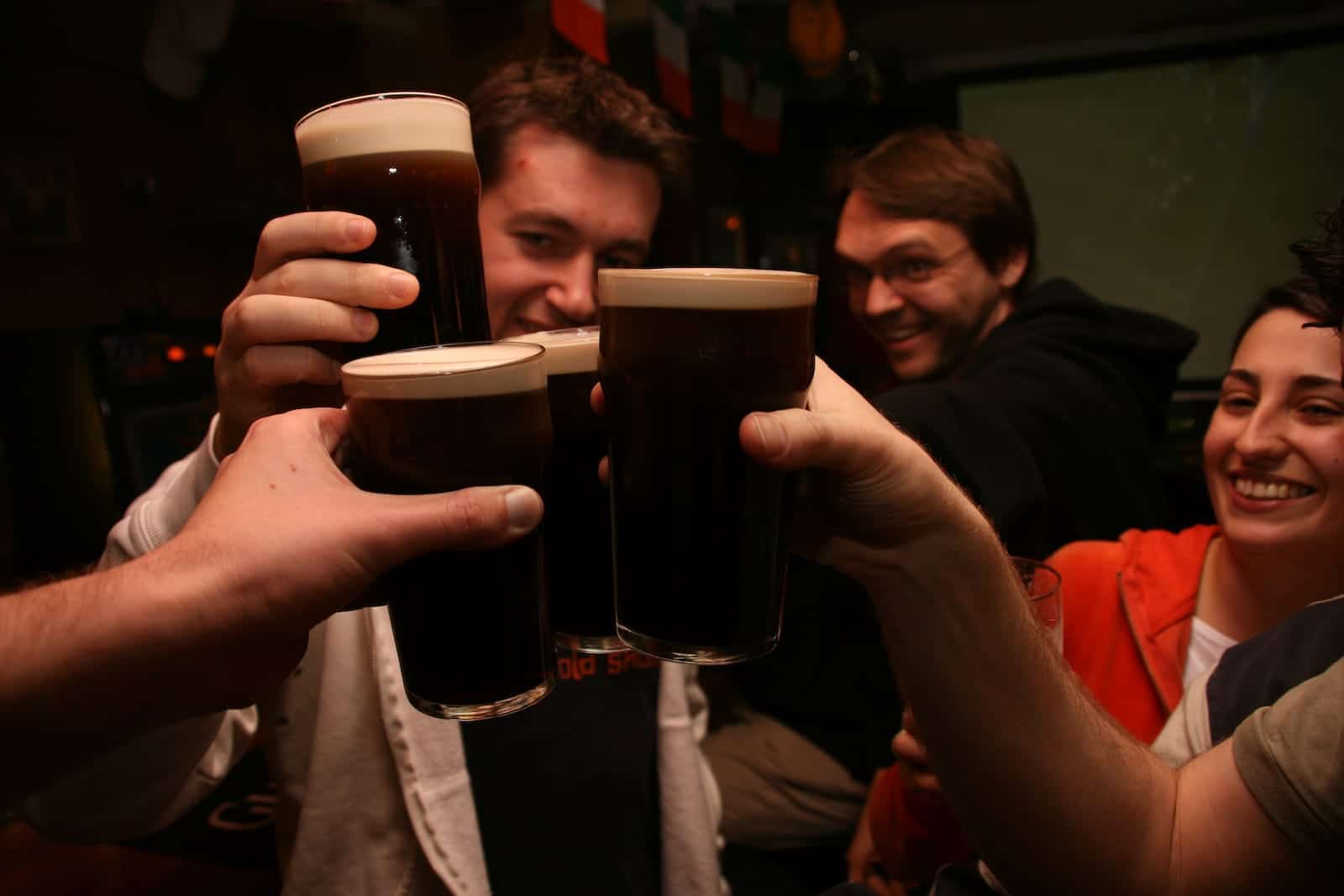 An Irish Gaelic word that translates to "health", sláinte is a traditional cheers in Ireland. It's pronounced Slawn-Cha. So salute to your health next time you raise your pint of Guinness at one of these aforementioned Irish pubs in Denver.
And if you're looking to take the fun to the next level and add some 24/7 gaming, head down to Cripple Creek. It lies about two and a half hours from the capital city, and an hour west of Colorado Springs. There you can stay overnight at McGills Hotel & Casino, an Irish-themed casino. It's part of the Triple Crown Casinos, which includes neighbors Brass Ass and Midnight Rose. The latter has the largest poker room in town.