Dillon is a lovely lakeside community nestled in one of the busiest mountain counties in the state. This Summit County town features more than a few placers to imbibe, including breweries, pubs and a tiki bar.
Located on the eastern side of the Dillon Reservoir, Dillon grants you world class views and fast access to a myriad of recreation. To cater to the influx of visitors, there are numerous bars and restaurants to score a happy hour or late-night pint. Here's a look at some of the top watering holes in Dillon, Colorado.
Cala Pub & Restaurant
Colorado isn't known for its Irish pubs, but with places like the Cala Pub & Restaurant, you'll wonder why. This cozy, laid-back Celtic spot is perfect for throwing back a Guinness, some bangers and mash, and listening to live music.
Their list of whiskey, bourbon, and scotch is as extensive as their service is friendly. They also have beer, wine, and cocktails, and root beer floats for the kids. Catch their happy hour from 4:00 – 6:00 pm every weekday.
40 Cove Boulevard Unit A1 | 970-468-1899 | calapub.com
Pug Ryan's Brewing Company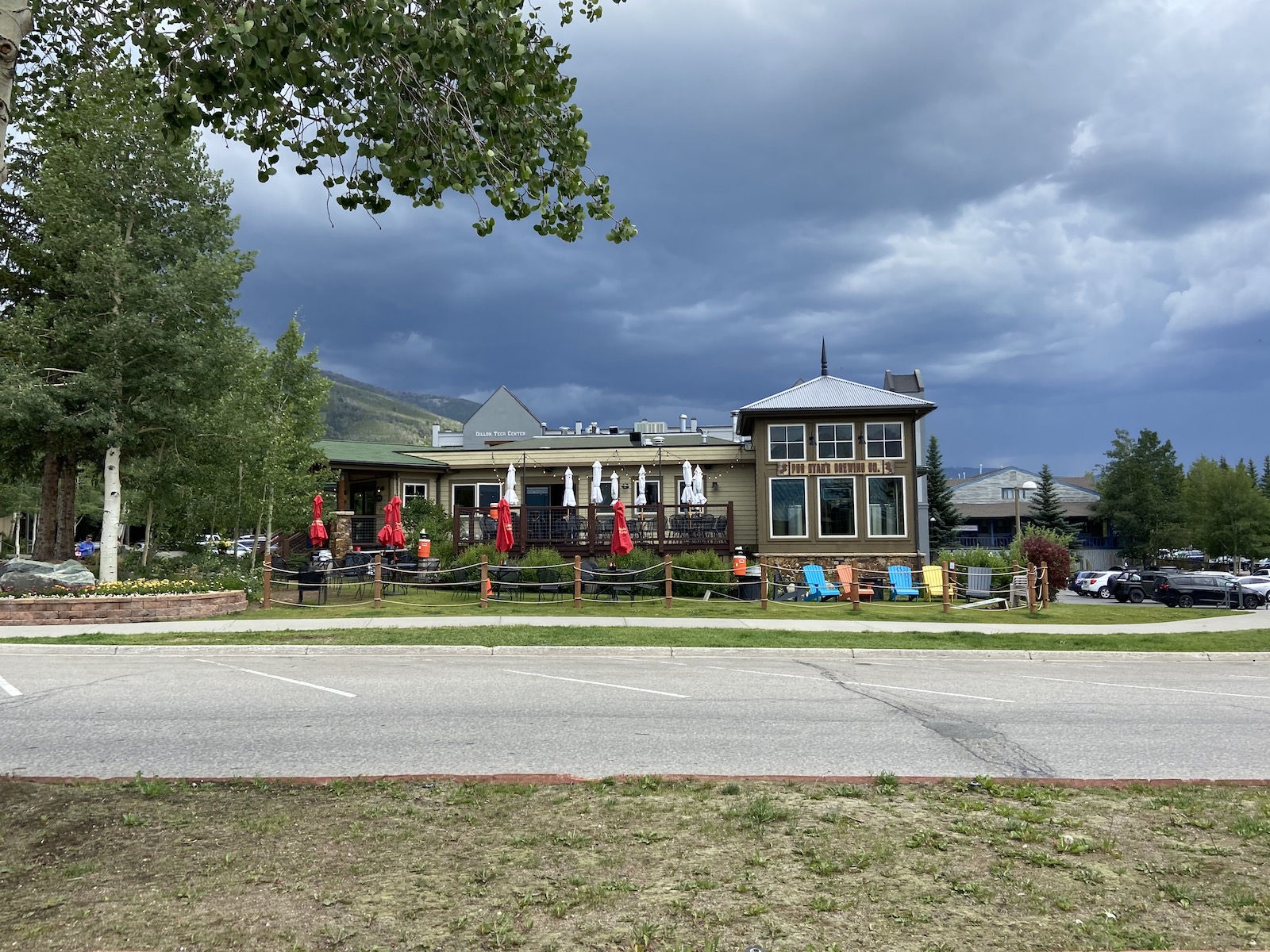 If a family-friendly brewery with mountain views is on your to-do list, this is the place to go. You can watch the game, order something from their menu filled with pub standards, and take advantage of their rotating list of brews. They have a patio made for enjoying sunny days and a fireplace for cozying up on the not-so-sunny days.
Pug Ryan's also has a full bar, so you won't have to worry about your hop-abstaining friends. Don't miss their daily happy hour from 2:00 – 6:00 pm, and check out their website for a list of more specials.
104 Village Place | 970-468-2145 | pugryans.com
Arapahoe Café & Pub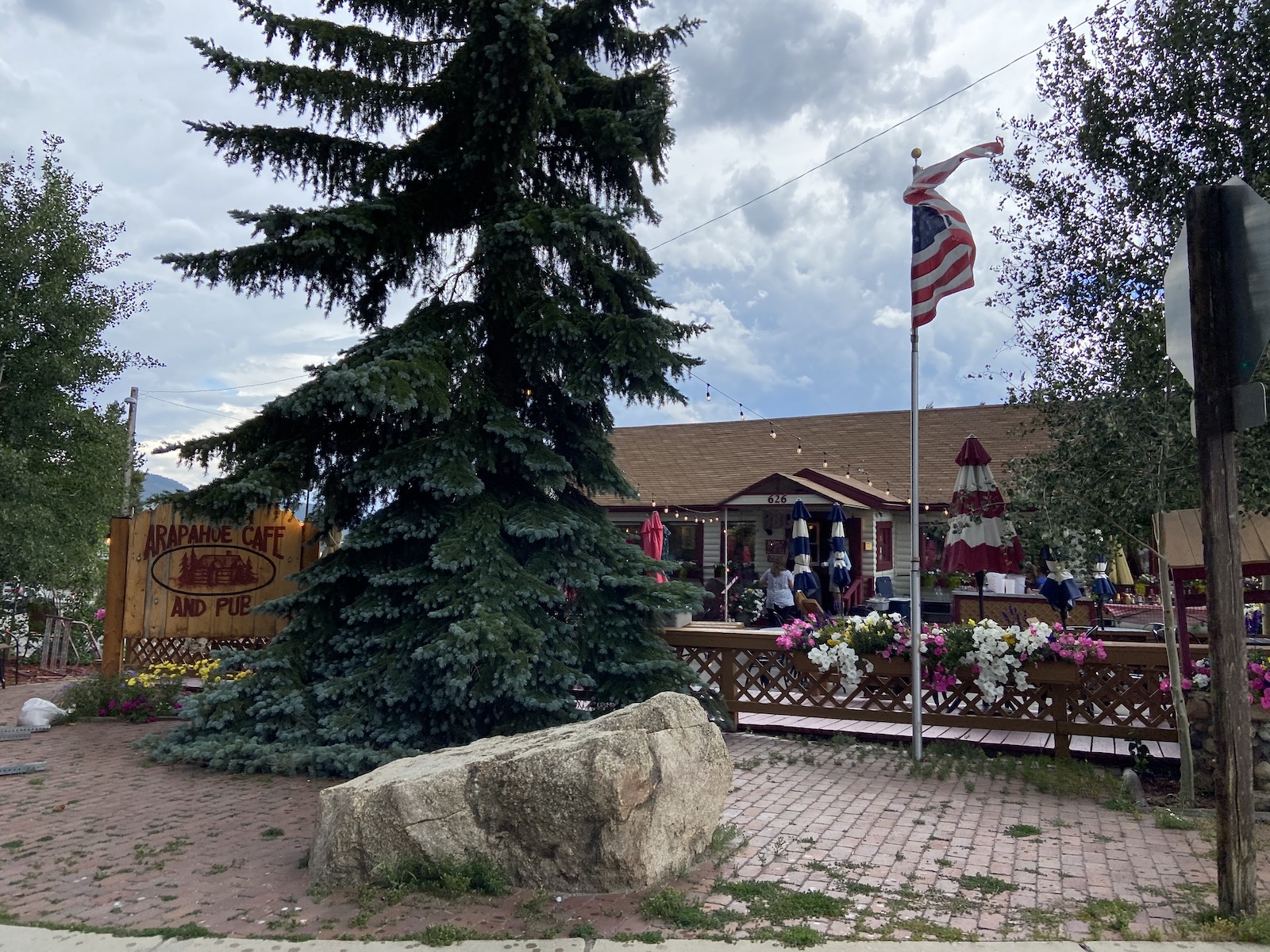 Around since the 1940s, the Arapahoe Café & Pub has been a mainstay as a historic stop in Dillon. Many places call themselves "café & pub," or "restaurant & bar," but the Arapahoe Café & Pub is unique in that the pub is separate from the café, and it's called the Pub Down Under.
At the pub, they have specials that you won't find at the café, plus pool, foosball, and TVs for watching sports. It's first-come, first-served, so be prepared to wait if you come during peak hours.
If you don't mind skipping the specials, sit on the sunny patio for mountain and lake views after a day spent on Lake Dillon. Stop in from 4:00 – 6:00 pm Sunday through Thursday for their happy hour deals.
626 Lake Dillon Avenue | 970-468-0873 | arapahoecafe.com/the-pub
Sabor Mazatlan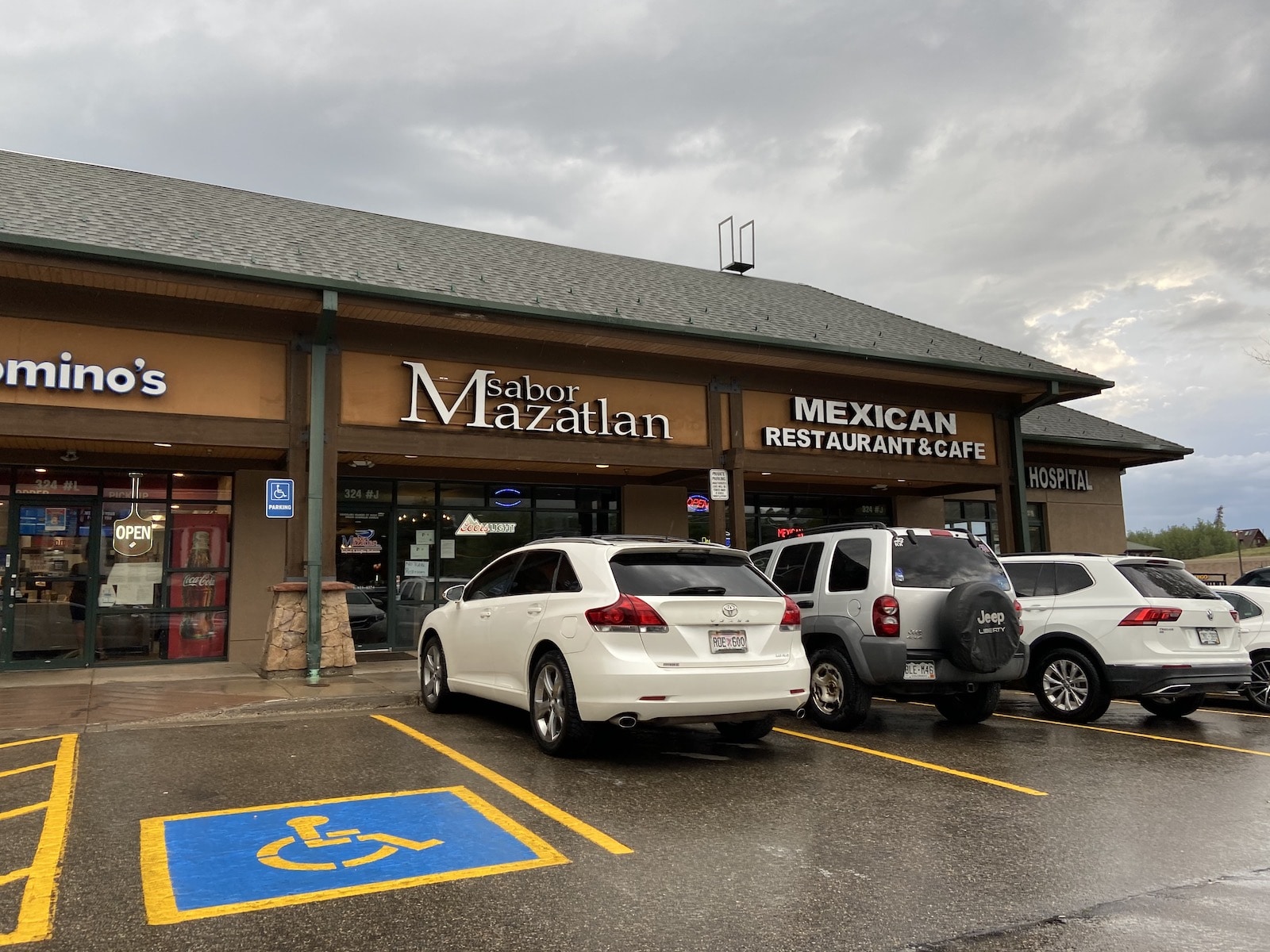 Sabor Mazatlan has something to quench your thirst whether you come in for breakfast, lunch, or dinner. This Mexican restaurant has plenty of different margaritas to choose from, plus a minimal selection of wines and beers. They have other classic beverages, too, like vampiritos and micheladas.
The restaurant also has another cocktail menu—but it's not for drinking. Instead, it's for people who like to walk on the wild side and try a seafood cocktail dish like the Coctel Tres Palos, which comes with octopus, oysters, and shrimp cocktail. Don't miss their happy hour on weekdays from 2:00 – 5:00 pm.
324 Dillon Ridge Way | 970-455-8374 | sabormazatlandillon.com
Saved by the Wine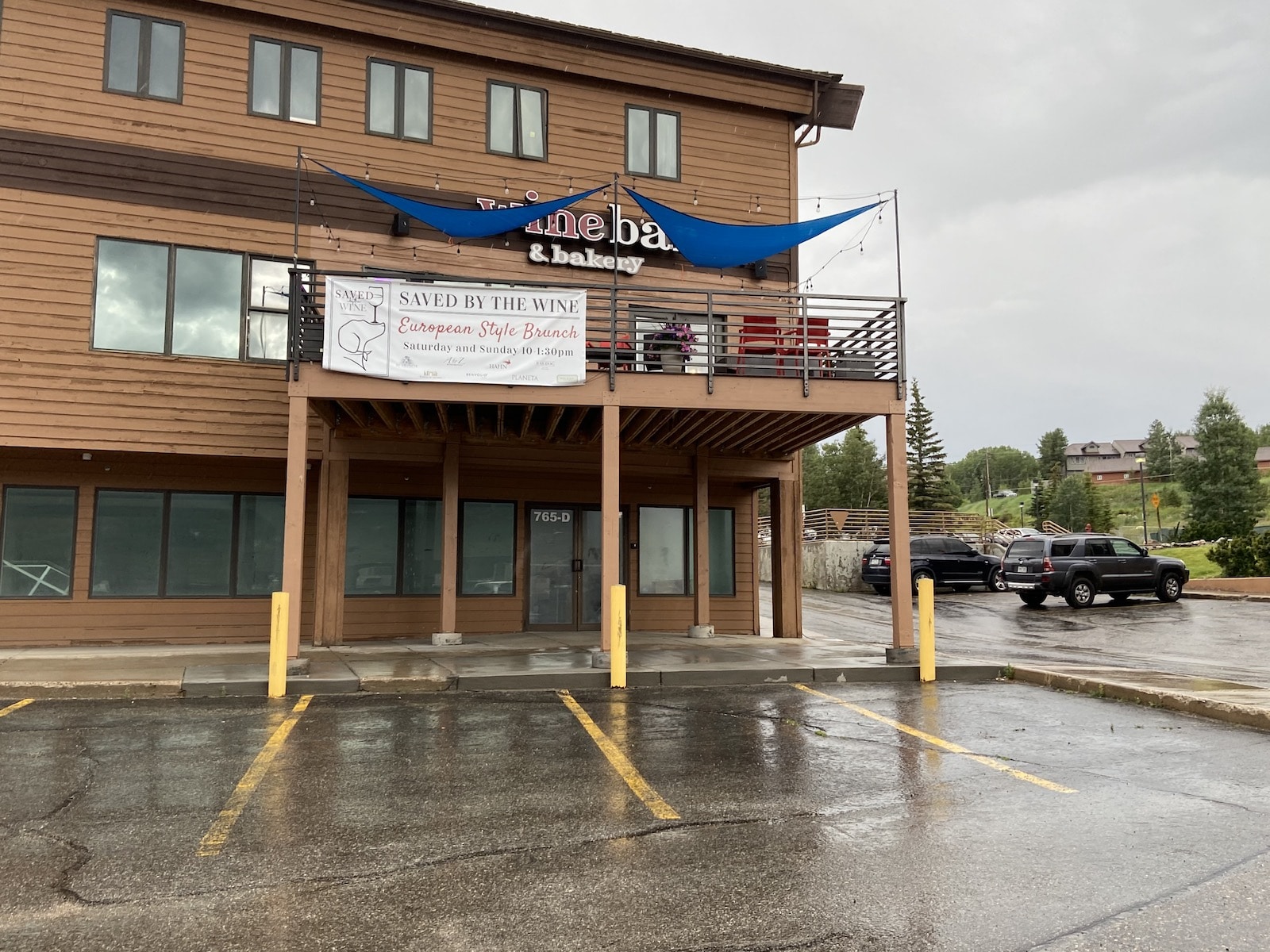 There's a little something for everyone at Saved by the Wine. For those who want to soak up every moment of Colorado scenery, there's a sunny patio with mountain views. Animal lovers will be glad to hear that they donate a portion of the proceeds to animal shelters (in fact, that's where their name came from—saving animals by drinking wine).
Event enthusiasts will find weekly trivia and live music nights to keep them entertained.
Saved by the Wine has wine, cocktails, beer, and non-alcoholic items for the kiddos or anyone else abstaining. Plus, there's a daily happy hour from 2:00 – 5:00 pm every day and a late-night happy hour that starts at 9:00 pm.
765 West Anemone Trail, Unit B | 970-485-6182 | savedbythewine.com
Red Mountain Grill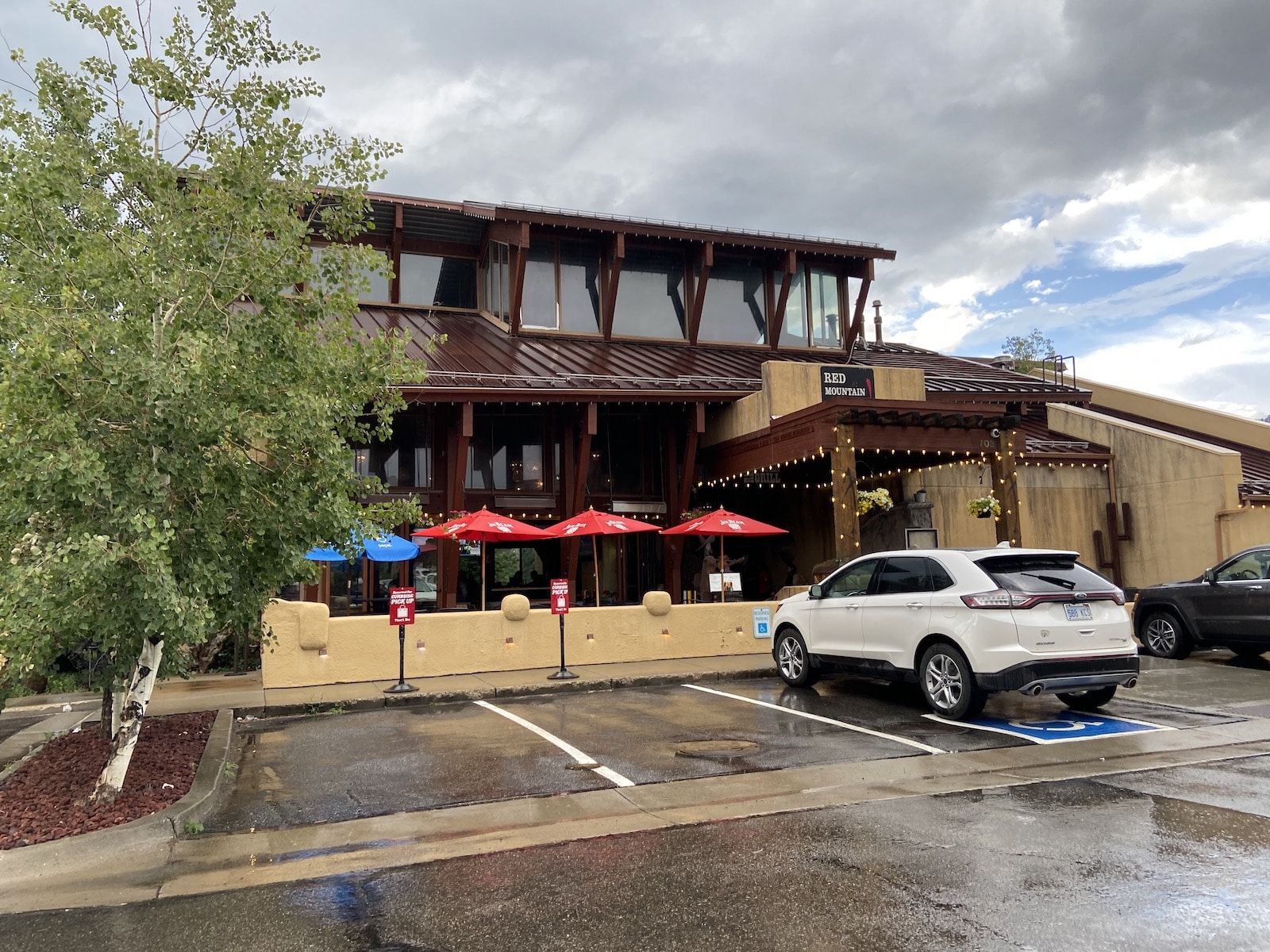 Bring the whole gang to Red Mountain Grill on your next trip to Dillon. Sit on the dog-friendly patio and enjoy the mountains, or come inside and keep your eye on the score. The big draw here is the lively atmosphere and ambiance, and you don't have to sit on the patio to enjoy the views thanks to the massive windows.
The Red Mountain Grill advertises itself as having the best happy hour in Summit County, and it lasts from 2:30 – 6:30 pm on weekdays.
703 East Anemone Trail | 970-468-1010 | redmountaingrill.com
Lake Dillon Tavern & Pizza Co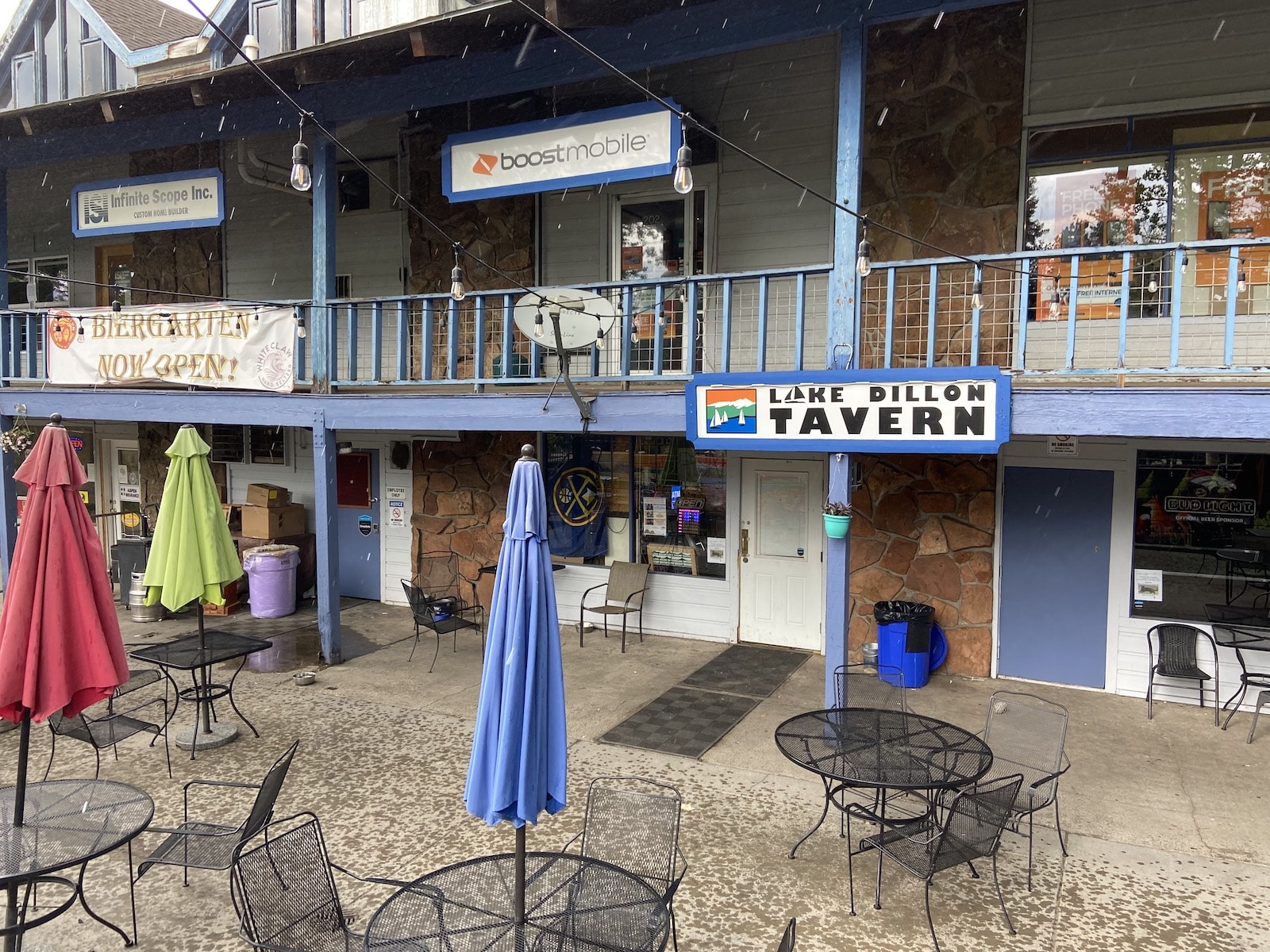 When pizza goes from a craving to a necessity, head over to the Lake Dillon Tavern & Pizza Co. With thirteen TVs to watch the game, foosball and pool to play while you wait for your food, and plenty of local music, there's more than just pizza to draw you to this local fave.
You can expect hole-in-the-wall atmosphere and hole-in-the-wall prices here. Imbibe their happy hour on weekdays from open until 6:00 pm.
119 East La Bonte Street | 970-468-2006 | lakedillontavern.com
Dos Locos Mexican Restaurant & Cantina
Grab some chips and queso and a margarita at Dos Locos Mexican Restaurant and Cantina, a locally owned bar that's sure to sate your spiciest cravings. Despite their website name, they are technically located in Dillon. Here, you'll find live music and karaoke on certain nights, but no matter when you come, you're sure to enjoy the energetic vibes.
Dos Locos is a perfect place to bring your friends with food sensitivities, as they have an entire menu dedicated to gluten-free menu items. It's a popular place, so you might find yourself waiting. Their happy hour varies depending on the season, but you can find it daily from 3:00 – 5:00 pm in the summer.
22869 Colorado Highway 6 | 970-262-9185 | doslocoskeystone.com
Dillon Dam Brewery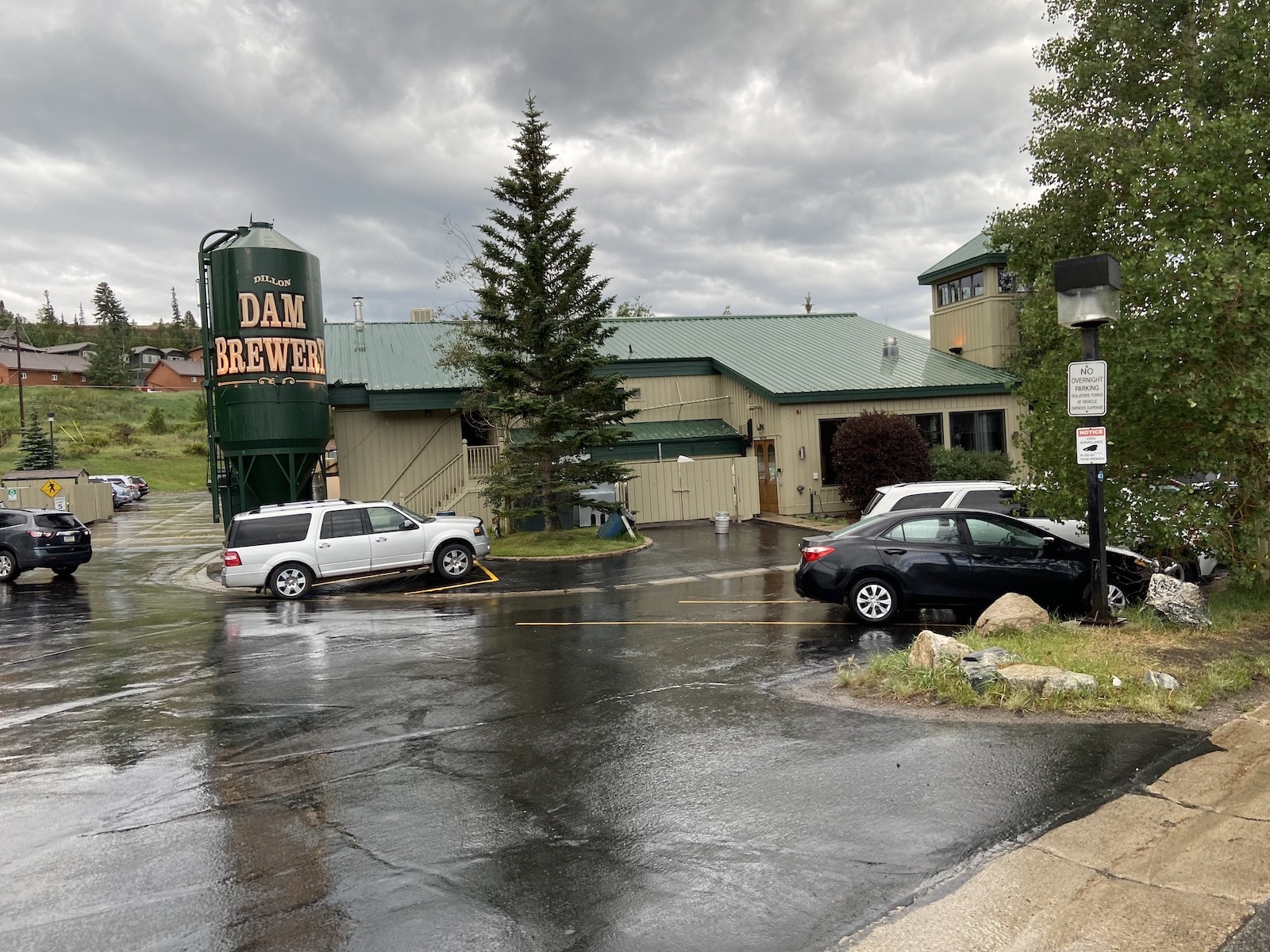 The Dillon Dam Brewery might just be the best dam brewery in Dillon. Home to many events like trivia, open mic nights, live music, comedy, and more, there's a lot to love beyond the tasty draughts they serve. It's one of the more popular breweries in the county, and it's always packed for a good reason.
During the summer, their beer garden patio is ideal for sitting on with a flight. Their daily happy hour from 3:00 – 6:00 pm provides the perfect opportunity to sample their brews at reduced prices.
100 Little Dam Street | 970-262-7777 | dambrewery.com
Tiki Bar
Touted as Colorado's best beach bar, the lakeside Tiki Bar is the place to grab a much-coveted waterside drink in this landlocked state. They have cocktails, wine, beer, and a limited food menu. Come here for the view, the drinks, the dog-friendly space, and the friendly service, but only come in the summer since they close in the winter.
150 Marina Drive | 970-468-2145 | pugryans.com/tiki-bar
After you've sampled the best Dillon has to offer, find more great Summit County watering holes in the neighboring towns of Keystone and Silverthorne.