Flying is both exciting and fun, as well as nerve-whacking and dreadful, perhaps all in the same trip. With Denver Airport's on-going construction in Jeppesen Terminal, there's always something there you won't expect, maybe it's a new bar popping up.
The best way to eliminate stress is to plan ahead and arrive early, allowing yourself extra time for mishaps and hops. Whether you're looking for a beer, cocktail or glass of wine, these are the best bars around the Denver International Airport.
Restaurants listed below are subject to close, we'll do our best to keep this list current. The Denver Airport's official website has a complete list of dining spots for you to peruse.
Jeppesen Terminal
Jeppesen terminal is the only place to have a drink with your non-flying friends before you take off. It might just make the security line go by less painfully. Below are some spots you don't need a boarding pass to enjoy.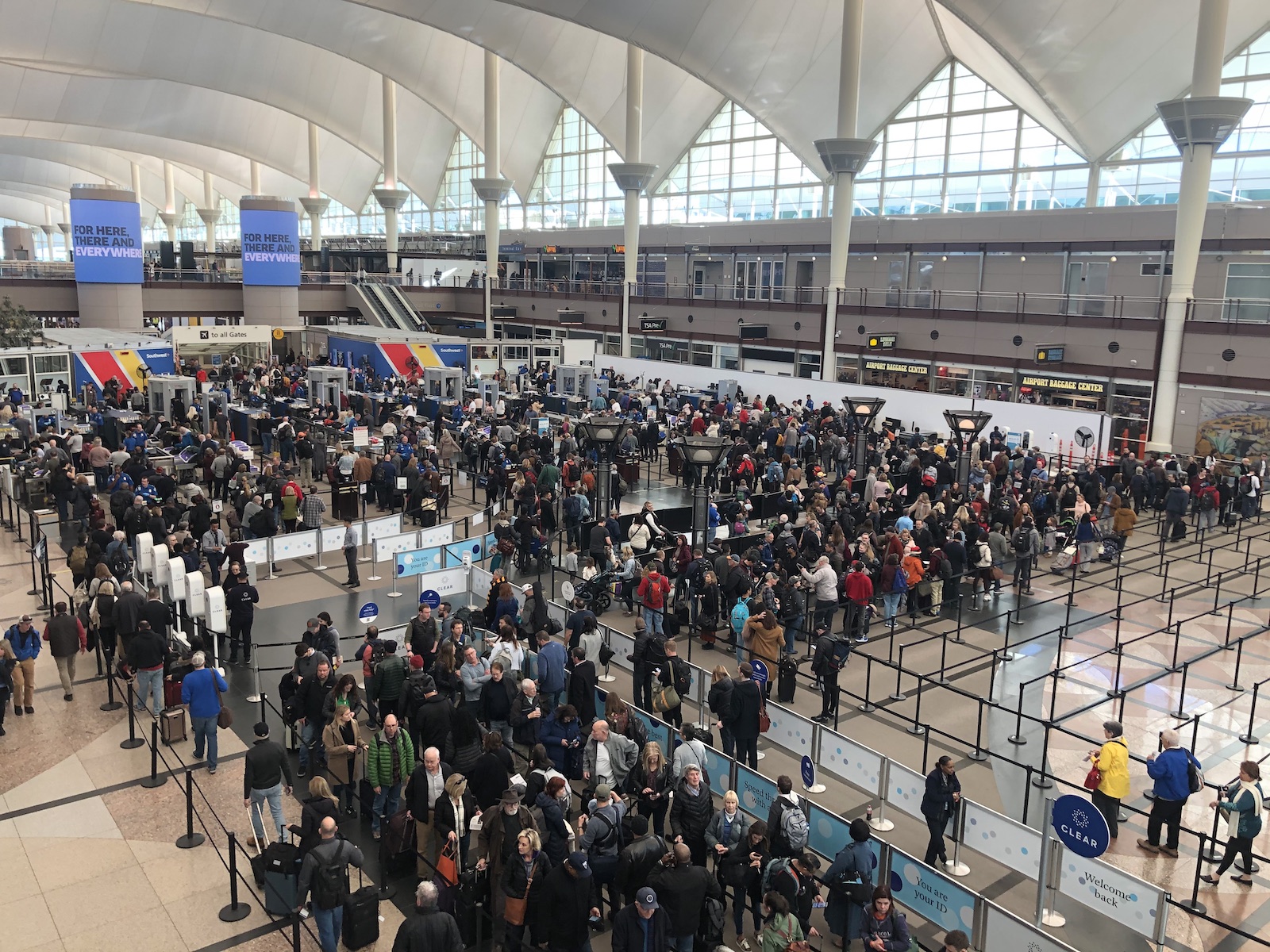 Boulder Beer Tap House
Stop here for breakfast, lunch, or dinner and a cold beer before you hit the tarmac. The IPAs are in full force here, but they also have seasonal selections and a chocolate porter. If you have a sweet tooth, order the Planet Porter Shake to have a beer and dessert simultaneously.
Cantina Grill
The Cantina Grill bills itself as a taqueria and tequila bar, and it's a decent choice for some Mexican food, a beer, or a cocktail. The food may not be Colorado's best, but it will hit the spot during a layover. Bonus: gluten-friendly options are available here. You can also find a Cantina Grill Express on Concourse B.
Red Rocks Bar & BBQ
Try the Red Rocks Bar & BBQ if you'd like a full bar with table service before going through security. This spot has a rather extensive menu compared to some of the other limited-item places on the list, so it's an excellent selection if your group has a wide variety of cravings. Their cocktail menu has unique options, too, including a Texas margarita and a Colorado bulldog made of vodka, Kahlua, half and half, and cola.
Concourse A
If you're flying internationally, you're likely going to wind up on Concourse A. And since you have to arrive extra early for international flights, you might have some time on your hands. So, have a drink while you wait at some of the places below.
Blue Sky Bar
If a drink with a view—of either mountains or the game—is what you're looking for, grab a seat at the Blue Sky Bar. Here, they offer wine, beer, and cocktails, plus an impressive bourbon list and whiskey flights for those so inclined.
Breckenridge Brewery
Sample beer from one of Colorado's most popular breweries at the Breckenridge Brewery. There's even a patio for those who want some fresh air before departure. Expect delicious food, a full bar, and a last taste of local Colorado. Located near Gate A71, the Breckenridge Brewery can be a bit of a trek, so plan some extra time to get to your gate.
Denver Central Market
Denver Central Market is a mini version of the RiNo spot, where many different artisan food vendors share the same space. So, whether you are in the mood for a sandwich, pizza, sushi, or grab-and-go breakfast, you can find it here. Plus, they have cocktails and a full bar.
Denver Chophouse & Brewery
The most upscale spot on Concourse A, Denver Chophouse & Brewery serves breakfast, lunch, and dinner and has a full bar. Traditional steakhouse options like a New York strip are on the menu, as well as other classics like crab cakes and sandwiches. Expect to pay airport prices and then some.
Mesa Verde Bar & Grill
Boasting a robust morning menu, the Mesa Verde Bar & Grill is a great spot if you want more choices than a breakfast sandwich or a burrito. They have a full bar plus fun menu options like a nacho libre burrito for lunch or dinner. If you're in a hurry, you can choose something from their grab-and-go menu.
Vino Volo
In Italian, Vino Volo means wine flight, which is precisely what you can order here. Choose from the reasonably priced curated flights, like the autumn whites or sommelier series. They also serve light bites like a charcuterie board, soups, and sandwiches, and they have a second location in Concourse C.
Concourse B
Flying United? Then Concourse B is where you'll board your flight. It's DIA's biggest concourse, so that means you might have a long haul between your bar of choice and your gate.
Aviator's Sports Bar and BBQ
Aviator's Sports Bar and BBQ has a wide selection of Colorado beers, whiskey flights, cocktails, and barbecue. If you stop by in the morning, treat yourself to the build-your-own Bloody Mary Bar or some smoked brisket and eggs.
City Wok
City Wok isn't a full-service restaurant, but it will do the trick if you're looking for a quick bite and some wine or beer. It's located in the mezzanine, the perfect spot for someone in a rush.
Crú Food and Wine Bar
Another outpost of the popular LoDo Crú Food and Wine Bar, the airport location offers wine flights and tasty snacks like cheese selections, pizzas, and appetizers. The focus here is on the wine, so this isn't the best choice if you're famished. This place has nice ambiance, which is rare to find in an airport.
Elway's
Elway's is an excellent place to grab a drink and bite at DIA—especially if you're not picking up the tab. This beloved Denver steak establishment serves up extravagant fare like rib eye and rack of lamb. Their breakfasts also offer a welcome alternative to another prepackaged muffin or microwaved egg sandwich.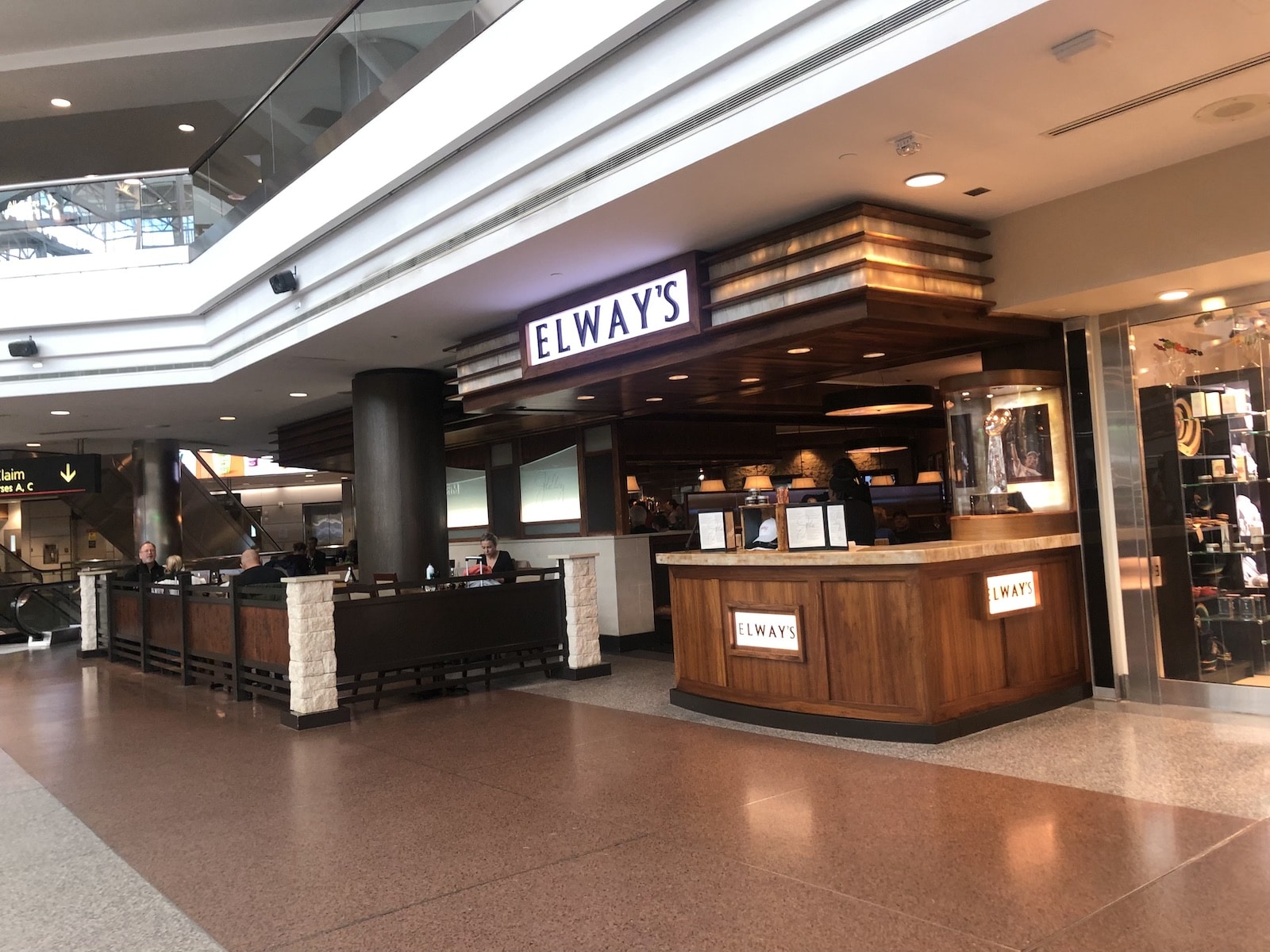 Etai's
If you're looking for a quick stop with gluten-free choices, Etai's is your spot. Healthy options abound. Better yet, you can find one of the only good things to come out of the pandemic: to-go alcohol. You can eat your egg and cheese sandwich and sip your lager from the comfort of your gate.
Lounge 5280 Wine Bar
Locally sourced spirits are the name of the game at Lounge 5280 Wine Bar, which resides in an airy space in the Concourse B mezzanine. Find Colorado drafts and liquors here, plus a selection of wines that come in six- or nine-ounce pours, so you can drink as much as you have time for.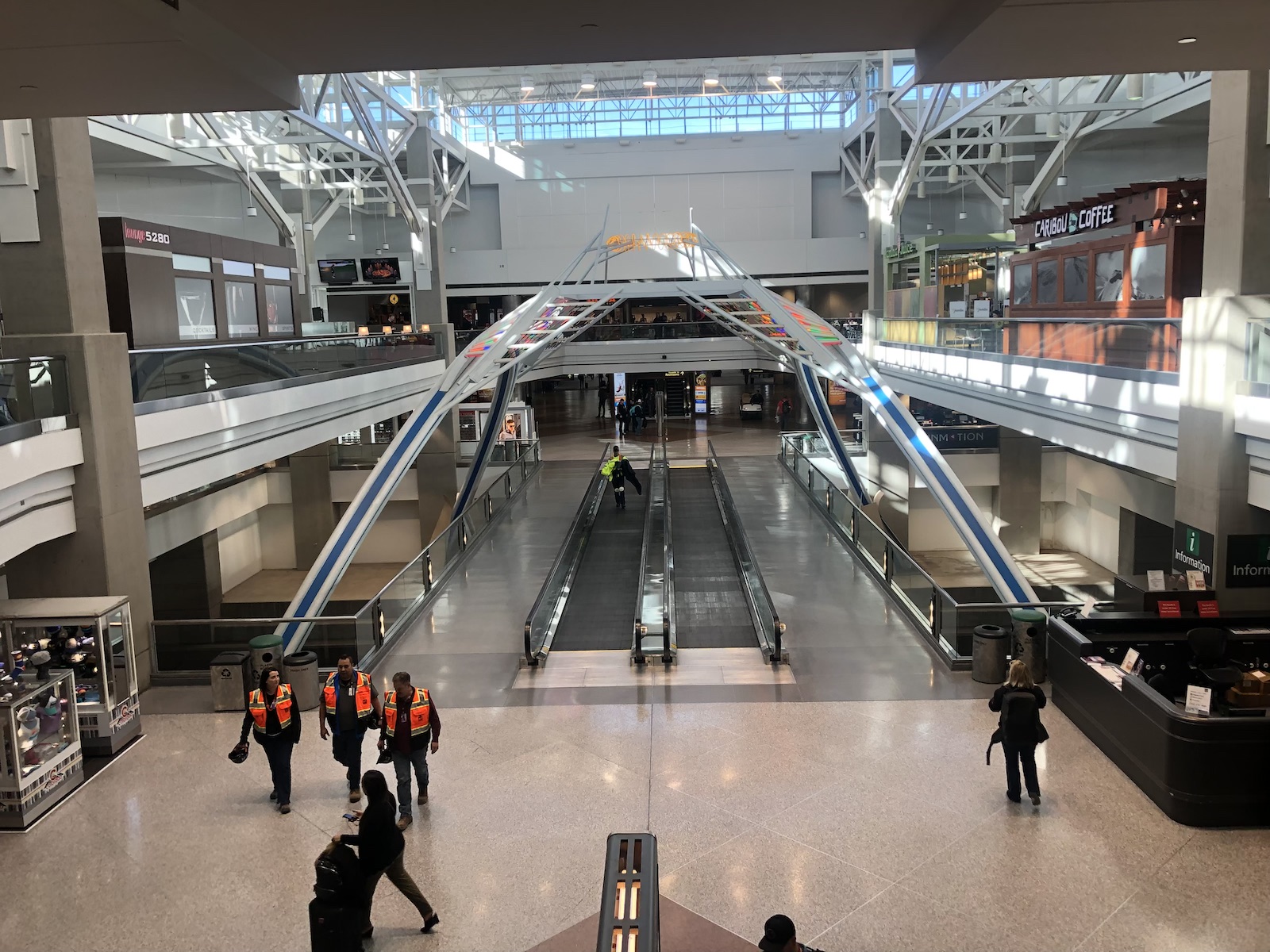 New Belgium Brewing
You no longer have to venture out to Fort Collins to visit the extraordinarily popular New Belgium Brewing—you can do so right in the airport. Try their beer-centric cocktails for something a little bit different. In addition to a lunch and dinner menu, they have a kids' and a breakfast menu, so they cater to nearly any appetite.
Pour La France!
The only French spot on the list, Pour La France offers something to sate your European cravings. Try the quiche on their breakfast menu, French onion soup or tuna Nicoise, or simply sip from their wine menu as you tick down the minutes until your boarding time.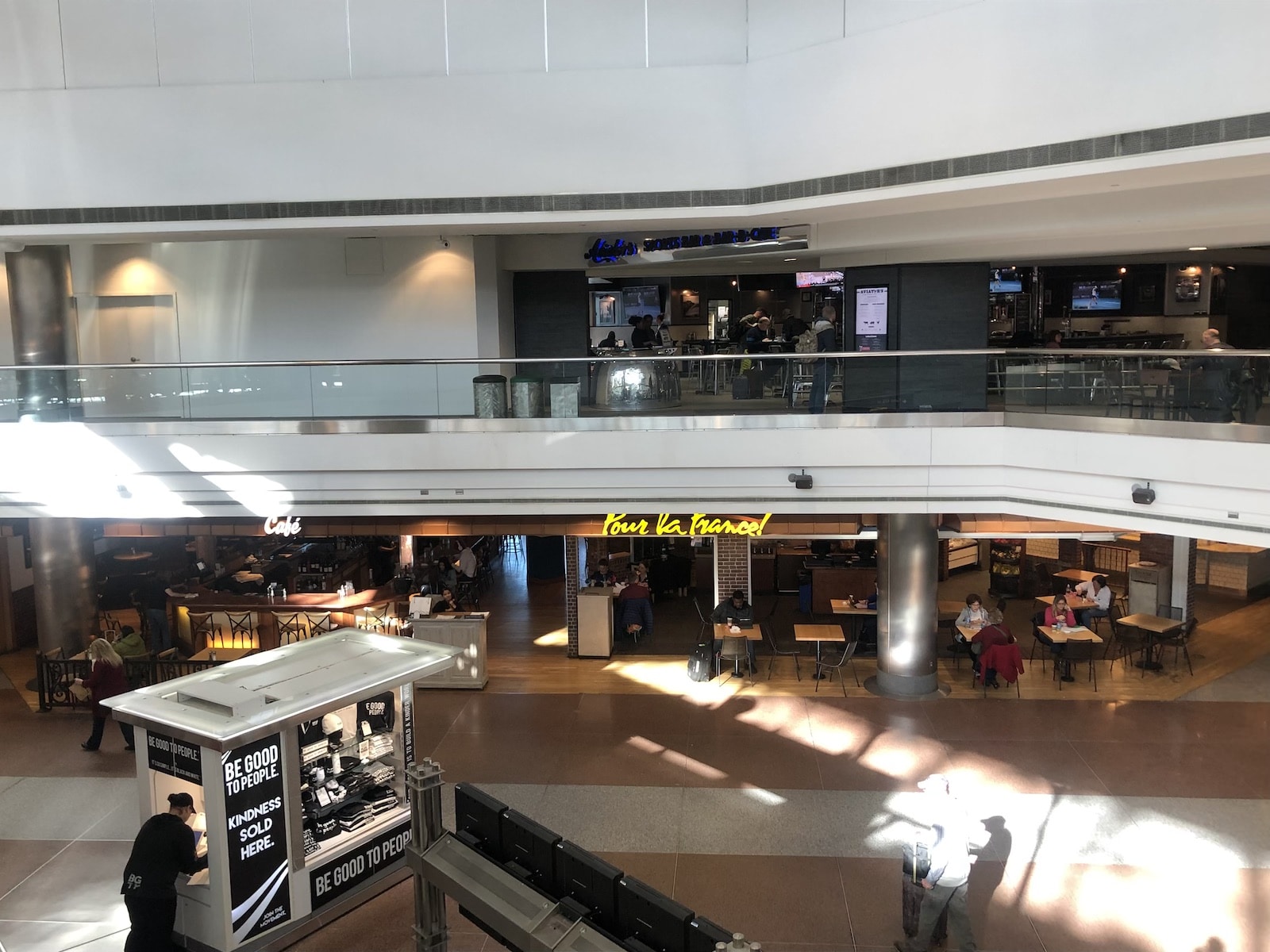 Que Bueno! Mexican Grille
Que Bueno serves up decent prices along with creative cocktails. Grab a burrito for the plane and take your Italian margarita, Horchata martini, or beer to-go.
Smash Burger & Bar
Another Colorado fave is Smash Burger & Bar. Try a resident favorite, like the Colorado burger with pepper jack cheese and grilled Anaheim peppers. Then, wash it down with one of their many choices of Colorado beers. There's also another location on Concourse C.
Steve's Snappin' Dogs
Steve's Snappin' Dogs is a Denver mainstay, and now you can get their hotdogs at the airport, too. Try the Denver Dog that comes with bacon, jalapenos, tomatoes, chili, and cheese and is then wrapped in a flour tortilla. You can pair your dog with something local from their beer selection or a glass of wine. The prices are very reasonable, especially for an airport.
Wolfgang Puck
Wolfgang Puck is a reliable choice for a drink and a meal at DIA. They have a limited wine, beer, and cocktail list, but the quality speaks for itself. Plus, each cocktail costs under $13, which is cheaper than many other places.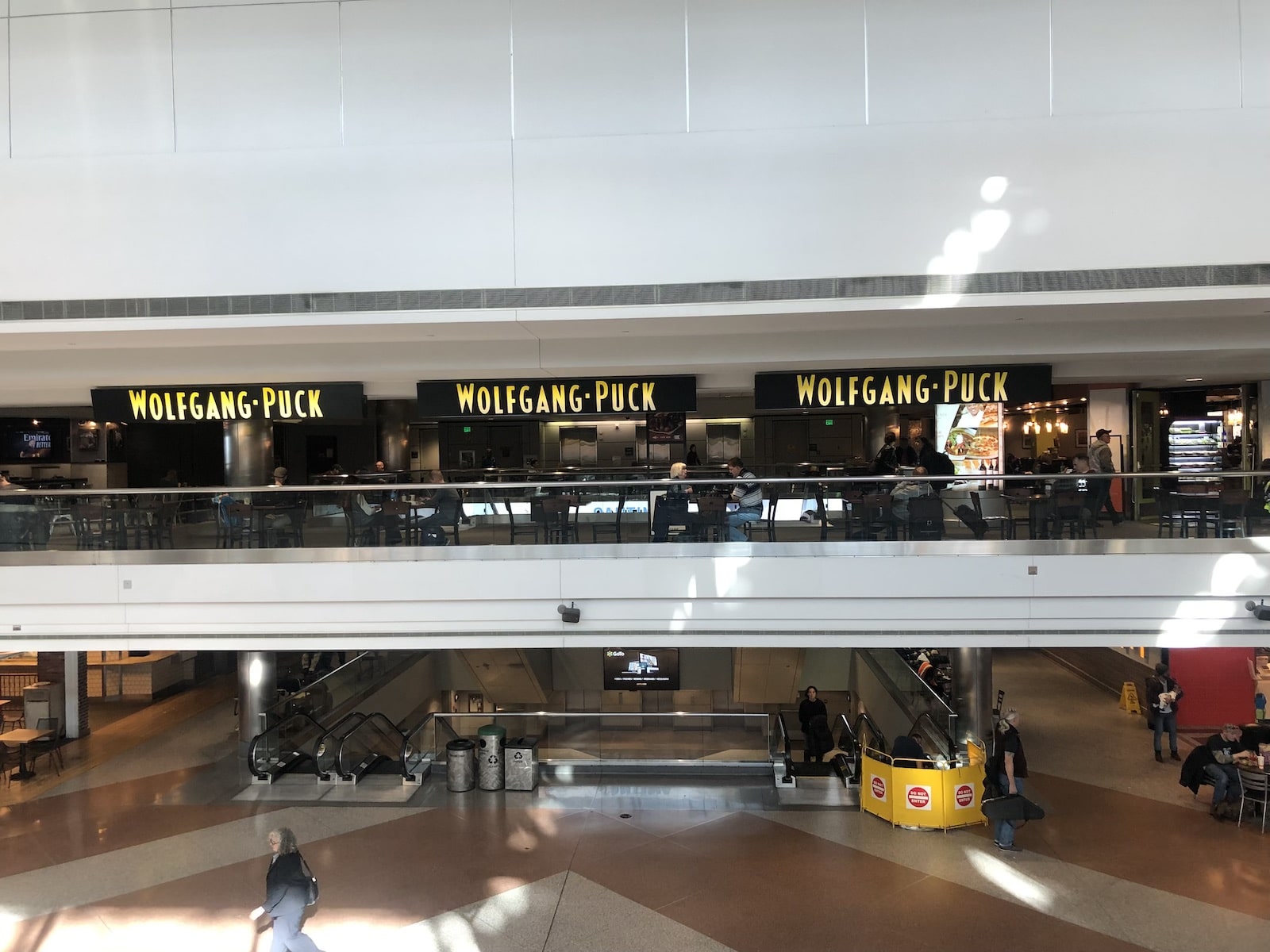 Concourse C
Concourse C is the last and smallest concourse at DIA. But there are still plenty of places to find an adult beverage before you board your flight.
Coors Silver Bullet Sports Bar
For friendly service and a full bar, try Coors Silver Bullet Sports Bar. You can catch the game while you wait for your flight and get something to eat at the same time. Many of their cocktails feature local spirits. Try the Golden Rye Manhattan or the Colorado Mule.
Great Divide Brewing
Check another local brewery off your list of things to do in Colorado by spending your layover at Great Divide Brewing. Have a pre-flight flight of beer and grab an Impossible Burger. Wine is available for those who favor grapes over hops—and they have a selection of cocktails as well.
Tamales by La Casita
Price-wise, it's tough to beat Tamales by La Casita. Their prices are so good you won't even miss happy hour. You can walk out with a burrito for under $8 and a draft for under $4. And, you can score a house margarita for just under $7. The tamales are tasty, but they have other options, including breakfast burritos and salads.
Root Down
Anytime you have the chance to go to Root Down, you should probably take it, and that goes double for when you're waiting around at DIA. Award-winning food, plenty of options for vegetarians and vegans, atmosphere in spades, and super fresh cocktails are here. The fact that the prices here are just barely above airport average is the cherry on top; the quality more than makes up for it.
Tapas Sky Bar
Near gate C24, Tapas Sky Bar offers small bites with big flavors. Take in the view of the mountains, keep an eye on the game, and have a specialty cocktail, too. Wine and local beer are also on-hand.
Timberline Steaks & Grille
Timberline Steaks & Grille is the upscale option on the C Concourse. Have breakfast, lunch, or dinner here, and choose from their wide selection of beer, wine, and cocktails. You don't have to spend an arm and a leg to eat here if you stick to sandwiches and drafts, but keep in mind that the steaks can be pricey.
Bellying up to one of these bars will undoubtedly get your next vacation off to a good start. Here's a top restaurant list more focused on eating if you're still craving that something special. Safe travels!