Beneath the majestic cap of Pikes Peak, Colorado Springs unfolds across the foothills and eastern plains like a quilt of civilization. Whether you're looking for a low-key sports bar to watch the game or a high-class pub to bring a client, you'll be amazed at the variety of bars that you can find arrayed across Colorado Springs.
While Denver and its surrounding areas may be the most popular destination in Colorado for tourists, Springs comes in a close second with a host of its own unique sightseeing and taste-testing opportunities. And when it comes to enjoying alcoholic beverages in The Springs, the selection of offbeat breweries and bars in the city is beginning to rival Denver's.
Your best bet for finding casual drinks will be located downtown, within easy walking distance of many restaurants, clubs, and boutiques. If your party wants to find places that cater to more upscale clientele, the Broadmoor area will be worthwhile to check out. No matter what type of bar experience you're on the haunt for, Colorado Springs is sure to whet your whistle with delicious adult drinks.
Tony's
Tony's, a Green Bay Packers bar, should be your first choice of a sports bar while in downtown Colorado Springs unless you're a Bears or Vikings fan. A multitude of mounted TVs turned to various sports stations, two pool tables, plenty of seating for your whole party, and a generous outdoor area with a TV make Tony's a welcoming atmosphere for a beer and a bite to eat.
If you get a hankering for some eats, all of Tony's Wisconsin-inspired fare is worth a try. Washing down a bite of that savory goodness with an ice-cold beer is about as close to heaven as you can while keeping up with the favorite team's score.
Once the game is over, Tony's is within walking distance of quite a few more bars to fulfill your weekend barhopping fantasies. Come in between 4-6 pm on weekdays to enjoy happy hour prices!
326 N Tejon St, Colorado Springs, CO 80903 | 719-228-6566 | tonysdowntownbar.com
Supernova Arcade Bar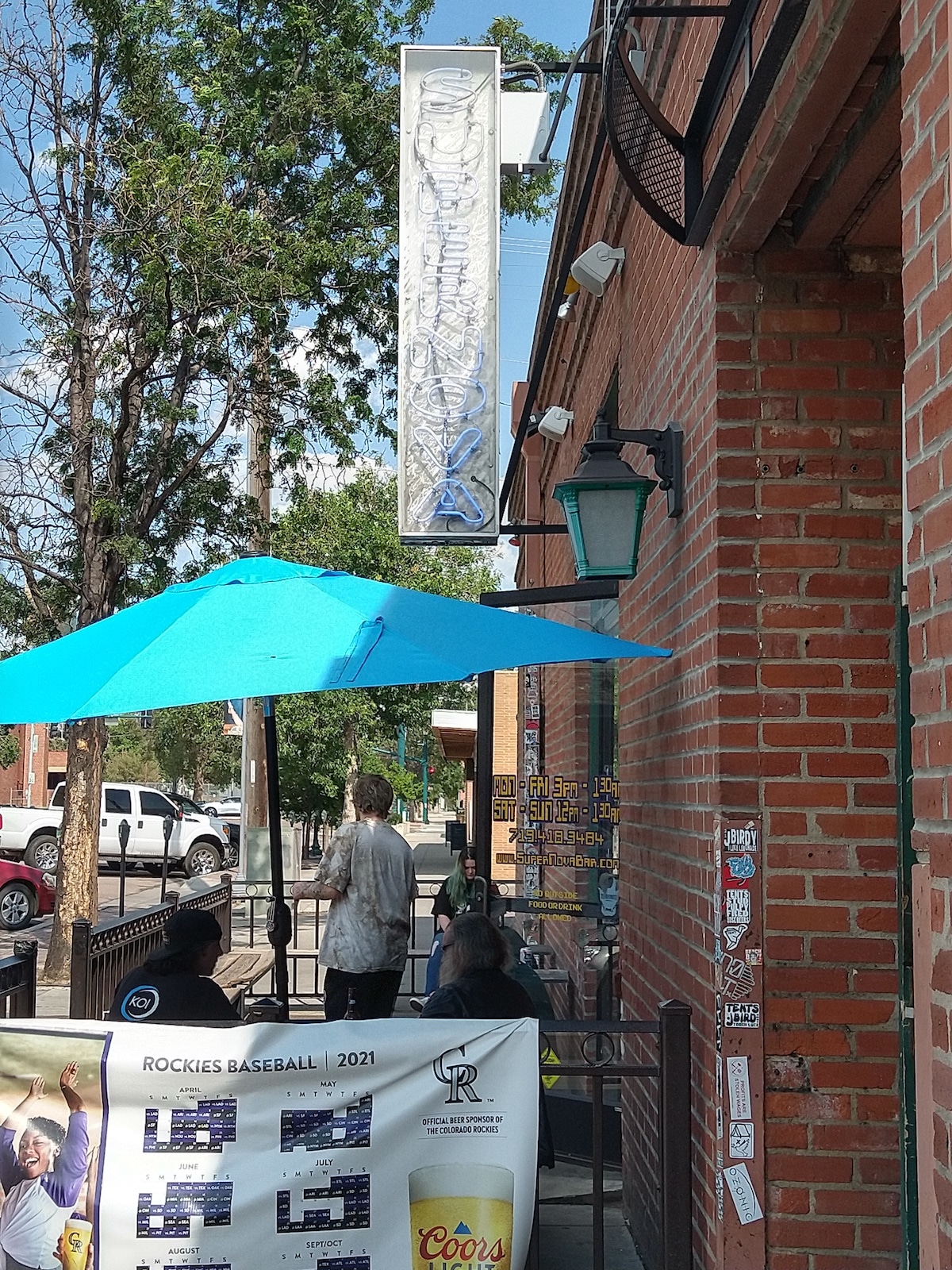 Who wouldn't want to play arcade games while gulping down your favorite drink? Supernova Arcade Bar is one of the coolest dive bars in town, famed for being a crossover "barcade" where you can drink and play your favorite 80s-era arcade games.
While the original location isn't the largest, a newly-opened second location on the West Side expands upon it and provides more seating and games to play. Supernova is a favorite of both locals and tourists alike, mainly due to its accessible location from downtown as well as its decent alcohol and beer selection.
If you and your friends are looking for a unique bar, Supernova will be sure to remind you of your favorite nostalgic games. Happy hour is 3 pm-6 pm, so arrive early to ensure you get the best deals.
111 E Boulder St, Colorado Springs, CO 80903 | 719-418-3484 | supernovabar.com
Thunder & Buttons Restaurant and Saloon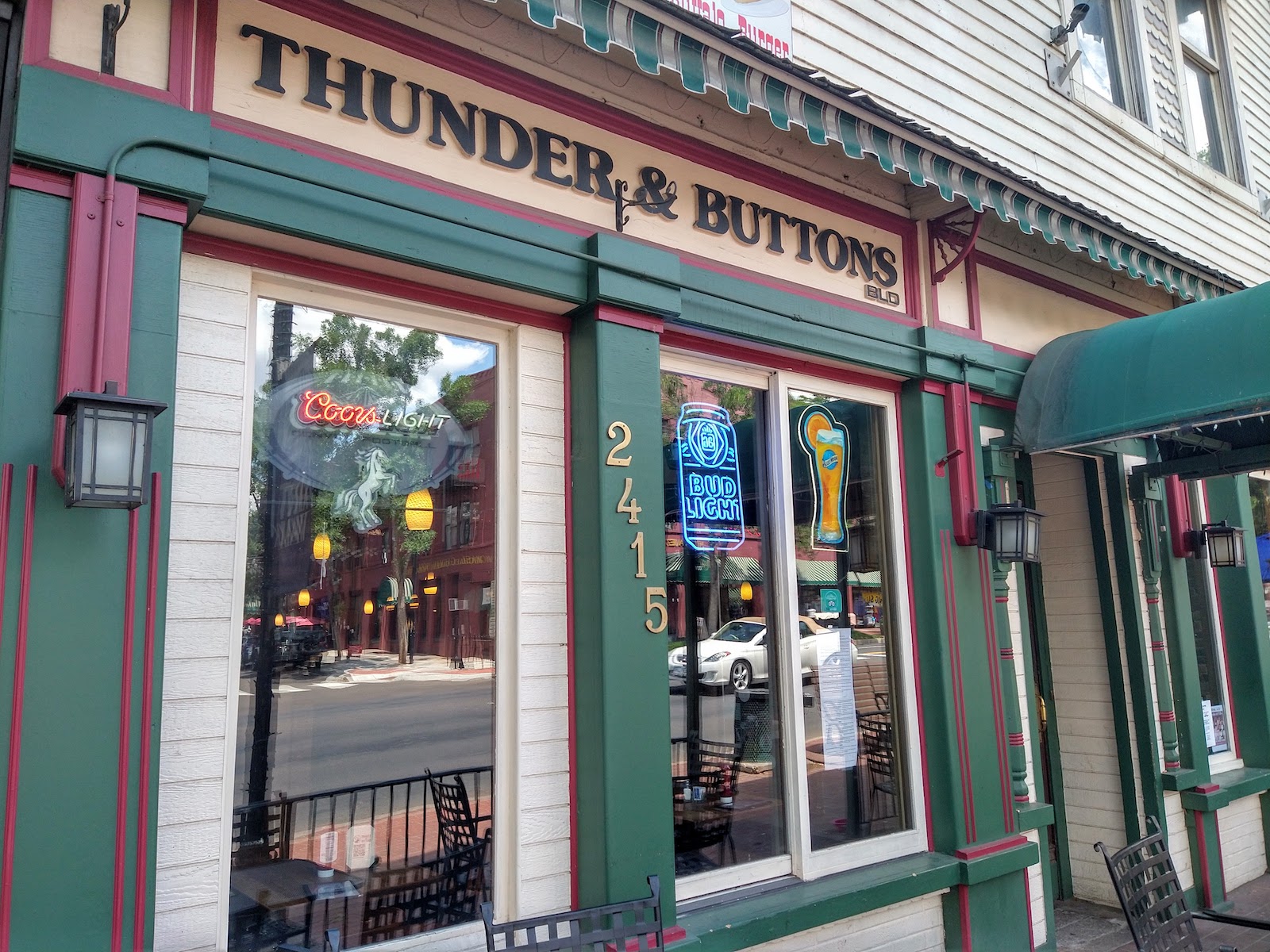 For a fun night on the town, Thunder and Buttons is an excellent pick to sate both your thirst for drinks and meeting new people. This bar hosts a variety of events and weekly get-togethers, often sponsored by local radio stations, whether that be for Trivia Night, Big Kid Bingo, or Weekend Karaoke. Enjoy a cocktail during happy hour, meet some new people, and explore the bar's various amenities and activities on your next night out.
While you're there, check out their menu for a selection of interesting appetizers to share, such as a hearty bowl of Elk Chili or the fresh Asian Quinoa Lettuce Wraps. With nightly drinks and food specials, there is always something new and delicious to enjoy while saving a bit of extra cash.
2415 W Colorado Ave, Colorado Springs, CO 80904 | 719-447-9888 | thunderandbuttons.com
Jack Quinn's Irish Alehouse & Pub
Anyone who has eaten Irish cuisine knows how well it pairs with a tall glass of Guinness, and Jack Quinn's won't let you down in either category. Known as the hub of Irish food in the Springs, this authentic pub is well worth the hassle of trying to find parking downtown. Come drink a beer at the enormous pub-style wooden bar, or make a reservation to sit down with the family and enjoy a bit of wholesome Irish fare.
Jack Quinn's is located in the heart of downtown, on Tejon between Pikes Peak and Colorado Ave. This makes it the perfect location to start (or end) a barhopping adventure, as the area is full to the brim with bars and restaurants to explore.
Take a load off at Jack Quinn's outdoor seating area, built for patio dining during the pandemic but also great for enjoying the cooler days of summer with a gorgeous view of Pikes Peak. Drop by between 3 pm-6 pm to save a bit of money of both your food and drinks during happy hour.
21 S Tejon St, Colorado Springs, CO 80903 | 719-385-0766 | jackquinnspub.com
Rabbit Hole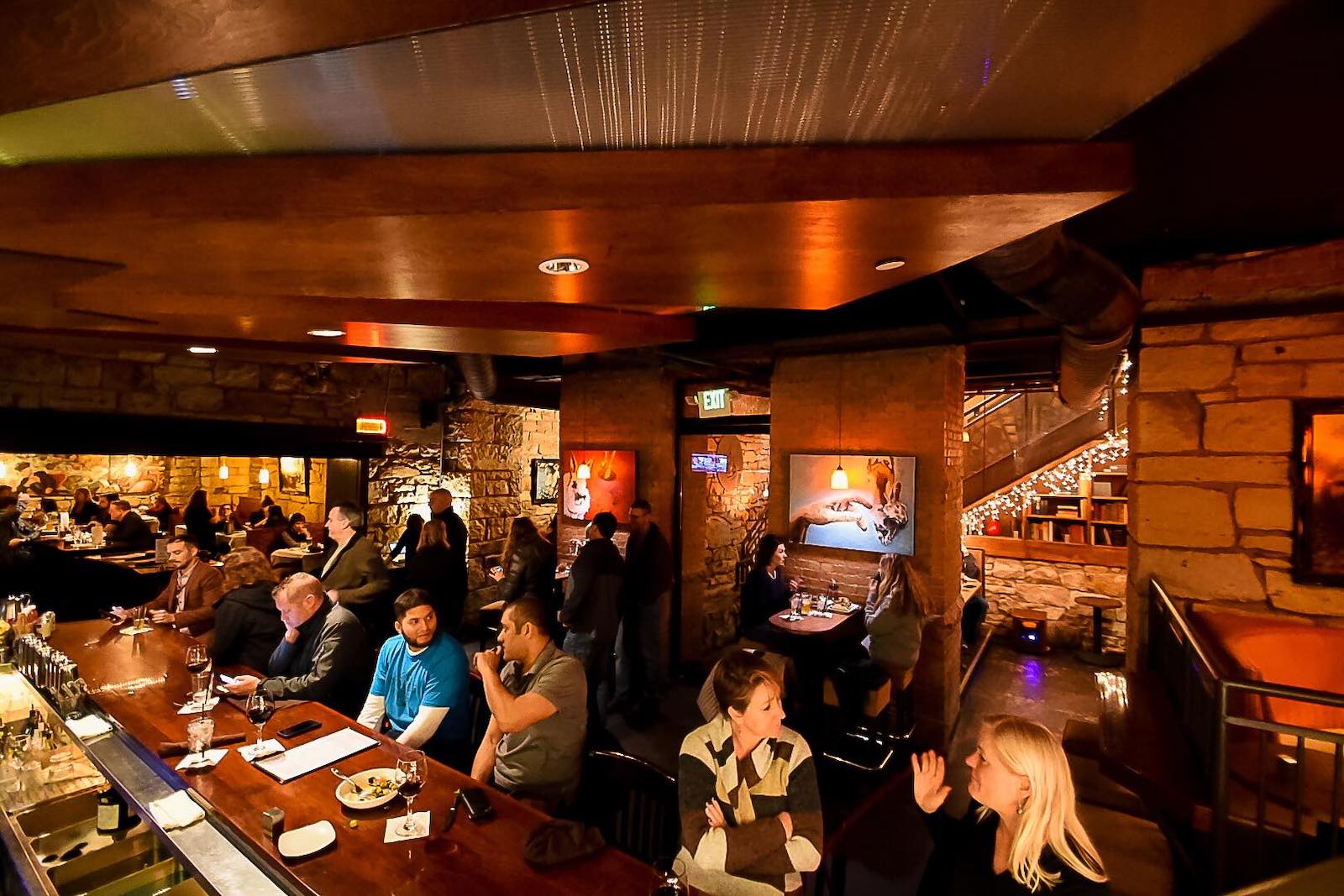 One of the most unique bars in Colorado Springs, the Rabbit Hole Bar and Lounge is located beneath the bustling streets of downtown. The entrance fits the name of this upscale bar, as descending into its midst can feel a bit like entering a magical rabbit hole. Once you've entered the Rabbit Hole, you may feel as though your trip has brought you into a whole new world.
Dazzling lights, cozy booths, and a circular bar make this spot a snazzy and welcoming place to try a new cocktail and enjoy some conversation with close friends. Like many bars in Springs, The Rabbit Hole is a rather small building, so although it may be a cozy spot for an intimate round of drinks or dinner, seating with usually be limited.
101 N Tejon St, Colorado Springs, CO 80903 | 719-203-5072 | rabbitholedinner.com
Golden Bee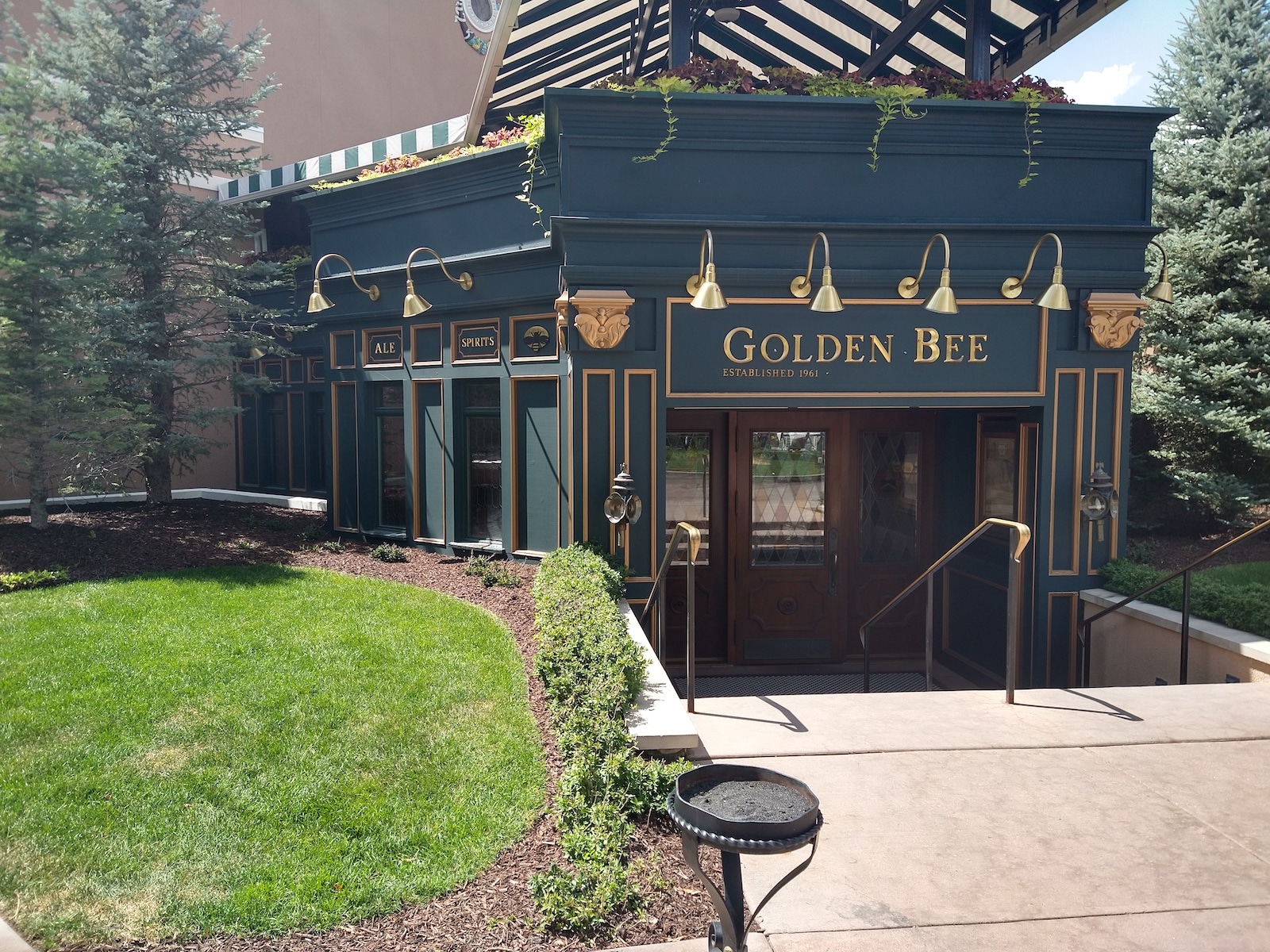 Searching for a classy bar to bring a client or a date you want to impress? The Golden Bee is sure to delight with its gorgeous interior and incredible service.
This upscale joint is a treat aesthetically and to the taste buds, boasting a lavish woodwork interior that will put you in the mind of a 19th-century British pub. That's on purpose–the handmade bar was transported plank by plank from the United Kingdom to preserve its authenticity here in Colorado.
Best of all, The Golden Bee is easily accessible for those ending a day trip to the Broadmoor or vacationing at the resort, with plenty of parking and a large selection of delicious drinks to help you take a load off after a long day of sightseeing.
1 Lake Ave, Colorado Springs, CO 80906 | 719-577-5776 | broadmoor.com/dining/golden-bee
Ivywild School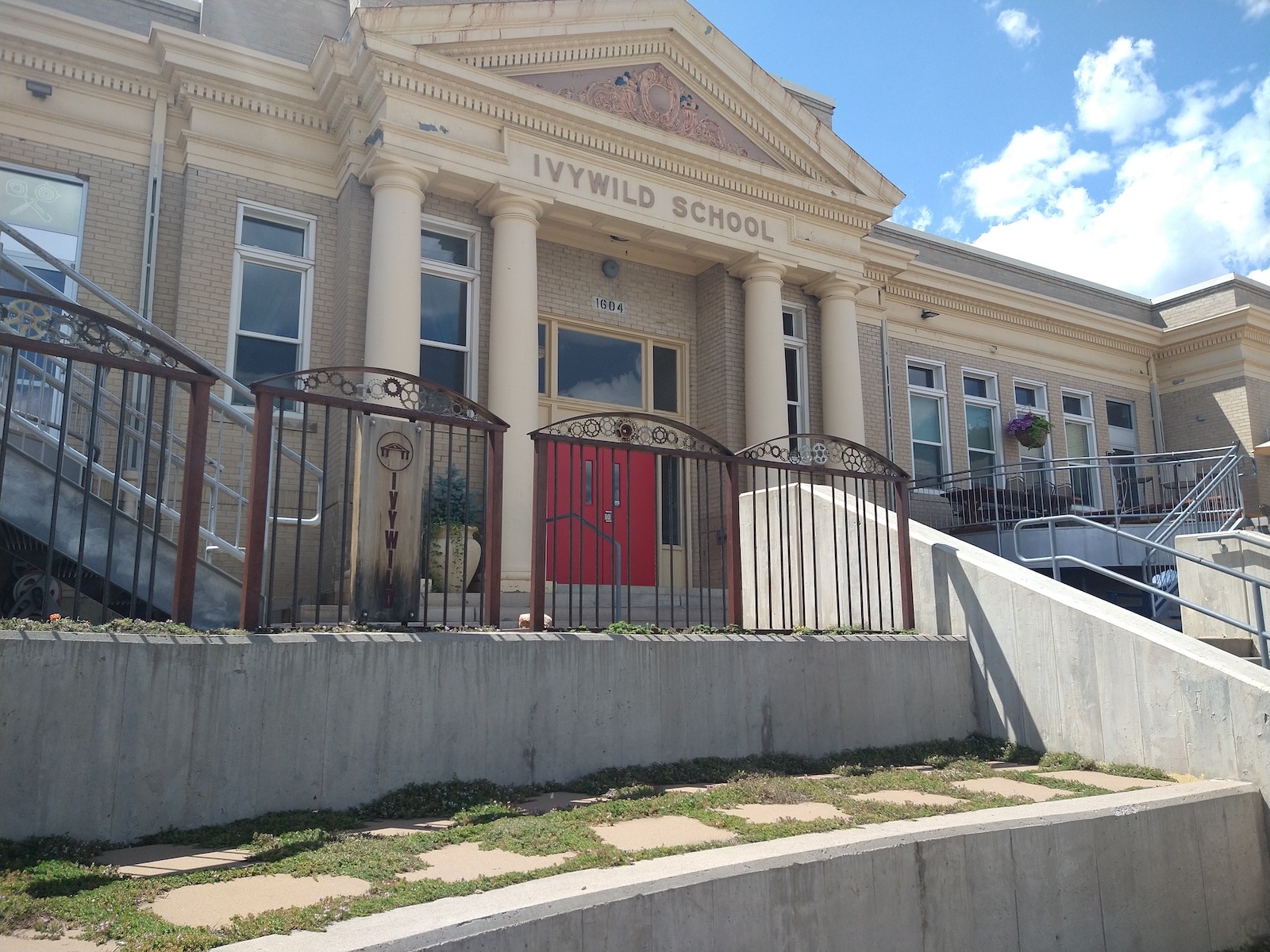 Ivywild School is a collection of bars and restaurants located on the premises of the historical Ivywild School. This one-of-a-kind location has given rise to some of the punniest bar names in the Springs, such as The Principal's Office, making it a unique location to imbibe in our wonderful city.
Check out the latest brews from the Bristol Brewery's Bristol Pub, or grab a round of shots of barrel-aged whiskey from the Axe and the Oak Whiskey House. If you get a hankering for some bar food, there is plenty to choose from on the grounds of this old school.
Sit on the steps of Ivywild and wonder how the old-time kids would've reacted to their school becoming a playground of adult beverages and entertainment.
1604 S Cascade Ave, Colorado Springs, CO 80905 | 719-368-6100 | facebook.com/IvywildSchool
Those are just seven of the top destinations for your barhopping in Colorado Springs. Cheers!