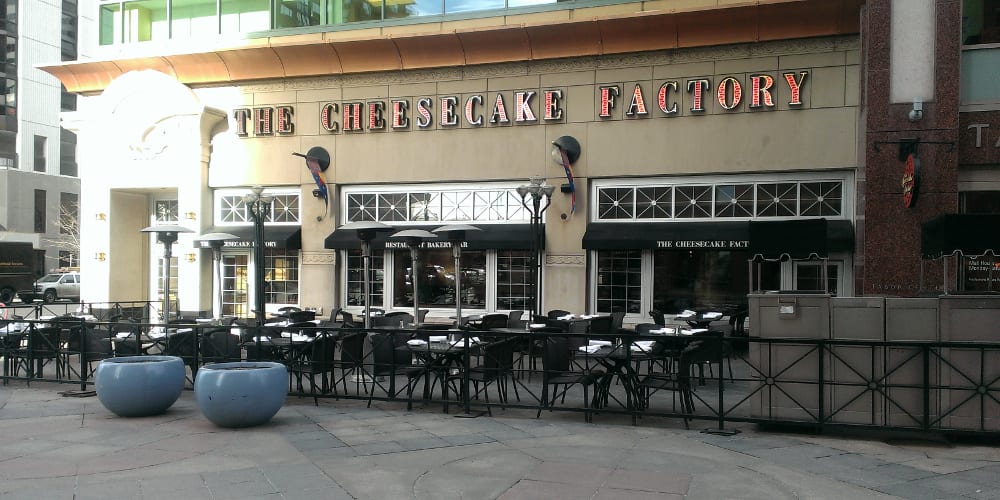 1201 16th St, Denver, CO 80202
303-595-0333
thecheesecakefactory.com
The Cheesecake Factory serves up remarkable food on the 16th Street Mall. There are over 200 fresh made menu selections and 50 specialty cheesecakes. There's also a spacious patio and full bar.
Parking validation is offered at the Tabor Center Garage for up to 3 hours after 5pm Monday to Friday and any 3 hours on the weekend.
There's another Cheesecake Factory in Lone Tree and one in Boulder.
Cheesecake Factory Happy Hours: Monday-Friday 4pm-6pm
Drinks –
$4 Selected Draft Beers (16oz)
$5 Selected Well Drinks
$5 Selected Wines by the Glass
Specialty Cocktails:
$5 Mojito – Cruzan Citrus rum handcrafted with fresh mint and lime on the Rocks
$5 Long Island Iced – Vodka, Rum, Gin, Tequila, Lemon, Lime and a splash of Coke
$5 Margarita – Classic Margarita with Gold Tequila, Triple Sec and Lime Juice
$5 J.W.'s Pink Lemonade – Skyy Citrus Vodka, Raspberry Liquer and Fresh Lemonade
$5 Cosmopolitan – Skyy Citrus and Cointreau with a Splash of Cranberry Juice
Discounted appetizer specials
back to Lower Downtown