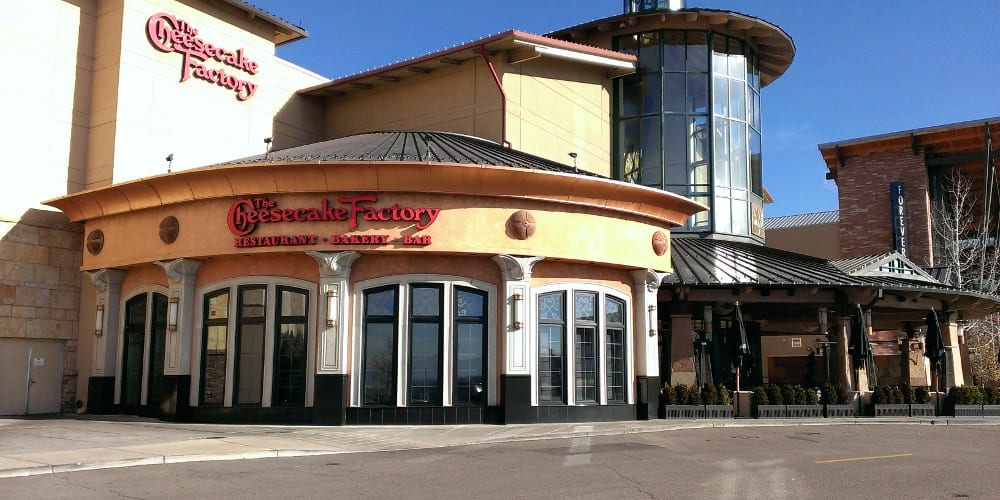 8405 Park Meadows Center Dr, Lone Tree, CO 80124
303-858-1111
thecheesecakefactory.com
The Cheesecake Factory is a restaurant, bakery and bar with exceptional food and atmosphere. There's a nice patio area and happy hour five days a week.
It's a national chain with two other locations in Colorado: Boulder and Downtown Denver.
Cheesecake Factory Happy Hours: Monday-Friday 4pm-6pm
Drinks –
$5 Selected Well Drinks
$5 Selected Wines by the Glass
$4 Selected Draft Beers (16oz)
Specialty Cocktails:
$5 Mojito – Cruzan Citrus rum handcrafted with fresh mint and lime on the Rocks
$5 Long Island Iced – Vodka, Rum, Gin, Tequila, Lemon, Lime and a splash of Coke
$5 Margarita – Classic Margarita with Gold Tequila, Triple Sec and Lime Juice
$5 J.W.'s Pink Lemonade – Skyy Citrus Vodka, Raspberry Liquer and Fresh Lemonade
$5 Cosmopolitan – Skyy Citrus and Cointreau with a Splash of Cranberry Juice
Food –
$5 Roadside Sliders – served with grilled onions, pickles and ketchup
$5 Hot Spinach and Cheese Dip – spinach, artichoke hearts, shallots, garlic and a mixture of cheeses, served with tortilla chips and salsa
$5 Avocado Eggrolls – avocado, sun-dried tomato, red onion and cilantro fried in a crisp wrapper, served with a tamarind-cashew dipping sauce
$5 Fried Macaroni and Cheese – crispy crumb coated macaroni and cheese balls, served over a creamy marinara sauce
$5 Sweet Corn Tamale Cakes – topped with sour cream, salsa, avocado and salsa verde
$5 Crispy Taquitos – spicy chicken and cheese rolled in fresh corn tortillas and fried crisp, served with guacamole, sour cream and salsa
$5 Fire-Roasted Fresh Artichoke – fresh artichoke fire-roasted and served with a spicy vinaigrette and garlic dip (seasonal)
$5 Vietnamese Shrimp Summer Rolls – delicate rice paper rolled around asparagus, shiitake mushrooms, carrots, rice noodles, green Onion, Cilantro and Shrimp – served chilled
$5 Guacamole Made-To-Order – ripe avocado, onion, tomato, chiles, cilantro and fresh lime, served with tortilla chips, salsa and sour cream
$5 Tex Mex Eggrolls – spicy chicken, corn, black beans, peppers, onions and melted cheese, served with avocado cream and salsa.
$5 Fried Calamari – fried light and crisp, served with garlic dip and cocktail sauce
$5 Factory Nachos – crisp tortilla chips covered with melted cheeses, guacamole, sour cream, jalapeños and salsa, served with spicy chicken
$5 Buffalo Blasts – chicken, cheese and spicy buffalo sauce all stuffed in a spiced wrapper and fried until crisp, served with celery sticks and blue cheese dressing
$5 Southern Fried Chicken Sliders – crispy fried chicken breast on mini-buns, served with lettuce, tomato and pickles
$5 Chicken Pot Stickers – oriental dumplings pan-fried in the classic tradition, served with our Ssoy-ginger sesame sauce
$5 Crispy Crab Wontons – crabmeat blended with cream cheese, green onion, water chestnuts and sweet chili sauce fried crisp in wonton wrappers
Reviews: Yelp
back to Tech Center