Spend time in the great outdoors this summer by hitting the local trails then grabbing a drink at these Denver bars and breweries with outdoor patios. From small and intimate to large beer gardens, there is something to suit everyone's style.
The Mile High City is blessed with both a plethora of simple outdoor patios and high rooftop bars. Some patios are dog-friendly, while others are not, so be sure to inquire in advance if you want to bring your dog(s). If you're looking for strictly breweries, consider this list of best breweries in Denver, many of which have prime patios, or even a beer garden.
Here are among the top outdoor patio bars in Denver, CO, in no particular order:
54thirty Rooftop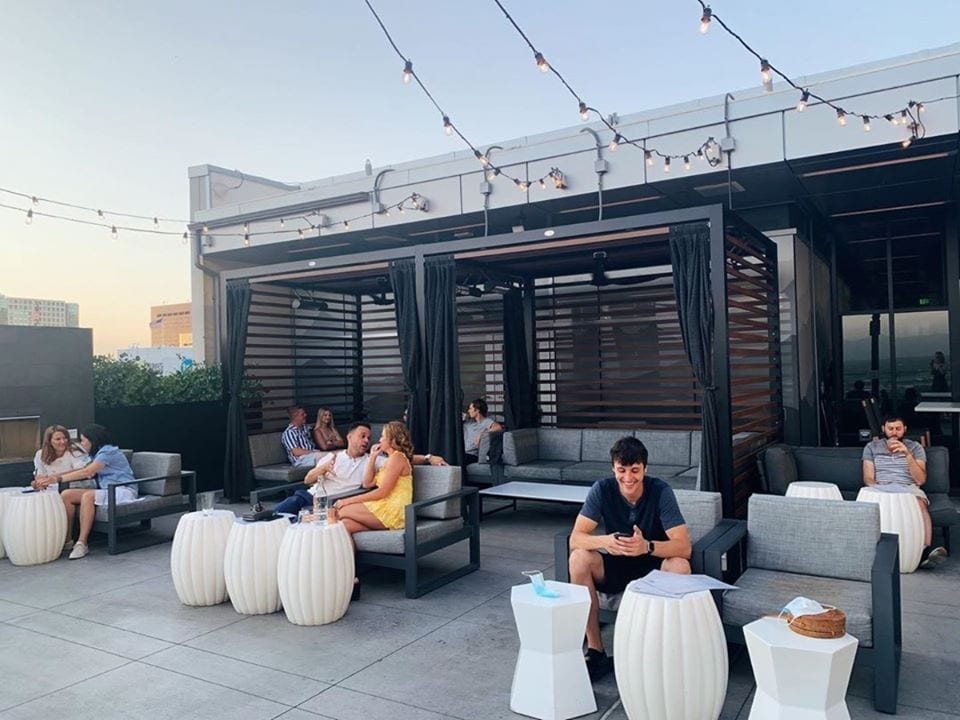 Sitting as Denver's highest rooftop bar, 54thirty not only offers incredible views but tasty drinks and eats as well. Their focus on hand-crafted cocktails, globally-inspired nibbles, and a cozy spot to sit and watch the sun go down across the city skyline make 54thirty's rooftop one of our favorite Denver bars with a patio.
Where: 1475 California Street, on the 20th floor of the Le Meridien Hotel.
Ironton Distillery & Crafthouse
Promoting a farm to flask concept, the Ironton Distillery & Crafthouse is a small batch distillery that specializes in using local ingredients, filtered house water, and just good clean liquor. Their ample outdoor dining space is the perfect place to sip on one of their handmade cocktails and sample a savory bite from their food menu.
Where: 3636 Chestnut Place, Denver, CO 80216
Rita's Law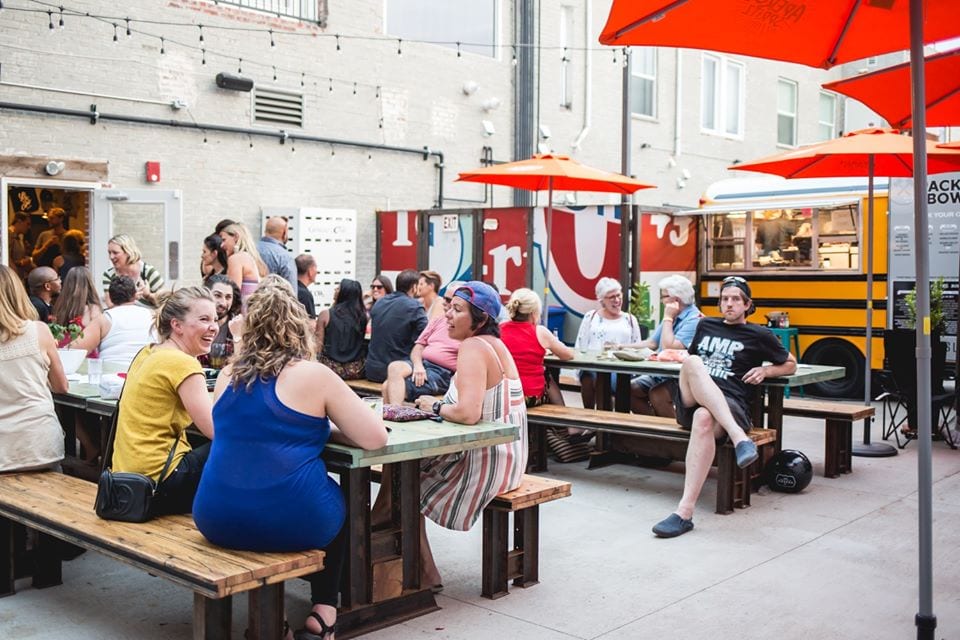 An upscale dive bar in the historic Five Points neighborhood, Rita's Law offers a great place to socialize, drink, eat, and even grab an early morning coffee. Enjoy your drinks and catching up with friends in their spacious outdoor patio, adjacent to the school bus that has been converted into a kitchen.
Where: 2209 Welton Street
Irish Rover Pub
Drink to a bit o' Irish heritage with a visit to the Irish Rover. The long-standing Denver favorite serves up tasty Irish-inspired eats like Shepard's Pie and Bangers and Mash, plus Guinness on tap. But perhaps its biggest draw is its rooftop patio that offers an aerial view of Broadway and the Denver skyline. Enjoy a happy hour drink special daily, Monday through Friday, from 3:00 p.m. to 7:00 p.m.
Where: 54 S. Broadway, Denver, CO 80209
Adrift Tiki Bar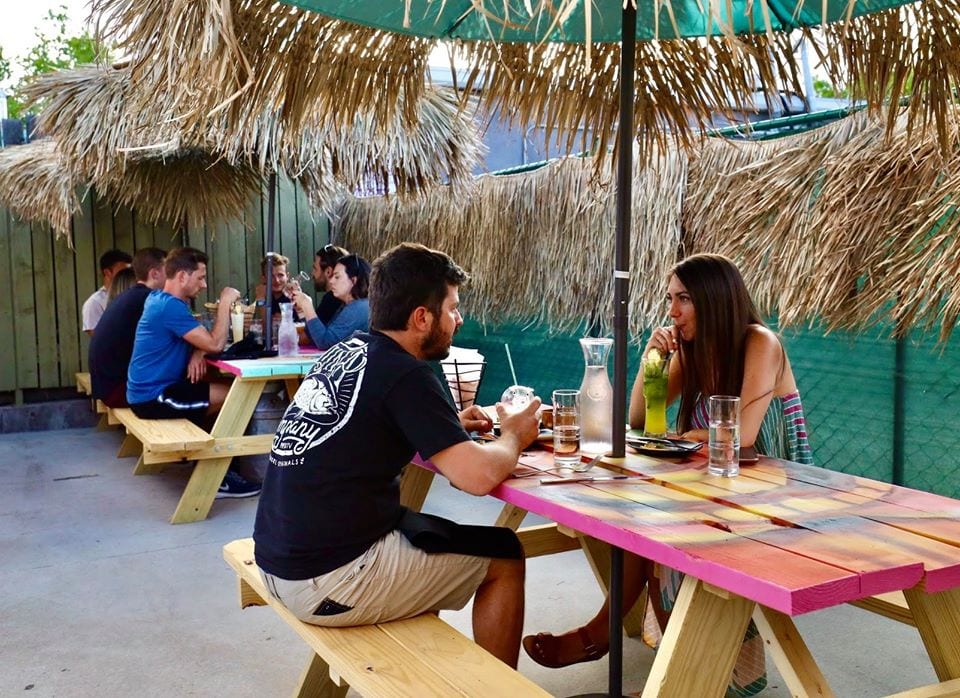 Feel as though you are in the tropics sipping on a Mai Tai at the Adrift Tiki Bar. Not cheesy tiki, but classy tiki-style, the bar exudes personality with its décor and its drinks. Picnic bench-style seating is available on their outdoor patio, complete with grass-lined umbrellas and colorful details for that oh so tropical feel. Enjoy happy hour every day from open until 7:00 p.m. Join them for Tiki Tuesdays for all night Happy Hour!
Where: 218 S. Broadway, Denver, CO 80209
Improper City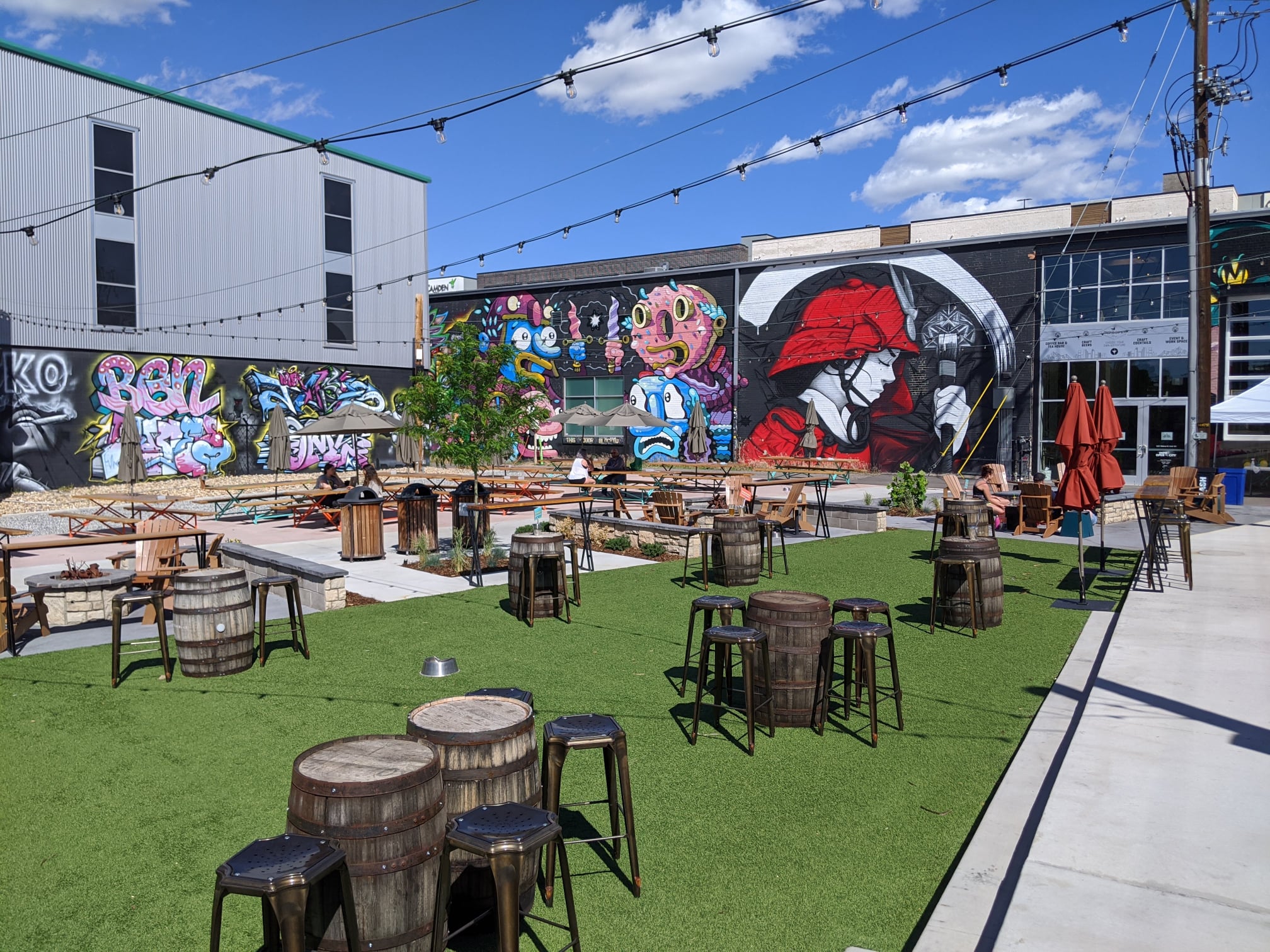 Located in the heart of the Rino district, Improper City is home to one of Denver's biggest outdoor patios. With daily multiple food truck options, a healthy drink menu, and ample room outside with fire pits, picnic table seating, and a D.J. playing some tunes, who would want to sit indoors?
Where: 3201 Walnut St., Denver, CO 80205
Local 46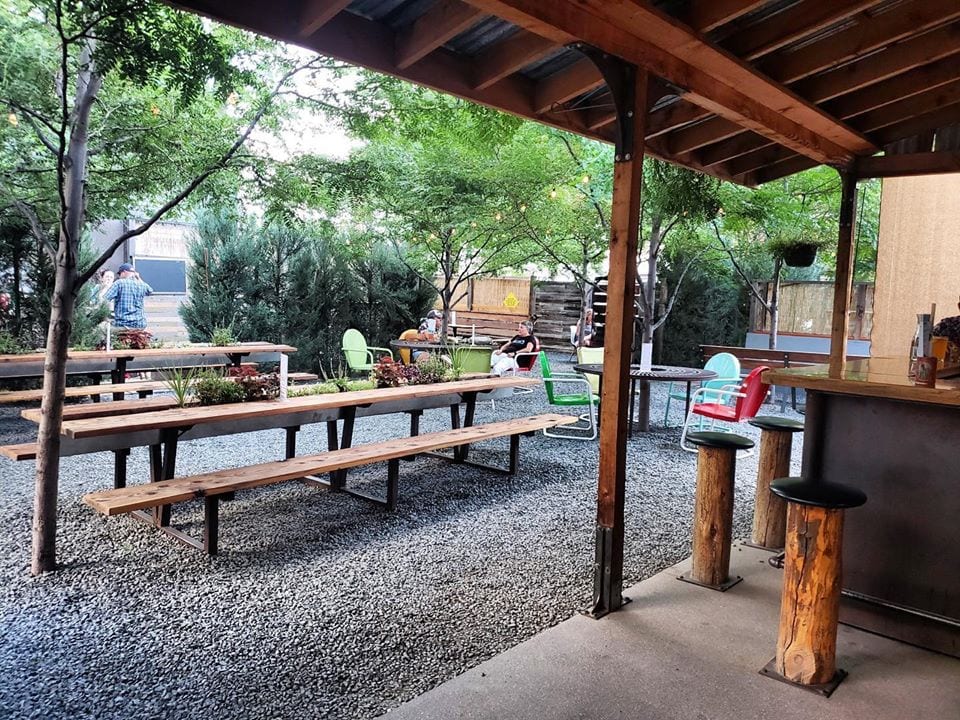 A local neighborhood hangout on the popular Tennyson Street, Local 46 serves up delicious food, tasty beer, and one of Denver's best Biergartens. Filled with ample seating, bocce court, ping pong, cornhole, and cozy fire pits, you'll want to stay awhile.
Where: 4586 Tennyson St., Denver, CO 80212
Fort Greene
The Instagram-worthy interior of the historic Fort Greene is almost enough to make you want to skip having a drink outside on their patio. But don't, its outdoor seating is just as wonderful with string lights and picnic bench-style seating, there is even room for you to bring your furry friends.
Where: 321 East 45th Avenue, Denver, CO 80216
Joyride Brewing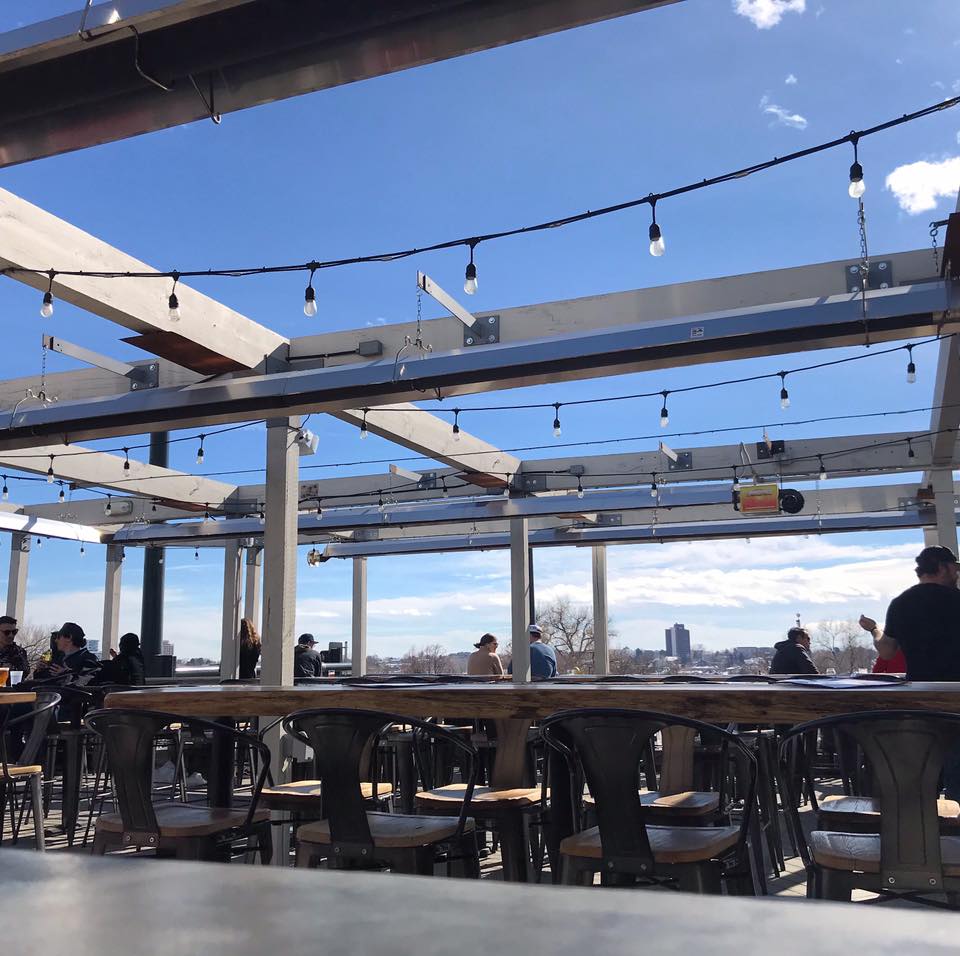 Located in the latest neighborhood in Denver to become hip and trendy, Edgewater, the Joyride Brewing Company is a local brewery that has made a name for itself with not only its tasty beers but with the latest edition of its rooftop patio. Located across from Sloan's Lake, the rooftop provides beautiful views of the lake and the downtown Denver skyline in the distance.
Where: 2501 Sheridan Blvd., Denver, CO 80214
10 Barrel Brewing Company
The 10 Barrel Brewing Company is an expansive brewpub found in the heart of Denver's Rino District. The brewery serves up 24 freshly brewed beers on tap, pizza, burgers, and other bar food, that make dining on their rooftop patio an event.
Where: 2620 Walnut St., Denver, CO 80205
Forest Room 5
Feel like you are in the middle of the wilderness while in the heart of the city at the back patio at Forest Room 5. Filled with fire pits, tree-line alcoves, waterfalls, and tree trunk seating, you'll forget you're minutes from downtown.
Note: Forest Room 5 is temporarily closed
Denver Beer Co.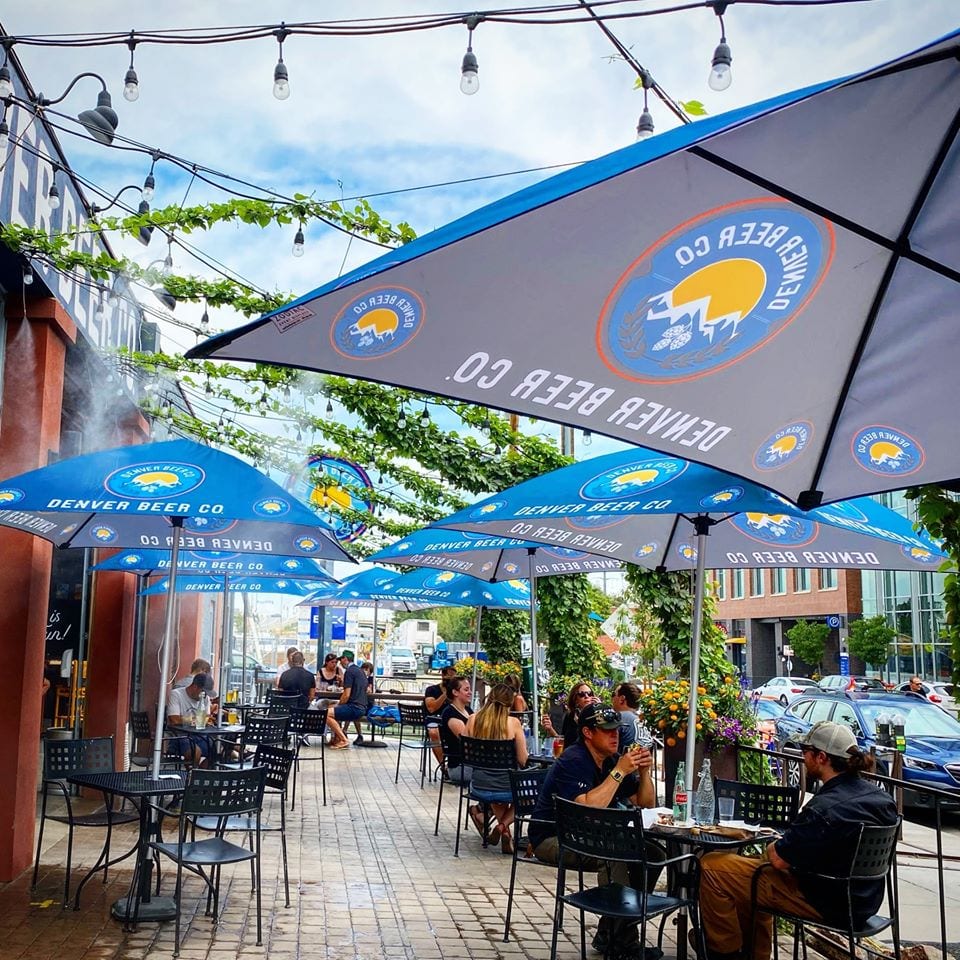 Delicious beers, pet-friendly patios, and scheduled food trucks, you can't get more Colorado than Denver Beer Co. Inspired by German beer gardens, Denver Beer Co.'s outdoor space offers large community tables, games, and misters to keep you cool in the summer.
Where: 1695 Platte St., Denver, CO 80202
Ratio Beerworks
Just as fun as drinking one of Ratio Beerworks' beers is enjoying it on their outdoor patio, and now extended plaza seating out front. Ranked as one of the best outdoor drinking spots in Denver, it's easy to see with its inviting open space, perfect for bringing your dogs and playing a round or two of cornhole.
Where: 2920 Larimer St., Denver, CO 80205
Honey Elixir Bar
Recently just named 5280's "Top of the Town Readers' Choice for the best new bar," the female-owned Honey Elixir Bar brings the punch with its crafty concoctions and its artful patio. Intimate and inviting offers several seating areas, the patio is located in the alley between Walnut and Larimer St. with decorative fringe canopies and colorful mural lining the exterior wall. Choose from their alcohol-free potions and creative cocktails that leave little to be desired.
Lowry Beer Garden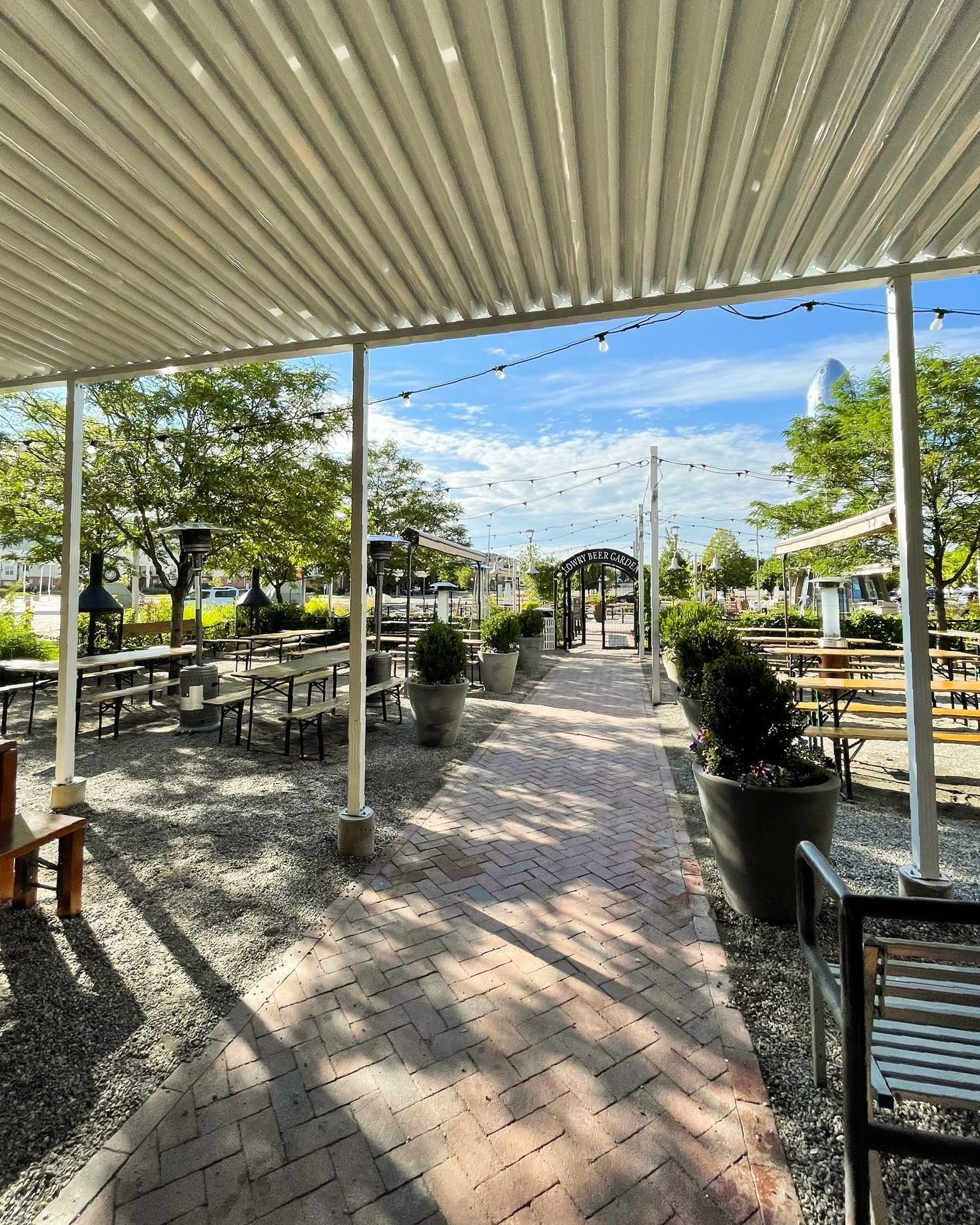 Located in the space that was formerly the Lowry Air Force Base, the Lowry Beer Garden is a family-friendly spot to wet your whistle in the great outdoors. The beer selection here is extensive, but they also have wine and cocktails.
Rocket Ice Cream is located just outside for the kids (and has dog-friendly treats, too!), and the beer garden offers a kids' menu. Plenty of delicious bar food is available for those of age, too. You can hit up their happy hour on weekdays from 3:00 – 6:00 pm when they have $4.50 drafts, wine, and wells.
ViewHouse Denver
The Viewhouse in the Ballpark neighborhood certainly lives up to its name: you can soak up the view of downtown Denver while sipping something cold. This spot has a giant rooftop patio for you to enjoy the enviable Denver weather.
They host Sunday Funday from 2:00 – 6:00 pm on Sundays with a DJ and bottle service, sand volleyball, cornhole, and other outdoor games are always available for those who prefer sports that are alcohol-infused. Don't miss their happy hour from 3:00 – 6:00 pm on weekdays with specials on beer, wine, cocktails, and snacks.
Watering Bowl
The Watering Bowl is bringing the nightlife to southeast Denver, and this spot is as pet-friendly as it gets. Touted as "Denver's best Pawtio," the Watering Bowl is a perfect spot to bring your fur family, grab a beer, and have a bite to eat.
They have a pool table and darts inside, but the main draw is the patio full of pups. Here, you can find house-made dog treats, toys for your pup to play with, and rescue brews like the Rottweiler Wheat. They also have a happy hour on weekdays from 4:00 – 6:00 pm and an all-you-can-drink special for $30. Better yet: a portion of sales on specific menu items goes directly to local rescues!
Finn's Manor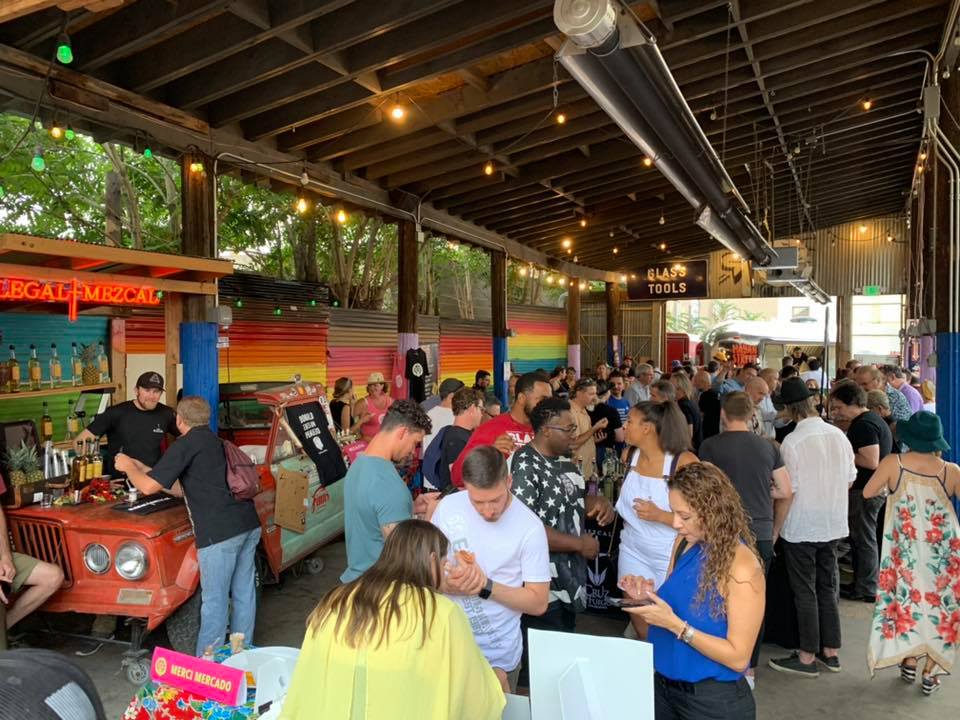 If you've found yourself in RiNo, head over to Finn's Manor for those nights when Denver weather demands to be enjoyed. Finn's Manor has an unmistakable yet surprising beach bar vibe that might just convince you to swap out your traditional old-fashioned for something with rum.
Food trucks gather here for when you get hungry. Expect creative cocktails, occasional live music, and an extensive whiskey and rum list.
Historian's Ale House
If there were a prize for the outdoor bar with the longest happy hour, it would go to Historian's Ale House, located in one of Denver's most popular neighborhoods: Baker. Stop in any weekday from 11:00 am – 7:00 pm, and you'll be treated to $2 off snacks and $1 off drinks. They offer other daily specials, like $12 bottomless mimosas on Saturday and Sunday from 10:00 am – 2:00 pm.
Historian's rooftop patio features misters to keep you cool, so you can drink outside comfortably no matter what the forecast has in store. TVs at the bar mean that you can multitask by watching the game and enjoying the weather simultaneously.
Whiskey Tango Foxtrot
Another Ballpark spot, Whiskey Tango Foxtrot has an upstairs patio for you to enjoy one of the 300 days of average annual sunshine Denver has to offer. The happy hour here runs from 3:00 – 7:00 pm when they offer specials on wine, wells, and drafts. Check out their social media to find out about special events like Trivia Tuesdays and live music offerings.
Recess Beer Garden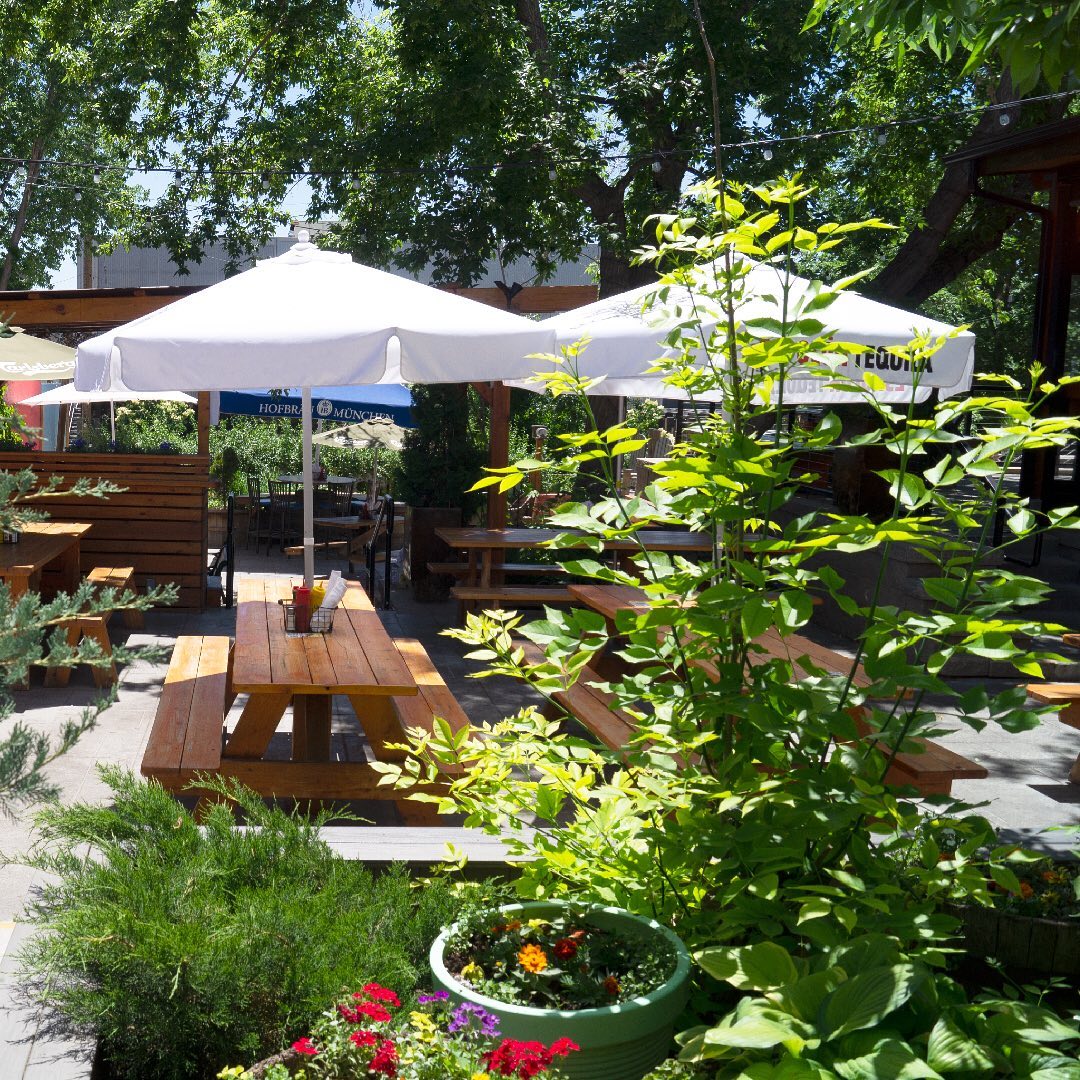 In the relentlessly hip Highland neighborhood, you'll find the Recess Beer Garden. This beer garden puts the emphasis on the garden, with shady trees and lush foliage in abundance. Plus, they have a decent selection of wine and cocktails for those who want to forego the hops. An outdoor fire pit and ambient lighting make this pet-friendly spot all the more tempting.
Recess Beer Garden is an excellent spot for quenching late-night thirst, as they're open nightly until 1:00 am. Or, stop in for happy hour from 2:00 – 6:00 pm Monday – Thursday for $1 off drafts and some deals on food, too.
Postino
Another LoHi outpost, Postino has a nice patio space for you to post up with your friends and enjoy the city views. Plus, they have great deals like the $5 until 5, which means $5 glasses of wine and pitchers of beer until 5:00 pm daily.
They also have a happy hour of sorts on Mondays and Tuesdays after 8:00 pm, when you can get a bruschetta board and a bottle of wine for $25. Plan on a long wait time if the weather is nice, though, as everyone wants a piece of that pretty patio.
Number 38
Number 38 is part massive beer garden, part street food hub, and part event venue. You can hear live music in a concert-like setting and visit one of the many rotating local taprooms that are available here. Bring the pets and play some outdoor games they have on hand, like volleyball. There isn't a happy hour here, but they do have a contactless payment system, so you don't have to wait for a check when you're ready to leave.
Avanti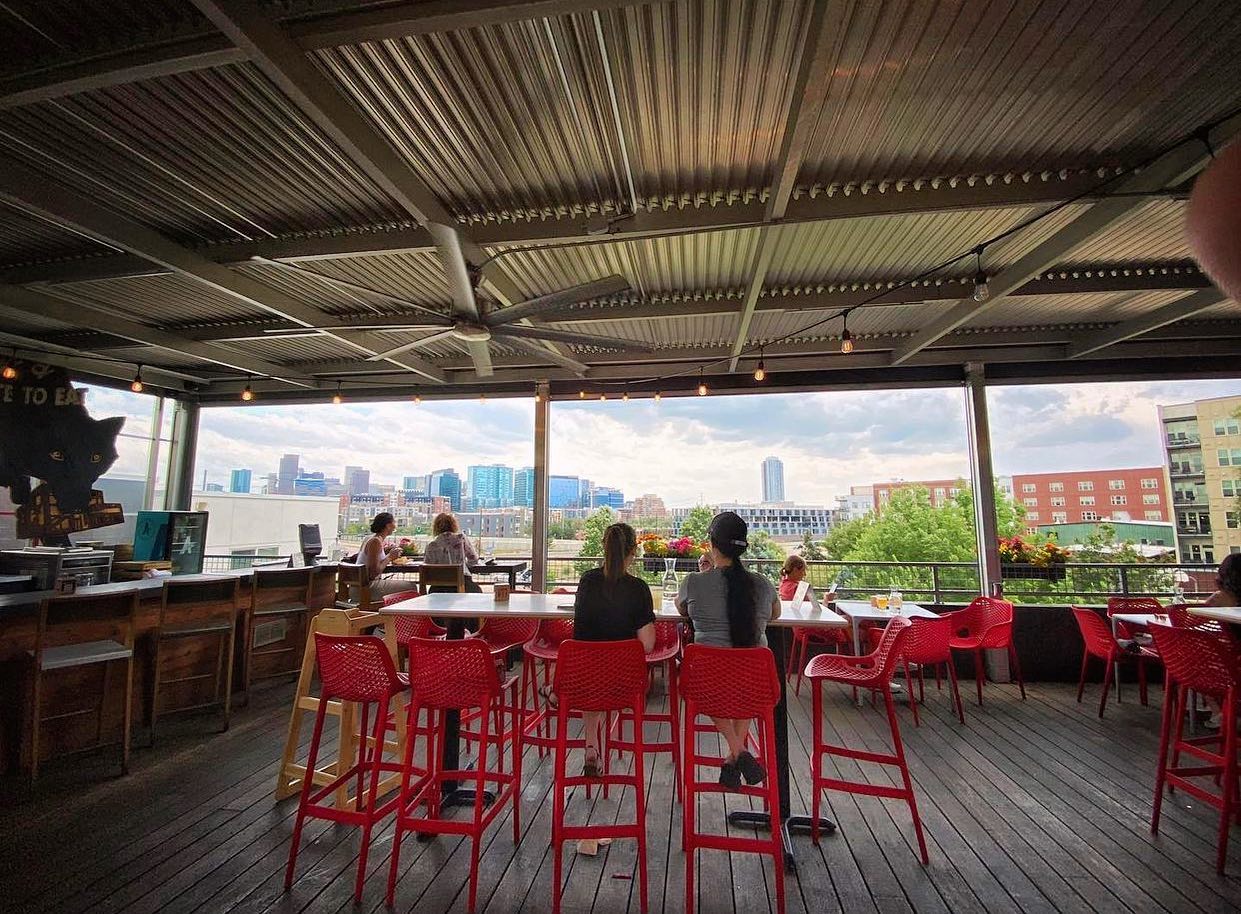 Last on our list, but certainly not the least, Avanti, located in LoHi, has plentiful outdoor space plus a variety of food vendors on tap. Here, you can order fun cocktails like the Betty White (a mix of gin, triple sec, jasmine, and lemon), and you can bring your kids as much of their menu is kid-friendly.
Avanti hosts several events, including comedy nights, smarty parties, and outdoor movie screenings in the summer paired with themed cocktails, Soak in the views of downtown Denver on their rooftop bar during their happy hour, which runs weekdays from 2:00 – 6:00 pm.
Or head north to Boulder, for beautiful views of the Flatirons from the rooftop bar at the Avanti Boulder.
That's a roundup of some of the best bars and breweries with outdoor patios in Denver, Colorado. Enjoy your time in the sun in the Mile High City! Cheers!