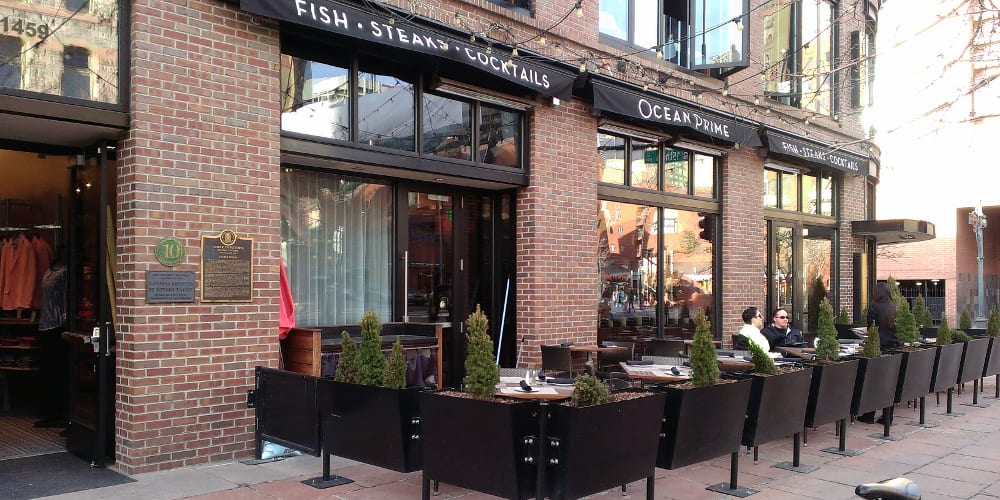 1465 Larimer St, Denver, CO 80202
303-825-3663
oceanprimedenver.com
Ocean Prime is an upsale seafood restaurant and steakhouse in Lodo. There's a large bar with weekday happy hours. There's no beer on draught, but some is available in bottles.
They're open daily for lunch Monday to Friday from 11am to 4pm, and dinner seven days a week. The ambiance is casual and elegant.
Ocean Prime Happy Hours: (oceanprimedenver.com/menus.aspx)
Monday-Friday 4pm-6pm (lounge)
Wines by the Glass –
$7 Chardonnay, Black Stallion, California, 2009
$6 Sauvignon Blanc, Bonterra, California, 2009
$7 Chardonnay, William Hill, Central Coast, 2009
$7 Cabernet Sauvignon, Peter Lehman, Barossa Valley, 2008
$7 Cabernet Sauvignon, Josh Cellars, North Coast, 2011
Handcrafted Cocktails –
$7 Pear Grapefruit Fizz
$7 Cucumber Gimlet
$7 Pineapple Finlandia Martini
Appetizers –
$8 Ahi Tuna Sliders
$8 Beer Batter Fried Oysters
$7 Point Judith Calamari
$10 Kobe Beef Sliders
$6 Parmesan Truffle House Cut Fries
$10 Chilean Sea Bass & Chips

View Mile High Happy Hour – Lower Downtown in a larger map
back to Lower Downtown