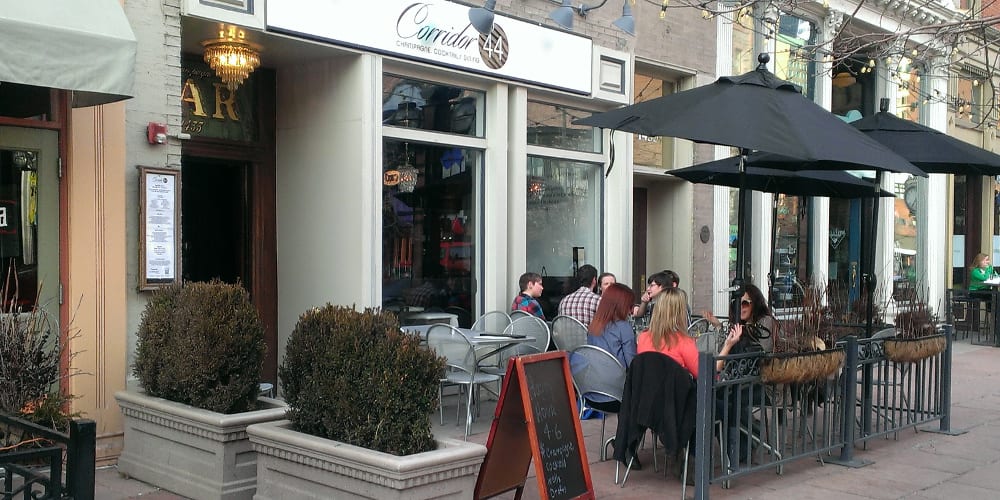 1433 Larimer St, Denver, CO 80202
303-893-0044
corridor44.com
Corridor 44 is a small champagne bar in Larimer Square. There's weeknight happy hours with an excellent selection of champagne cocktails. The cozy atmosphere is elegant and relaxing.
The restaurant features a front lounge area and a back room separated by a 44 foot corridor. Out front there's a nice patio. For food there's small plates, salads and entrees.
Corridor 44 Happy Hours: (corridor44.com/…)
Monday-Friday 4pm-6pm
$4 Well Drinks
$4 Draft Beers
$4 Champagne Cocktails:
The Classic: sugar cube, bitters, champagne and lemon twist
Kir Royale: creme de cassis, champagne, lemon twist and currants
Mimosa: orange juice, champagne
Black Velvet: Guinness stout beer, champagne
Bellini: peach purée, sugar and champagne
Tranquility: blue curacao, amaretto and champagne
Napoleon: sugar, bitters, cognac, Grand Marnier and champagne
Raspberry Truffle: raspberry vodka, Godiva chocolate liqueur and champagne
Strawberry Sunrise: strawberry purée, sugar, orange juice and champagne
Pomegranate: pomegranate liqueur, champagne and lemon twist
Italian Twist: limoncello, champagne and lemon twist
Grape Bubble Yum: 3 Olives grape vodka, champagne, chambord and lemon twist
Poinsettia: cranberry vodka, cranberry juice, cointreau, champagne and lemon twist
The Borracho: gold tequila, triple sec, lime juice, champagne with salted rim
Hawaiian Mimosa: pineapple juice, coconut rum, sugar and champagne
The Ruby Red: grapefruit vodka, grapefruit juice, sugar and champagne
Chocolate Cake: vanilla vodka, Frangelico, champagne and a sugar rim
Caramel Apple: Tuaca, Apple Pucker, champagne and a cherry
DAILY SPECIALS:
Wednesday – Ladies Night 4pm-Close, $4 Champagne Cocktails, $4 Wells, $4 Drafts
Thursday – $6 Glasses of Prosecco from 9pm-Close

View Mile High Happy Hour – Lower Downtown in a larger map
back to Lower Downtown