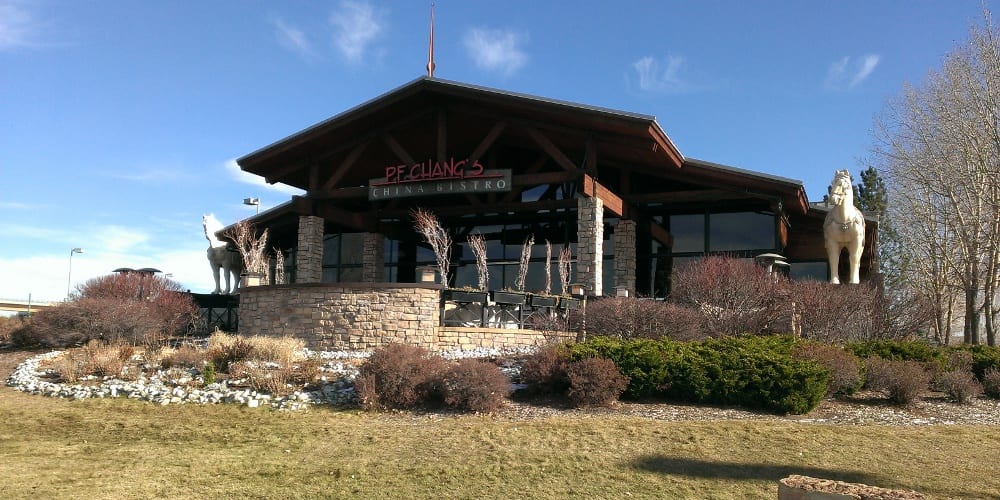 8315 Park Meadows Center Dr, Lone Tree, CO 80124
303-790-7744
pfchangs.com
P.F. Chang's is an upscale chain of Chinese bistros with several locations in Colorado. The Park Meadows restaurant features a full bar and a popular happy hour Monday to Friday.
There's another P.F. Chang's in Lakewood, and one in Lower Downtown.
P.F. Chang's Happy Hours: (pfchangs.com/…)
Monday-Friday 3pm-6pm & 9pm-11pm
Drink specials –
Beer:
$2.75 Bud Light
$3.25 Tsingtao
$3.25 Sam Adams Seasonal
Sake:
$4 Gekkeikan Sake (large jar)
Wine: (glass 7oz)
$5 Moscato, Besitos
$5 Pinot Grigio, Riff
$5 Chardonnay, Columbia Crest
$6 Chardonnay, Kendall-Jackson
$5 Merlot, 14 Hands
$5 Malbec, Alamos
$5 Cabernet Sauvignon, Santa Julia
Cocktails:
$4 Well Highballs, add juice for $1
$6 Black Tea Gimlet
$6 Coconut Lemon Sour
$6 Yuzu Ginger Mojito
$6 Rub Colada
$6 Chinese 88 Martini
$6 Asian Pear Mojito
$6 Organic Agave Margarita
$6 PF-X
$6 Chang's Mai Tai
Alcohol Free Cocktails:
$2.5 Ginger Beer
$2.5 Chang's Coconut Cooler
$2.5 Strawberry Cucumber Limeade
Food specials –
Traditions:
$4 Egg Rolls
$3 Spring Rolls
$6 Northern Style Spare Ribs
$6 Chang's Spare Ribs
Sushi:
$3.5 California Rolls
$3.95 Spicy Tuna Roll
$5 Ahi Crisp
Steamed Dumplings: (3 per order)
$3.25 Vegetable
$3.25 Pork
$4 Shrimp
Other Dim Sum Offerings:
$5 Flaming Red Wontons
$4 Edamame
$6 Chang's Chicken Lettuce Wraps
$6 Chang's Vegetarian Lettuce Wraps
$4 Crispy Green Beans
$5 Crab Wontons
$7 Dynamite Shrimp
back to Tech Center