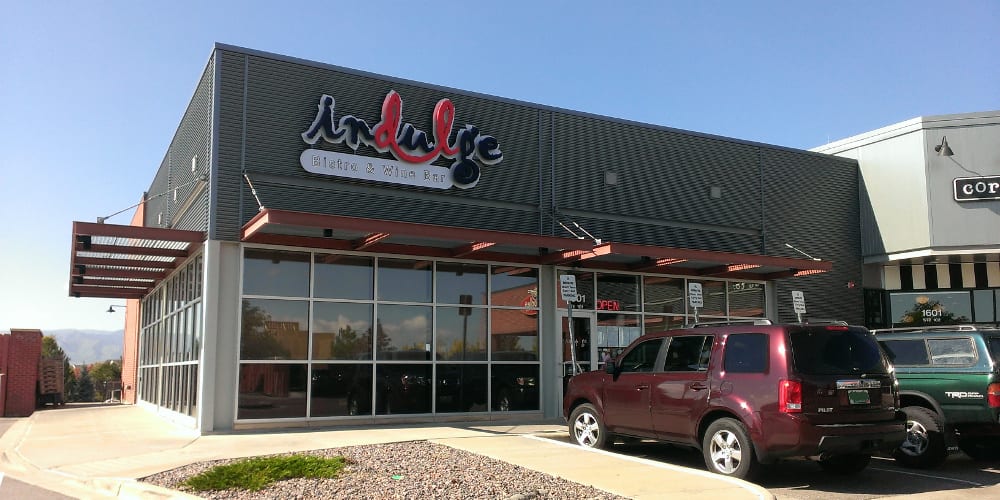 1601 Mayberry Dr, Highlands Ranch, CO 80129
303-991-1994
indulgewinebar.com
Indulge is a neighborhood wine bar with daily happy hours. The atmosphere is contemporary and casual, with a spacious patio overlooking the Front Range. It's located on the corner of Lucent and Highlands Ranch Pkwy in the Town Center.
There is another Indulge Bistro in downtown Golden.
Indulge Happy Hours: Monday – Saturday 3pm-6pm and Sundays 4pm-6pm
BEER –
Coors Light $3
Fat Tire $3
Guinness $4
COCKTAILS –
$5 WELL "you call it" WELL MAKE IT A MARTINI +2
$6 MOSCOW MULE
$6 JIM BEAM, Manhattan
$6 JIM BEAM, Old Fashioned
$9 INDULGE MARGARITA
WINE –
$5.5 LINE 39 Pinot Grigio, Chardonnay, Pinot Noir, Cabernet Sauvignon
$6 KUNG FU GIRL, Reisling
$6 BENVOLIO, Pinot Grigio
$7 LUNETTA Prosecco
$9 HONIG, Sauvignon Blanc
$14 ZD, Chardonnay
$6 LA FIERA, Montepulciano
$7 PORTILLO, Malbec
$9 TROUBLEMAKER, Red Blend
$9 PLANET OREGON, Pinot Noir
$11 PIATELLI, Malbec
$14 TREANA, Cabernet/Syrah
$18 PRISONER, Red Blend
FOOD –
INDULGE STREET TACOS
Ask your server for our daily selection
$5
ARTISAN OLIVE AND BREAD PLATE
$9
INDULGE HUMMUS
Warm hummus is made in-house with roasted red peppers, Kalamata olives, feta, pita and vegetables
$14
*AHI TUNA GUACAMOLE
Fresh guacamole, sushi grade ahi tuna, and ponzu sauce drizzle with baked wonton chips
$5
MEATBALL
One house made meatball served with your choice of sauce: stroganoff, marinara or boursin cream
$7
INDULGE REDBIRD WINGS
Half pound (appx 5) Red Bird chicken wings with your choice of korean, honey siracha or buffalo sauce served with celery sticks and choice of blue cheese or ranch dressing
$12
INDULGE KOBE BEEF SLIDERS
Two kobe beef sliders with cheddar cheese, port wine caramelized onions, cajun aioli and topped with fried pickle chip
$10
*BLACKENED AHI TUNA
with cajun remoulade and udon noodles
$6
BRUSCHETTA ITALIANO
Heirloom tomato bruschetta topped with parmesan cheese with side of crostini
$9
SPINACH AND ARTICHOKE DIP
Creamy bèchamel served with grilled pita and fresh veggies
$16
MUSSLES AND FRIES
Pei mussels sautéed with thyme in a white wine reduction and basil butter, served with garlic fries
$10
CLASSIC MARGHERITE FLATBREAD PIZZA
Fresh tomatoes, mozzarella, basil on red sauce with olive oil drizzle
$14
WASHINGTON VALLEY FLATBREAD PIZZA
Pear whipped goat cheese smear, prosciutto, mozzarella, white wine soaked figs, slivered almonds, balsamic drizzle
$12
BLUE SUEDE FLATBREAD
Grilled Red Bird chicken breast and leeks on south carolina bbq sauce, mozzarella and ranch
Reviews: Yelp
back to Highlands Ranch