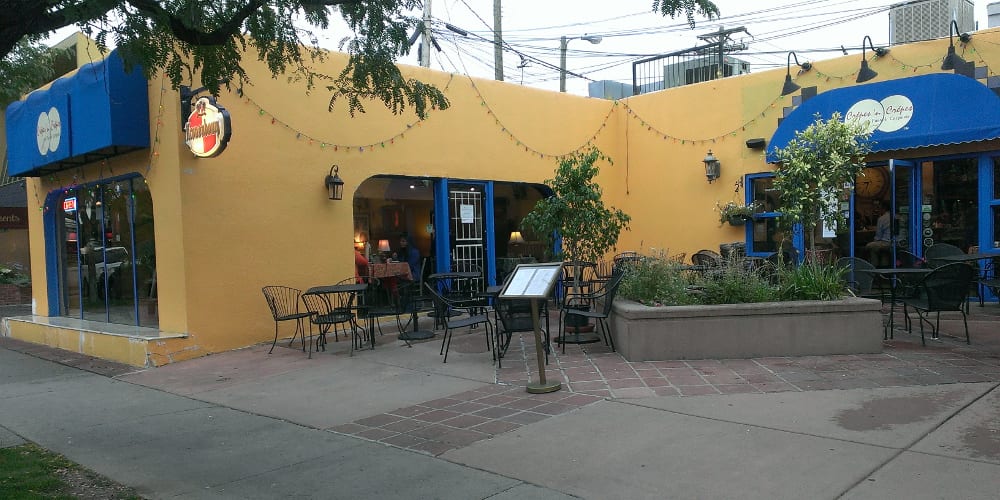 2816 East 3rd Ave, Denver, CO 80206
303-320-4184
crepesncrepes.com
Crepes 'n Crepes specializes in sweet and savory crepes, for any time of the day. There's a full bar, relaxed atmosphere and spacious patio. Happy hour runs twice a day, during most of the week.
Another Crepes 'n Crepes is in Downtown.
Crepes 'n Crepes Happy Hours: (crepesncrepes.com/…)
Tuesday-Friday 4-6pm & Tuesday-Saturday 9-10pm
Drinks –
$4 Wines – Pinot Grigio, Cabernet Sauvignon, Brut Champagne
Food –
$4 Ham & Swiss or Cheddar
Turkey& Swiss or Cheddar
Spinach & Feta
Ratatouille
Banana & Cream Cheese
Strawberries & Nutella
Nutella
$5 Chicken au Gratin
Seafood a la Provençale
Banana Strawberries With Nutella
Banana Blueberries With Sugar
Last updated: September 12, 2014

View Mile High Happy Hour – Cherry Creek in a larger map
Reviews: Yelp | Urbanspoon
back to Cherry Creek