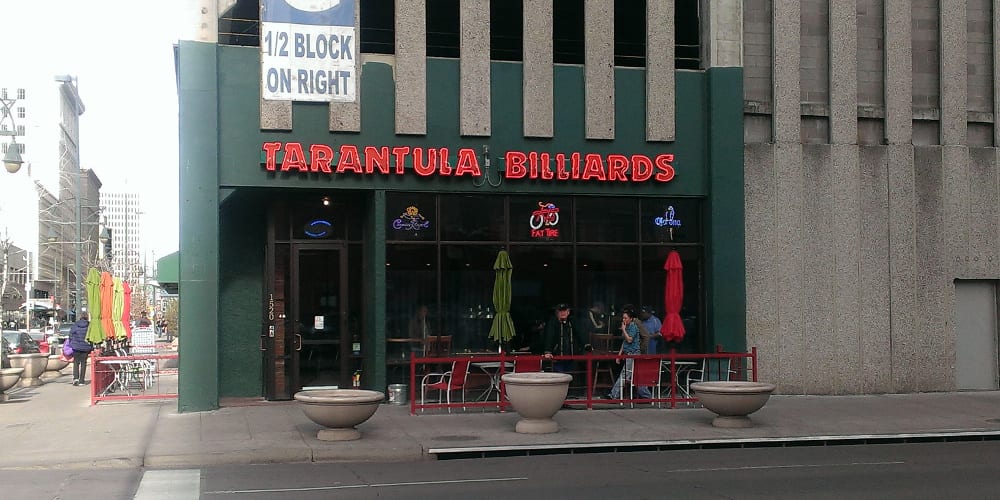 1520 Stout St, Denver, CO 80202
720-932-6666
denverpoolhall.com
Tarantula Billiards is a large, downtown pool hall with a full service bar. The atmosphere is cool and relaxed with free pool Sunday through Thursday with a purchase. Friday and Saturday runs only $3 an hour.
They serve a good menu of bar food and there's a nice patio. It's open everyday from 11am to 2am.
Its sister pool hall is Zanzibar Billiards in Five Points.
Tarantula Billiards Happy Hours: (denverpoolhall.com/…)
Daily 11am-7pm
$2.5 Domestic Bottles & Drafts
$3.5 Micro Drafts
$9 Domestic Pitchers
$12 Micro Draft Pitchers
$3.5 Micro Bottles
$4 Import Bottles
$3.5 Well Drinks
$5.5 Double Well Drinks
DAILY SPECIALS:
Monday – $2 pbr, $6 long island, free pool with drink order
Tuesday – $2 pbr, $6 long island, $3 fat tires, $5 tuacas, free pool with drink order
Wednesday – $2 pbr, $6 long island, $3 coronas, $4 cuervo, free pool with drink order
Thursday – $2 pbr, $6 long island, $4 jim, jack or jose, $3 stella artois, free pool with drink order
Friday – $2 pbr, $6 long island, 7pm-2am: $4 jager & jager bombs
Saturday – $2 pbr, $6 long island, $4 jager, $5 jager bombs
Sunday – $2 pbr, $6 long island, $3 coronas, $4 cuervo, free pool with drink order
Last updated: April 4, 2015

View Mile High Happy Hour – CBD in a larger map
Reviews: Yelp
back to Central Downtown