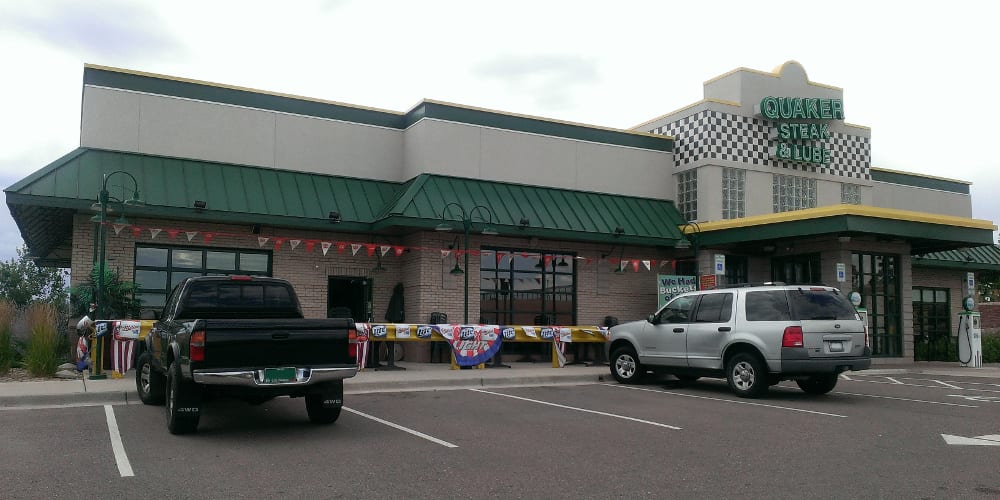 10392 Reed St, Westminster, CO 80021
303-460-9464
thelube.com
Quaker Steak & Lube is a motor themed restaurant, known for their chicken wings. They have lots of sauces, including an atomic one that was featured on Man Vs Food. There's a large bar area, with happy hour every day. The national chain was founded in Sharon, PA in 1974.
Quaker Steak Happy Hours: Monday-Friday 3pm-7pm
$2 Well Mixers
$2 Domestic Pints
$2.5 Premium Pints
$4 Select Appetizers
Sunday-Thursday 9-Close & Friday-Saturday 10-Close:
$2 Washington Apples
$3 Draft Pints.
DAILY SPECIALS:
PBR is on special everyday: $2 pints, $3 Talls, $4 Tanker, $10 Lube Tube
Monday – Kids (10 & under) eat for 99¢ all day (with adult entrée purchase)
Tuesday – $13.99 All-U-Can-Eat Wings & Shrimp 4-10pm; $5 domestic tankers
Wednesday – Register to win a Street 750 at Bike Nite (4-8) through September 23rd
Thursday – 60¢ Breaded Boneless wings (min 5); Select $4 Lube Drinks; $22 3 foot Lube-A-Rita
Friday – FIREBALL FRIDAY! Shots & Mixers of Fireball are $3
Saturday – $2.75 Domestic Pints
Sunday – $9.99 Bar Jar Bloody Mary (comes with a mini cheeseburger and you keep the jar), $2.75 Domestic Pints
Reviews: Yelp | Urbanspoon
back to Westminster