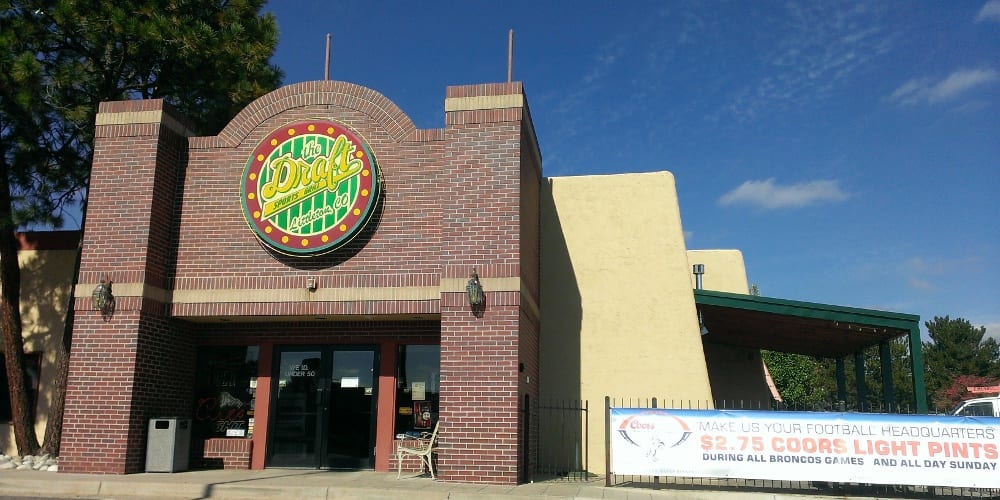 9150 West Cross Dr, Littleton, CO 80123
303-932-8845
thedraftsportsgrill.com
The Draft Sports Grill is a neighborhood pub with great specials and a full menu. There's numerous TVs, billiards, pinball and Golden Tee. They host events throughout the week including a large poker game on Monday nights. It's in sort of an odd location by the Southwest Plaza Mall off South Wadsworth.
Draft Happy Hours: Monday-Saturday Open 'til 7pm
$2.75 Domestic Drafts (16oz)
$3.75 Domestic Drafts (25oz)
$7.5 Domestic Pitchers
$3.75 Well Drinks and House Wines
Sunday – Wednesday 10pm-Close
$1 Domestic Drafts (12oz)
$2 Well Drinks
$3 Smirnoff Kamikaze or Smirnoff Bomb
DAILY SPECIALS:
Tuesday & Thursday – $2.00 New Belgium Drafts
Wednesday – $3.75 Well Drinks
$5.5 Deer and a beer (Jager shot & domestic bottle)
$2.5 All Bottle Beer
$3.75 Cabin Fever Maple Whisky Shots
$3.75 Honey Badger (Jack Daniels Honey and Lemonade)
#3.75 Jack Daniels
Thursday – $2 Domestic and Microbrew Pints
$3 Import Pints
$3.75 Ciroc Vodka
Friday – $3.75 Bacardi and Bacardi Flavors
$3.5 Microbrew Pints
Saturday – $4.50 Crown Royal Washing Apples & Vegas Bombs
$4.5 Smirnoff Bloody Marys
$4.5 Smirnoff Orange Screwdrivers
$3.0 Sam Adams
Sunday – $3.75 Goldschlager or Rumpleminze
$2.75 Coors and Coors Light Pints
$3.5 Jager Shots
$4.5 Jager Bombs
DAILY EVENTS:
Monday – Free Texas hold'em tournament at 7pm. First place gets $200 cash.
Thursday – Beer pong
Friday – Trivia at 7:30pm
Last updated: June 1, 2014
Reviews: Yelp | Urbanspoon
back to Littleton