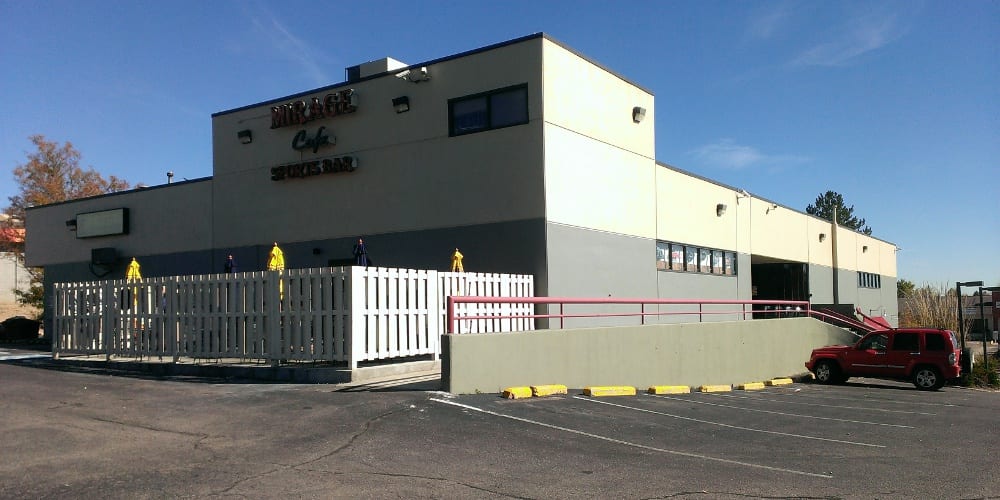 8340 West Coal Mine Ave, Littleton, CO 80123
303-979-9220
themiragesportsbar.com
The Mirage Sports Bar is a big neighborhood pub located on Wadsworth Blvd. The 13,000 sq foot facility boasts 16 pool tables, darts, TVs, 2 shuffleboards and a full menu. Weekly events include pools leagues and tournaments, as well as free poker and live music.
Mirage Sports Bar Happy Hours: Monday-Friday 12pm-5pm
Drinks –
$1.5 PBR
$1.5 Kamikazees
Food –
$.50 Tacos
$1.5 Chips & Salsa
$1.5 Old Fashioned Dogs
$1.5 Street Tacos
DAILY SPECIALS & EVENTS:
Monday – 8 Ball Pool Tourney 7pm-10:30pm
HH All Night Long
Free pool all night long
Tuesday – Free Poker at 6:45pm
$5 Burger and Beer
$2.5 Fat Tire Pints after 7:00
Free pool all night
Wednesday – Free poker at 7pm
$2.25 Miller Light Pints after 7:00
Thursday – Free poker at 6:45pm
$3 Pints of Sammy after 7pm
Friday – Open Mic Night 5:30pm-8:30pm, Karaoke 9pm
$2 Pints of Blue Moon after 7pm
Saturday – Live music at 9pm (no cover)
$2.25 Pints of Bud and Bud Light ($7.5 Pitchers)
$2.5 Pints of Colorado Craft Beers
Sunday – $2.25 Pints of Coors and Coors Lite ($7.50 Pitchers)
$.50 Wings All Day
Last updated: June 1, 2014
Reviews: Yelp
back to Littleton